Lady Gaga
Dressing in lace, leather, and the occasional flaming brassiere, Lady Gaga has staked her claim as one of the most original performers in pop culture today. She continually fascinates and shocks her audience. Her unique style makes her totally distinguishable. Click to see what makes her such an outrageous style icon.
Lady Gaga scored her first "Vogue" cover, wearing Haider Ackermann and a bubblegum pink wig for the March 2011 issue.
Claws célèbre: The singer rocks a massive headpiece shaped like a bedazzled lobster. Bib not included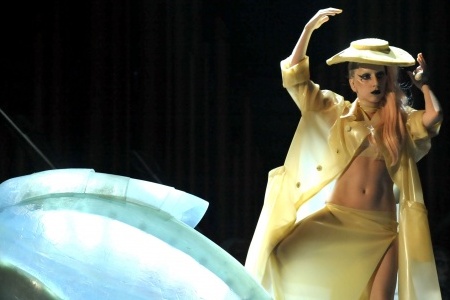 Lady GaGa emerges from an egg for her performance at the Grammys.
After performing in London, the singer channeled a super-hero in this onesie. Did some evil-doer attack her fishnets?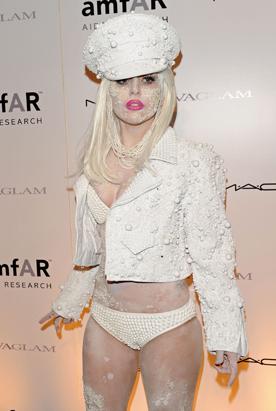 Gaga put her own spin on the term ''pearly whites'' when she walked the red carpet wearing glued-on pearls, a jacket, and not much else.
For her orbit around the red carpet, she took us out of this world in a fantastical ensemble custom-designed by Giorgio Armani.
Gaga goes green with this sequined leotard that lets it all (almost) hang out.
Making a grand entrance at the VMAs, Gaga was a showstopper in a Jean Paul Gaultier lace dress with a neck brace by Keko of London. Not pictured: Gaga's date for the night: Kermit the Frog.
The singer's dramatic performance of ''Paparazzi'' was one of the night's highlights, thanks in part to the wild fashion and the rather graphic (and bloody) ending.
Gaga accepted her VMA for Best New Artist in a head-to-thigh lace outfit only to pull off her mask to thank ''God and the gays.''
It may be hard to see Gaga in this elaborate feather headpiece but who else could pull off such an avant-garde look? The pop diva kept the rest of her outfit relatively demure in this slinky Jean Paul Gaultier sequin dress.
All smiles backstage after winning her award, Lady Gaga made yet another costume change — this time, into Jean Paul Gaultier's space-age body suit and sparkly boots.
Switching up her outfit for the after party, Gaga looked like an haute couture bride in her Gaultier gown and headpiece, which she crafted herself. With Perez Hilton here.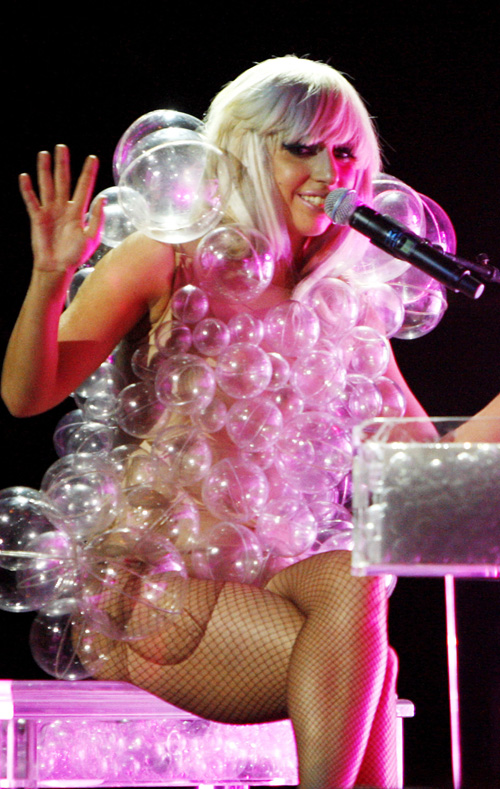 Lady Gaga's signature look, the bubble dress, is ''entirely inspired by a Hussein Chalayan piece,'' says the singer. ''The original dress is in a museum in London and worth millions of dollars. I created the 'Bubble 3000' with [her design team] Haus of Gaga, using a Thierry Mugler Lucite corset and plastic spheres.''
There's only one way to describe it: meat dress. Lady Gaga raised eyebrows at the MTV Video Music Awards where she took to the stage in an outfit made entirely of raw meat. The fleshy number also included a meat hat, lace up shoes and even a matching raw purse.