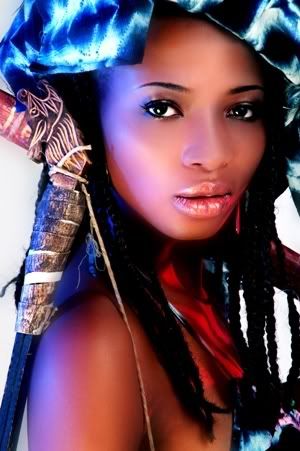 Sierra Leone
, officially the Republic of Sierra Leone, is a country in West Africa.
Sierra Leonean International super star, Mariatu Kargbo who is based in China has been crowned MISS SIERRA LEONE 2009 at the annual Madam Yoko Entertainment premier beauty pageant contest on Saturday June 13, 2009, at the prestigious Family Kingdom, Aberdeen, Freetown.
The succulent 5ft 8inches tall beauty queen won the minds and hearts of the judges who polled the highest scores after putting up an extra ordinary performance that turned the entire hall in ecstasy.
The fair complexion beauty queen demonstrated her talent with an acrobatic display that sent the entire audience into ecstasy. She collected well over five million Leones on stage while displaying her talent in the competition.
"I have never seen a queen demonstrate like this," one fan who witnessed the unprecedented contest stated.
Speaking to this reporter after her coronation, Mariatu Kargbo said her dream had become true after.
She appealed to her fellow contestants to work with her with open mind so as to put the country on the world beauty map. "We all are winners and we should work with each other to help the girl child," she said with a smile.
She added that she will do her best to ensure that needy children in the street are cared for. She further pledged to join the fight against malaria which kills more people than HIV/AIDS.
Eight elegant Sierra Leone beauty queens took part in the event including Ramatu Wurie - winner of Miss Independence 2008; Haja Fanta Bah - winner of Miss Southern region 2009; Christiana Ellie - winner of Miss Paddy's 2008; Patricia Brenda Kamara; Emma Turay; Lauretta Y. Simeon; Hawanatu Samura and International super queen, Mariatu Kargbo who jet in from China for the contest.
Mariatu Kargbo who was crowned Miss World Sierra Leone 2009 will receive $3,000 plus a round trip to South Africa.
Last year's winner, Miss Tyrillia Gouldson who represented Sierra Leone at the Miss World Pageant in Johannesburg, South Africa did not show up to crown her successor, Mariatu Kargbo.
"We promised and we shall deliver. We will make the winner represent Sierra Leone in the forthcoming Miss World annual premier beauty pageant scheduled to take place on the 12th of December, 2009 in South Africa.
The rationale behind this move is to put Sierra Leone on the global culture map. "Sierra Leone stands to benefit a lot from this year's Miss World pageant," he noted.
PROFILE
Age : 24
Height : 172cm
Languages : English, Creole & Chinese
Hometown : Freetown
Hobbies : Singing, Dancing and Modeling
Website : http://xingguangmaliya.cn
BIOGRAPHY
Mariatu is from Freetown, Sierra Leone and works as a manager's assistant. She enjoys running, playing drums and modern dance. Her special talent is singing. Mariatu comes from a large family with seven siblings. She describes herself as honest and friendly and her personal motto is "To have is to share".