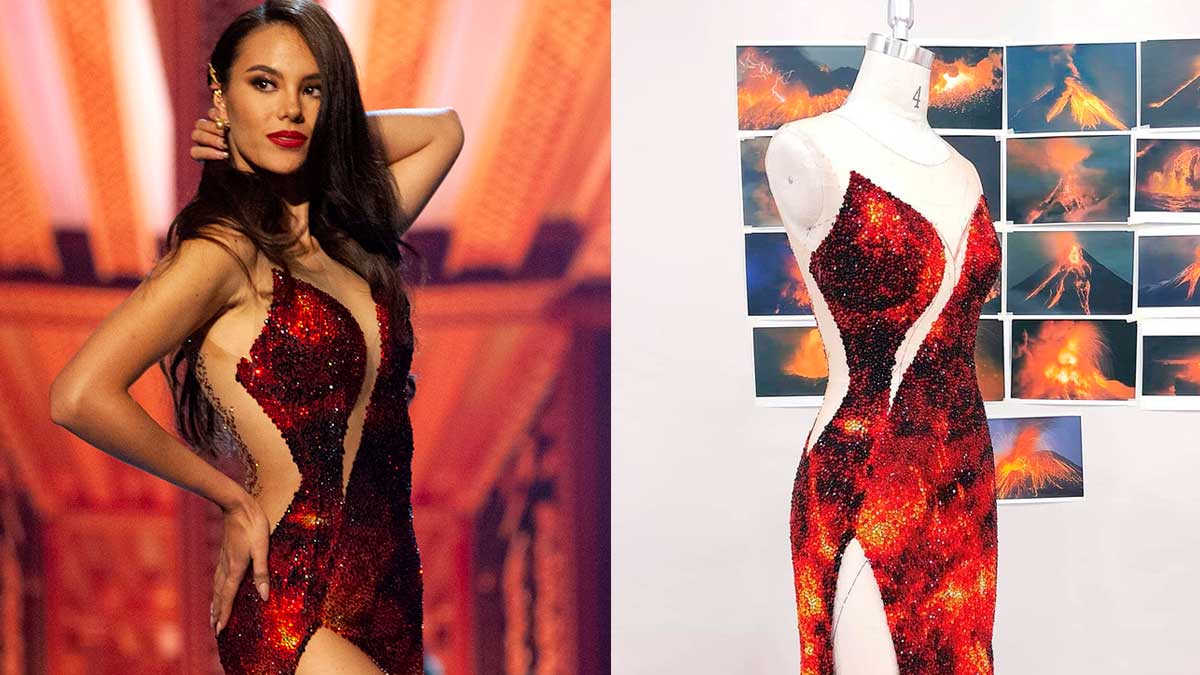 1. CATRIONA GRAY, Philippines, Miss Universe 2018



Who can ever resist the lava gown? It became a YouTube sensation in 2018 up to the first quarter of 2019. What more can I say about this Mak Tumang creation? It's definitely iconic!






2. STEFANIA FERNANDEZ, Venezuela, Miss Universe 2009



This red gown really suits Stefania and makes her look like the Scarlett O'Hara character from the "Gone With The Wind" novel-turned-Hollywood-movie.






3. MARIGONA DRAGUSHA, Kosovo, Miss Universe 2009 2nd Runner-up



Marigona transformed into this Audrey Hepburn classic character, "Holly Golightly", from the 1961 Hollywood blockbuster, "Breakfast At Tiffany's", during the evening gown competition in 2009. What a beautiful sight she was!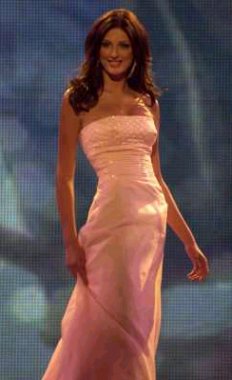 4. EVELINA PAPANTONIOU, Greece, Miss Universe 2001 1st Runner-up



Evelina really pulled it off this simple light pink evening gown with so much sophistication and joie de vivre!






5. COURTNEY GIBBS, USA, Miss Universe 1988 semifinalist



Courtney's black evening gown with sweetheart neckline was timeless. It made her look like Grace Kelly who graced the Miss Universe stage in Taiwan. Too bad, the Chinese judges didn't want another Caucasian or Latina to win at the time.






6. MIRIAM QUIAMBAO, Philippines, Miss Universe 1999 1st Runner-up



Miriam's Halston gown was memorable in the '90s decade of Miss Universe history. She really gave justice to the dress as she sashayed it on the Miss Universe stage in Chaguaramas, Trinidad and Tobago.






7. MIYAKO MIYAZAKI, Japan, Miss Universe 2003 4th Runner-up



This MTV bra-and-skirt ensemble really made my jaw drop when I first saw it on television. I thought this number was only good at the MTV Awards but no! Miyako executed it so well on the Miss Universe stage which made the whole thing really unforgettable.






8. DESIREE VERDADERO, Philippines, Miss Universe 1984 3rd Runner-up



This vintage Rene Salud creation needs to be shown on the Miss Universe stage again because the vibrant colours, silhouette and design are so Filipino. I don't mind if Gazini Ganados wears this dress to an evening formal function at this year's Miss Universe event in Atlanta, Georgia. I know she will rock it.






9. KACI FENNELL, Jamaica, Miss Universe 2014 4th Runner-up



The back of this red evening gown is just so sexy! Whew! Kaci made this gown look so sultry and hot on stage!






10. ARIELLA ARIDA, Philippines, Miss Universe 2013 3rd Runner-up



This "yellow-is-the-colour-of-joy" Alfredo Barraza number was supposedly a rented run-of-the-mill pageant gown from Colombia but, somehow, Ariella, was able to make it look so fluidly efforless on stage during her evening gown competition in Moscow. It complemented her sexy figure, dusky complexion and long, shiny jet-black hair. I totally loved this number on her!






11. ALICIA MACHADO, Venezuela, Miss Universe 1996



This plain evening gown made Alicia look so sweet and charming on stage. It gave her a clean, uncomplicated silhouette when she descended from a flight of stairs as Liberace's "Candelabra" was played on three pianos in the background.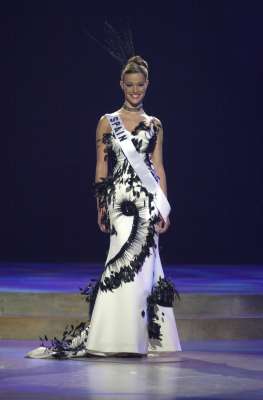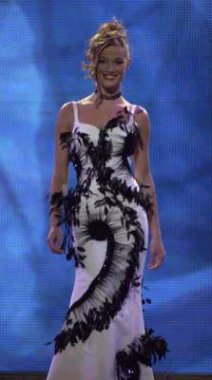 12. EVA SISO CASALS, Spain, Miss Universe 2001 semifinalist



A lot of people didn't like this evening gown on her but I actually liked it. It gave her that Spanish flair and spunk on stage. I was really disappointed when Eva failed to advance in the Top 5 of the competition that night. Had she been included instead of India, then it would've been one of the best top fives in the history of Miss Universe.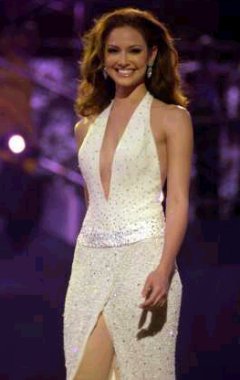 13. DENISE QUINONES, Puerto Rico, Miss Universe 2001



I personally believe that this evening gown became the mold and pattern for the succeeding Miss Puerto Rico gowns just like the gowns of Zuleyka Rivera in 2006 and Kiara Ortega at her local pageant in 2018. However, this number looked really good on Denise. It complemented her radiant smile and oozing confidence on stage.