In our society there are norms that guides us to behave or act in an expected ways. There are also behaviors that are prohibited called taboo. In the world biggest beauty pageant there are norms that were broken and taboo that occured. Below are some of it
★ ☆ ✰ Tattoo ✰ ☆ ★

Tattoo is an expression of individuality, a form of arts, and a reflection of a culture. However, in beauty pageant tats is a big No No. In Miss Universe from the year 2001 to 2011, there are contenders who were inked.

For three consecutive years, the Miss Universe competition had a contestant with a tattoo on her right hip each year. They are Miss Latvia 2006 Sanita Kublina, Miss Denmark 2007 Zaklina Sojic and Miss Trinidad and Tobago 2008 Anya Ayoung-Chee.
The 3 Ladies inked in their right hip.
Zaklina Kosic
Among the ladies with tattoo in the past 7 years only Miss Denmark Zaklina Sojic was able to place. The Danish beauty queen finished the Miss Universe 2007 in 13th place.
Zaklina Kosic competing in the Swimsuit Round of the Top 15. Although her tattoo is covered with make-up it is still visible.
Sanita Kublina
Miss Universe Latvija 2006 Sanita Kublina is the second and last Miss Latvia in Miss Universe. The blond bombshell has a flower tats on her right pelvic area.
Anya Ayoung Chee
Before Anya Ayoung Chee won Project Runway, she participated first in Miss Universe 2008. Anya's ink is a hibiscus( I think ) a great representation of her island.
Anya during the Preliminary, her tattoo was concealed.
Not your ordinary Miss India.
Ekta Choudhary
The last Femina Miss India Universe, Ekta Choudhary is not a typical Miss India. What set her apart from other Miss India who competed in Miss Universe is she possesses five tattoos. Like the three ladies with tattoos before her, she also has tattoo on her right hip. The most visible one is the unicorn on her back.
Ekta proudly showing the artwork embedded on her body.
Tattooed in their left hip.
Elisa Torrini
The hip seems like the favorite area for the ladies to be inked. Unlike the beautiful women mentioned above, Miss Italy Universe 2011 Elisa Torrini tats is located on the opposite side of her hips.
Elisa Torrini hid her tattoo during the Presentation Show of Miss Universe 2011.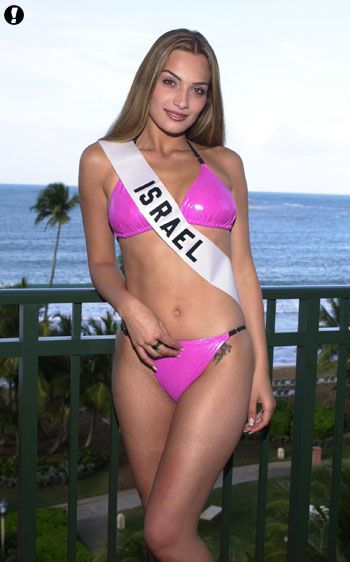 Ilanit Levy
However a decade before Elisa, the controversial delegate of Israel has a tattoo also in her left hip. Ilanit Levy was among the Ten Semifinalists.
Ilanit Levy during the Semifinalists Swimsuit round.
The tribal tattoo of Miss Kenya.
Rachele Marete
Miss Kenya Universe 2005 stood-out during the Evening Gown presentation of Miss Universe 2005 because her forehead was tattooed. However the ink was not permanent and it represented the tribe where she came from.
The Literature on Miss GB's body.
Holly Hale
The newly crown Miss Great Britain Universe 2012 has a noticeable ink on her left oblique. The tattoo appears to be either a excerpt from a poem or a song.
★ ☆ ✰ Nudity ✰ ☆ ★

When nude photos of celebrities surface, it creates controversies and scandals. The same goes with former Miss Universe contestants. For some the pictures showing them without clothings did not hinder them but for others it was believe to be the reason why they did not succeed.
Some of the ladies that posed nude and still victorious.
Amparo Munoz, Spain
Miss Universe 1974
Denny Mendez, Italy
Top 6 Finalist - Miss Universe 1996.
Evelina Papantoniou, Greece
1st Runner Up - Miss Universe 2001.
Priscilla Machado, Brazil
2nd Runner Up - Miss Universe 2011.
The beautiful ladies who were unfortunate in the Miss Universe.
Erin McNaught, Miss Universe Australia 2006.
Erin almost did not participate in Miss Universe 2006 after the local organizers almost took the title Miss Universe Australia from her. Naked photos of her appeared online after she won the crown. Although a heavy favorite, the Aussie was nowhere to be found in the Top 20 of Miss Universe.
Sofia Rudyeva, Miss Russia 2009.
Miss Russia faced the a scandal when images of her in nude surfaced in the Internet, circulated by her ex-boyfriend. Sofia who had one of the loveliest face of Miss Universe 2009, was not successful to enter the Semifinals.
The Instances when MUO allowed nudity ( in a way ).
Dayana Mendoza
Before her reign as Miss Universe 2008 came to an end, Dayana Mendoza was permitted by the Miss Universe Organization to be in the cover and have a spread in the Men's Magazine Maxim
Rima Fakih, Miss USA
Maiko Itai, Miss Japan
LaToya Woods, Miss Trinidad & Tobago
The glamour shot of Miss Universe 2010 is considered to be the most risqué in the history of the pageant. The candidates had an option to go topless or not covered in body paint. Out of 83, only 3 were brave enough to bare their bosom. Those 3 were Miss USA Rima Fakih, Miss Japan Maiko Itai, and Miss Trinidad & Tobago La Toya Woods. Interestingly neither of the three girls were included in the Semifinals.
★ ☆ ✰ Pants ✰ ☆ ★

One of the favorite part of Miss Universe is the Evening Gown, because that is time were the women of the Universe showcase the beauty of dress they're wearing and their elegance and sophistication. However they were instances instead of wearing a long gown, some lasses opted to use pants.
Miss Universe 1971 Georgina Rizk, Lebanon .
In 1971, Miss Lebanon Georgina made a fashion statement when she wore a pants without any hesitation in the Evening Gown contest. The daring pants was one of the reasons why the judges loved her and crowned Miss Universe 1971.
Miss Universe 2007 Riyo Mori Japan.
Before Riyo Mori relinquished her crown as Miss Universe, she surprised almost everybody when she appeared on stage wearing tuxedo. It was the first time a Miss Universe took her final walk wearing a pants.
Miss Bahamas 2011 Anastagia Pierre.
When every contestants of Miss Universe 2011 was glammed up in their Long Gowns. Miss Bahamas Anastagia Pierre on the other hand decided to wear a strapless, metallic jumpsuit.
The Top 10 of Miss Universe 2002.
In 2002, the Miss Universe Organization decided to switch it up and dressed all the delegates in pants instead of the usual cocktail dress for the announcement of the Semifinalists. Before this in 1997, Miss USA Brooke Mahaelani Lee was wearing pants when she was called in the Top 10.
Credit to PinkJewel for the additional information.