Miss Asia-Pacific 1970- Zeenat Aman


Zeenat Aman was born 19 November 1951 in Mumbai to a Muslim father Amanullah Khan and a Hindu Maharashtrian Brahmin mother Scinda. Her father, Amanullah, was one of the writers for the blockbuster movie Mughal-e-Azam & Pakeezah. He died when Zeenat was just 13.

Zeenat Aman graduated from St. Xavier's College, Mumbai and went to Los Angeles for her studies. Upon returning to India, she first took a job as a journalist for Femina and then later on moved on to modeling. One of the first few brands that she modeled for was Taj Mahal Tea. She was the second runner up in the Miss India Contest and went on to win the Miss Asia Pacific in 1970.

Zeenat Aman is an Indian actress who has appeared in Bollywood films, notably in the 1970s and 1980s. Zeenat Aman Nick Name is 'Babushka'.

In 1985, she got married to Mazhar Khan and had two sons Azaan and Zahaan. Mazhar Khan died in September 1998.Today, Zeenat Aman lives with her two sons and makes many social appearances and film awards functions.



Now





Miss Asia Pacific 1973- Tara Anne Fonseca


Tara Anne Fonseca second Miss India, and the second Miss India Participated of Asia Pacific Contest. Miss Asia Pacific in 1973, Tara Anne Fonseca Participated the Contest and won the Miss Asia Pacific International Crown.







Miss Asia Pacific 2000- Diya Mirza



Diya Mirza was born December 9, 1981 in Hyderabad, India. Her father, Frank Handrich, was a German graphic and industrial fair designer, architect, artist and interior designer from Munich and her mother, Deepa is a Bengali Indian who is also an interior designer, they separated when she was six years old. Her father died when she was nine and her mother remarried Ahmed Mirza, who died in 2004. She retained a Muslim surname (Mirza). Later she adopted the last name of her birth-father and became Dia Mirza Handrich.


Diya Mirza won the prestigious Miss Asia Pacific title at the beauty pageant held on 2 December, 2000, in Manila. The final and decisive question that was put to Diya was, "What are the three most important values that matter to you?", to which she replied, "Love, Honesty and Friendship", and with that answer, she had almost the entire audience rooting for her.


Diya Mirza is now a famous celebrity and an Indian Actress, Dee which is the nickname of Diya Mirza is known to very less people. Diya Mirza holds two awards in Year 2000 one is Femina Miss India 2000 Award and second is Miss Asia Pacific 2000 Award. Diya Mirza's first film, opposite Madhavan - Rehaana Hai Tere Dil Mein.








The Miss Asia Pacific began as a regional pageant in 1968, known as the Miss Asia Quest. Participating countries came from Asia and Oceania. In 1985, the pageant changed its name to the Miss Asia Pacific Quest, to encompass countries not just in the Asian and Oceania region, but those of North, Central and South America with borders touching the Pacific Ocean.

The pageant took its present form in 2005, when the name was changed to Miss Asia Pacific International, to include countries all over the world.

Miss Asia Pacific Winner List
1963 Miss Asia Pacific Choi In-ja, Korea

1965 Miss Asia Pacific Angela Filmer, Malaysia

1968 Miss Asia Pacific Macy Shih, Taiwan

1969 Miss Asia Pacific Won-kyoung Seo, Korea

1970 Miss Asia Pacific Zeenat Aman, India

1971 Miss Asia Pacific Flora Baza, Guam

1972 Miss Asia Pacific Janet Coutts, Australia

1973 Miss Asia Pacific Tara Anne Fonseca, India

1974 Miss Asia Pacific Susie Currie, Australia

1975 Miss Asia Pacific Eva Regina Arni, Papua New Guinea

1976 Miss Asia Pacific Jacqueline Stuart, Singapore

1977 Miss Asia Pacific Linda Emran, Indonesia

1978 Miss Asia Pacific Siriporn Savanglum, Thailand

1979 Miss Asia Pacific Ayla Altas, Turkey

1980 Miss Asia Pacific Lorraine Gaye McGrady, Australia

1981 Miss Asia Pacific Bernadine Rosemarie Ramanayake, Sri Lanka

1982 Miss Asia Pacific Maria del Carmen Ines Zaragoza, Philippines

1983 Miss Asia Pacific Gloria Aranas Dimayacyac, Philippines

1984 Miss Asia Pacific Melek Gurkan, Turkey

1985 Miss Asia Pacific Nurit Mizrachi, Israel

1986 Miss Asia Pacific Helen Crawford, New Zealand

1987 Miss Asia Pacific Cilinia Prada Acosta, Panama

1988 Miss Asia Pacific Preeyanuch Panpradub, Thailand

1989 Miss Asia Pacific Lorna Villanueva Legaspi, Philippines

1990 (No Pageant)

1991 (No Pageant)

1992 Miss Asia Pacific Tali Ben-Harush, Israel

1993 Miss Asia Pacific Michelle Zulueta Aldana, Philippines

1994 Miss Asia Pacific Jessica Vanessa Tapia Guiulfo, Peru

1995 Miss Asia Pacific Mi-jung Yoon, Korea

1996 Miss Asia Pacific Gabriela Aguilar Chavarría, Costa Rica

1997 Miss Asia Pacific Worarat Suwannarat, Thailand

1998 Miss Asia Pacific Kisha Alvarado Murillo, Costa Rica

1999 Miss Asia Pacific Juliana Andrea Arango Londoño, Colombia

2000 Miss Asia Pacific Diya Mirza Handrich, India

2001 Miss Asia Pacific Luciana Luisa Farfán Vargas, Peru

2002 Miss Asia Pacific So-yoon Kim, Korea

2003 Miss Asia Pacific Tatyana Nikitina, Russia

2004 (No Pageant)

2005 Miss Asia Pacific Leonora Jiménez, Costa Rica

So in the 39 years of the Pageant India has won the crown three times
wow


India has also had a few runners up

Miss

Asia Pacific 1976 2nd Runner up- Anna Adrianne Bredemeyer
2nd from left



Miss Asia Pacific 1977 1st Runner up- Marianne D'Souza
Miss Asia Pacific 1979 1st Runner up- Maureen Mary Lestourgeon
Miss Asia Pacific 1993 1st Runner up- Namarata Shirodkar
Miss Asia Pacific 1995 1st Runner up-- Ruchita Malhotra
Miss Asia Pacific 2002 2ndt Runner up-- Tina Chatwal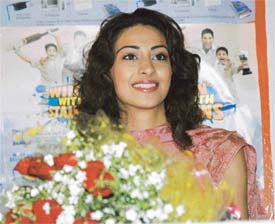 Miss Asia Pacific 2003 1st Runner up- Shonal Rawat