as a kid, aside from watching cartoons and anime. I also love to watch Vintage movies... my mom had given me a LITTLE RASCALS VHS as a birthday gift... I discover that there are so many natural beauties when I started to have addiction with this movies... I present to u...

MY top 15 most beautiful Hollywood actresses!
15. BETTE DAVIS-April 5, 1908 – October 6, 1989) was an American actress of film, television and theater. Noted for her willingness to play unsympathetic characters, she was highly regarded for her performances in a range of film genres; from contemporary crime melodramas to historical and period films and occasional comedies, though her greatest successes were her roles in romantic dramas.
14. LILIAN GISH-was an American stage, screen and television actress whose film acting career spanned 75 years, from 1912 to 1987.
She was a prominent film star of the 1910s and 1920s, particularly associated with the films of director D.W. Griffith, including her leading role in Griffith's seminal Birth of a Nation (1915). Her sound-era film appearances were sporadic, but included memorable roles in the controversial western Duel in the Sun (1946) and the offbeat thriller Night of the Hunter (1955). She did considerable television work from the early 1950s into the 1980s, and closed her career playing, for the first time, opposite Bette Davis in the 1987 film The Whales of August.
13. MARLENE DIETRICH- (German pronunciation: [maɐˈleːnə ˈdiːtʁɪç]; 27 December 1901 – 6 May 1992) was a German actress and singer.
Dietrich remained popular throughout her long career by continually re-inventing herself. In 1920s Berlin, she acted on the stage and in silent films. Her performance as Lola-Lola in The Blue Angel, directed by Josef von Sternberg, brought her international fame and a contract with Paramount Pictures in the US. Hollywood films such as Shanghai Express and Desire capitalised on her glamour and exotic looks, cementing her stardom and making her one of the highest paid actresses of the era. Dietrich became a US citizen in 1939; during World War II, she was a high-profile frontline entertainer. Although she still made occasional films in the post-war years, Dietrich spent most of the 1950s to the 1970s touring the world as a successful show performer.
12. LAUREN BACALL- born September 16, 1924) is an American film and stage actress and model, known for her distinctive husky voice and sultry looks.
She first emerged as leading lady in the film noir genre, including appearances in The Big Sleep (1946) and Dark Passage (1947), as well as a comedian in How to Marry a Millionaire (1953) and Designing Woman (1957). Bacall has also worked in the Broadway musical, gaining Tony Awards for Applause in 1970 and Woman of the Year in 1981. Her performance in the movie The Mirror Has Two Faces (1996) earned her a Golden Globe Award and an Academy Award nomination.
11. MARY PICKFORD-(April 8, 1892 – May 29, 1979) was a Canadian-born motion picture actress, co-founder of the film studio United Artists and one of the original 36 founders of the Academy of Motion Picture Arts and Sciences. Known as "America's Sweetheart," "Little Mary" and "The girl with the curls," she was one of the Canadian pioneers in early Hollywood and a significant figure in the development of film acting.
Because her international fame was triggered by moving images, she is a watershed figure in the history of modern celebrity. And as one of silent film's most important performers and producers, her contract demands were central to shaping the Hollywood industry. In consideration of her contributions to American cinema, the American Film Institute named Pickford 24th among the greatest female stars of all time.
10.AVA GARDNER-(December 24, 1922 – January 25, 1990) was an American actress.
She was signed to a contract by MGM Studios in 1941 and appeared in small roles until she drew attention with her performance in The Killers (1946). She became one of Hollywood's leading actresses, considered one of the most beautiful women of her day. She was nominated for the Academy Award for Best Actress for her work in Mogambo (1953).
She appeared in several high-profile films from the 1950s to 1970s, including Bhowani Junction (1956), On the Beach (1959), The Night of the Iguana (1964), Earthquake (1974), and The Cassandra Crossing (1976). Gardner continued to act on a regular basis until 1986, four years before her death of pneumonia, at age 67, in 1990.
9. RITA HAYWORTH- (October 17, 1918 – May 14, 1987) was an American film actress and dancer who attained fame during the 1940s as one of the era's top stars. She appeared in 61 films over 37 years
8.SOPHIA LOREN- September 20, 1934) is an Italian actress.
In 1962, Loren won the Academy Award for Best Actress for her role in Two Women, along with 21 awards, becoming the first actress to win an Academy Award for a non-English-speaking performance. Loren has won 50 international awards, including an Oscar, seven Golden Globe Awards, a Grammy Award, a BAFTA Award and a Laurel Award. Her other films include: Houseboat (1958), El Cid (1961), Yesterday, Today and Tomorrow (1963), Marriage Italian Style (1964), A Special Day (1977). She has received critical and commercial success in movies for home box-office such as Courage (1986) and in American blockbusters such as Grumpier Old Men (1995), and Nine (2009). In 1994 she starred in Robert Altman's Ready to Wear, which earned her a Golden Globe nomination in 1995. The same year she received the Cecil B. de Mille award for lifetime achievements.
7. INGRID BERGMAN- (29 August 1915 – 29 August 1982) was a Swedish actress who starred in a variety of European and American films.[1] She won three Academy Awards, two Emmy Awards, and the Tony Award for Best Actress. She is ranked as the fourth greatest female star of American cinema of all time by the American Film Institute. She is best remembered for her roles as Ilsa Lund in Casablanca (1942), a World War II drama co-starring Humphrey Bogart and as Alicia Petersen in Notorious (1946), an Alfred Hitchcock thriller co-starring Cary Grant.
Before becoming a star in American films, she had already been a leading actress in Swedish films. Her first introduction to American audiences came with her starring role in the English remake of Intermezzo in 1939. In America, she brought to the screen a "Nordic freshness and vitality", along with extreme beauty and intelligence, and according to the St. James Encyclopedia of Popular Culture, she quickly became "the ideal of American womanhood" and one of Hollywood's greatest leading actresses
6.VIVIEN LIEGH- 5 November 1913 – 7 July 1967) was an English actress.[1] She won two Best Actress Academy Awards for playing "southern belles": Scarlett O'Hara in Gone with the Wind (1939) and Blanche DuBois in A Streetcar Named Desire (1951), a role she also played on stage in London's West End.
She was a prolific stage performer, frequently in collaboration with her then-husband, Laurence Olivier, who directed her in several of her roles. During her 30-year stage career, she played roles ranging from the heroines of Noël Coward and George Bernard Shaw comedies to classic Shakespearean characters such as Ophelia, Cleopatra, Juliet and Lady Macbeth.
Lauded for her beauty, Leigh felt that it sometimes prevented her from being taken seriously as an actress. However, ill health proved to be her greatest obstacle. For much of her adult life Leigh had what is now known as bipolar disorder.[2] She earned a reputation for being difficult to work with, and her career suffered periods of inactivity. She also suffered recurrent bouts of chronic tuberculosis, first diagnosed in the mid-1940s. Leigh and Olivier divorced in 1960, and she worked sporadically in film and theatre until her death from tuberculosis in 1967.
5. GRETA GARBO-(18 September 1905 – 15 April 1990), better known as Greta Garbo, was a noted Swedish actress and recluse. She was a major star in the United States during the silent film era and the Golden Age of Hollywood. In 1999, the American Film Institute ranked Garbo fifth on their list of greatest female stars of all time, after Katharine Hepburn, Bette Davis, Audrey Hepburn, and Ingrid Bergman.
Garbo launched her career with a major role in the Swedish film The Saga of Gosta Berling. Her performance caught the attention of Louis B. Mayer, who brought her to Hollywood in 1925 to work at Metro-Goldwyn-Mayer (MGM). She became a star of silent films
4. AUDREY HEPBURN-(born Audrey Kathleen Ruston; 4 May 1929 – 20 January 1993) was a British actress and humanitarian. Born in Ixelles, Belgium, Hepburn spent her childhood chiefly in the Netherlands, including German-occupied Arnhem during the Second World War. In Arnhem, she studied ballet before moving to London in 1948 where she continued to train in ballet while working as a photographer's model. Upon deciding to pursue a career in acting, she performed as a chorus girl in various West End musical theatre productions.
After appearing in several British films and starring in the 1951 Broadway play Gigi, Hepburn played the lead female role in Roman Holiday (1953) and gained instant Hollywood stardom. Later performing in Sabrina (1954), The Nun's Story (1959), Breakfast at Tiffany's (1961), Charade (1963), My Fair Lady (1964) and Wait Until Dark (1967), Hepburn became one of the most successful film actresses in the world, receiving nominations for Academy Awards, Golden Globes and BAFTAs as well as winning a Tony Award for her performance in the 1954 Broadway play Ondine. Hepburn is one of few entertainers who have won Oscar, Emmy, Grammy, and Tony Awards. In 1999, the American Film Institute placed her among the five greatest female stars in the history of American cinema. Although modest about her ability and acting technique, Hepburn remains one of the most beloved actresses of all time and is remembered as a film and fashion icon of the twentieth century. Redefining glamour with elfin features and a waif-like figure that inspired designs by Hubert de Givenchy, she was inducted in the International Best Dressed List Hall of Fame in 1961.
3. GRACE KELLY- (November 12, 1929 – September 14, 1982) was an American actress of Irish and German heritage and Princess consort of Monaco. In April 1956 Kelly married Rainier III, Prince of Monaco, and became styled as Her Serene Highness The Princess of Monaco, and was commonly referred to as Princess Grace.
After embarking on an acting career in 1950, at the age of 20, Grace Kelly appeared in New York City theatrical productions as well as in more than forty episodes of live drama productions broadcast during the early 1950s Golden Age of Television. In October 1953, with the release of Mogambo, she became a movie star, a status confirmed in 1954 with a Golden Globe Award and Academy Award nomination as well as leading roles in five films, including The Country Girl, in which she gave a deglamorized, Academy Award-winning performance. She retired from acting at 26 to enter upon her duties in Monaco. She and Prince Rainier had three children: Caroline, Albert, and Stéphanie. She also retained her American roots, maintaining dual US and Monégasque citizenships. She died on September 14, 1982, two months before her 53rd birthday, when she lost control of her automobile and crashed after suffering a stroke. Her daughter Princess Stéphanie, who was in the car with her, survived the accident. In June 1999, the American Film Institute ranked her #13 in their list of top female stars of American cinema.
2. MARILYN MONROE- (pronounced /mɒnˈroʊ/ or /mənˈroʊ/; June 1, 1926 – August 5, 1962), born Norma Jeane Mortenson, but baptized Norma Jeane Baker, was an American actress, singer and model After spending much of her childhood in foster homes, Monroe began a career as a model, which led to a film contract in 1946. Her early film appearances were minor, but her performances in The Asphalt Jungle and All About Eve (both 1950) were well received. By 1953, Monroe had progressed to leading roles. Her "dumb blonde" persona was used to comedic effect in such films as Gentlemen Prefer Blondes (1953), How to Marry a Millionaire (1953) and The Seven Year Itch (1955). Limited by typecasting, Monroe studied at the Actors Studio to broaden her range, and her dramatic performance in Bus Stop (1956) was hailed by critics, and she received a Golden Globe nomination. Her production company, Marilyn Monroe Productions, released The Prince and the Showgirl (1957), for which she received a BAFTA Award nomination and won a David di Donatello award. She received a Golden Globe Award for her performance in Some Like It Hot (1959).
The final years of Monroe's life were marked by illness, personal problems, and a reputation for being unreliable and difficult to work with. The circumstances of her death, from an overdose of barbiturates, have been the subject of conjecture. Though officially classified as a "probable suicide", the possibility of an accidental overdose, as well as the possibility of homicide, have not been ruled out. In 1999, Monroe was ranked as the sixth greatest female star of all time by the American Film Institute. In the years and decades following her death, Monroe has often been cited as a pop and cultural icon as well as an eminent American sex symbol
1. ELIZABETH TAYLOR- DBE (February 27, 1932 – March 23, 2011) was an English-born American actress. From her early years as a child star with MGM, she became one of the great screen actresses of Hollywood's Golden Age, and one of the most famous film stars in the world. Taylor was recognized not only as a talented and award-winning actress, but also for her glamorous lifestyle, beauty and distinctive violet eyes.
National Velvet (1944) was Taylor's first success, and she starred in Father of the Bride (1950), A Place in the Sun (1951), Giant (1956), Cat on a Hot Tin Roof (1958), and Suddenly, Last Summer (1959). She won the Academy Award for Best Actress for BUtterfield 8 (1960), played the title role in Cleopatra (1963), and married her co-star Richard Burton. They appeared together in 11 films, including Who's Afraid of Virginia Woolf? (1966), for which Taylor won a second Academy Award. From the mid-1970s, she appeared less frequently in film, and made occasional appearances in television and theatre.
Her much publicized personal life included eight marriages and several life-threatening illnesses. From the mid-1980s, Taylor championed HIV and AIDS programs; she co-founded the American Foundation for AIDS Research in 1985, and the Elizabeth Taylor AIDS Foundation in 1993. She received the Presidential Citizens Medal, the Legion of Honour, the Jean Hersholt Humanitarian Award and a Life Achievement Award from the American Film Institute, who named her seventh on their list of the "Greatest American Screen Legends". Taylor died of congestive heart failure at the age of 79.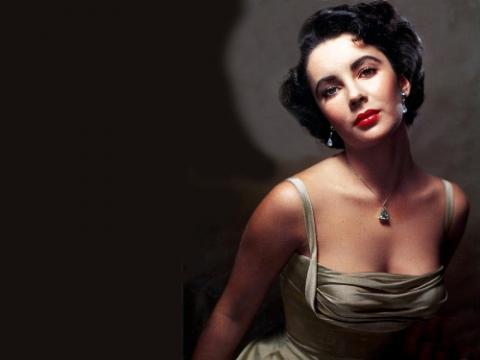 Thanks for viewing...