Christian Mann is a popular fictional character on German soap opera Verbotene Liebe (Forbidden Love) and has been portrayed by actor
Thore Schölermann
since November 27, 2006.
Christian is the little brother of Gregor Mann (Andreas Jancke). He is just out of prison after he was found guilty of holding up a gas station. But Christian was innocent, because his father, Wolfgang, was the real perpetrator. After he is free, Christian wants to begin a new life in Düsseldorf with his brother. Before long Nico von Lahnstein (Verena Zimmermann) and Coco Faber (Mariangela Scelsi) fall in love with him. Christian doesn't know about Coco's feelings for him and begins a relationship with Nico. Coco suffers and when Christian needs to go back to prison, innocent again, for attacking Nico's boss ,Schuhmann, Nico can't deal with Christian's situation and begs Coco to help her. So Coco writes love letters to Christian in prison and Christian thinks they are from Nico. After his release Christian finds out that Coco, and not Nico, wrote to him. Coco can't hide her feelings for Christian any longer and tells him the truth, though she knows that he loves Nico. But Christian begins to feel the same way about Coco and they kiss. When Nico finds out about it, she breaks up with him and sets him free to be with Coco. Christian and Coco are finally happy and enjoy their new love.
Later, Charlie's (Gabriele Metzger) nephew Oliver Sabel (Jo Weil) comes back to town. Coco and Christian are among his first new friends. However, Christian and Oliver clash when Christian realizes that Oliver is bisexual. Coco and Gregor call him on his behavior and Christian apologizes to Oliver. After a fight with Christian Coco is comforted by Oliver and the two of them share a kiss. While Coco has troubles forgetting about the kiss Oliver develops feelings for Christian. When Christian confronts Oliver about the kiss with Coco, Oliver kisses him to prove that he is really interested in Christian, not Coco.
Then after Oliver kisses him, Christian becomes confused with his relationship with Coco, even to the extent that when she leaves for Goa, he doesn't go with her because he doesn't 'love her anymore'. Even though he claims publicly that he isn't gay, Christian strikes up a conversation in a gay chatroom about his confusion about the kiss and inadvertedly voices his issues to Oliver, though he doesn't know that this is him yet. Finding out about his chat partner's true identify leads to a heated confrontation which results in Oliver and Christian having sex.
After having sex with Oliver, Christian is still confused he tells Oliver that he isn't interested. However, Oliver doesn't believe him and is sure that he is just hiding his feelings because he's scared.
They are just friends up until the point that Miriam asks Christian out, after some persuading from Gregor he agrees to go. However, when they get there Oliver is already there dancing with another guy called Rick. Christian doesn't react well when Rick "bumps" into him and ends up starting a fight with Rick. Oliver manages to stop the fight and accuses Christian of being jealous. Christian and Miriam go back to No Limits followed by Oliver and Olivia. Oliver makes a joke about what Christian did and Christian explains he did it because Rick wasn't a nice guy. Christian then tells Miriam that he has a headache and is going upstairs. After some persuading from Olivia, Oliver follows him, but Christian locked himself in his room and won't let Oliver in. Oliver then tells Christian, "I've fallen head over heels in love with you...". Christian eventually unlocks the door, Oliver comes in, and Christian tells Oliver, "I've fallen in love with you", followed by them kissing and having sex.
In the meantime, Christian, has been given a contract by Wolle, a boxing contractor who hates gay people, so Christian hides his relationship with Oliver. When Christian wants to come clean to everyone, Oliver stops him and resolves to keep their love a secret as long as it takes to get Christian into the boxing world. When Christian falls into the temptation of taking Steroids, Oliver reasons with him and stops him from doing so. Wolle by chance sees the two of them hugging and confronts them to which Christian denies everything and accuses Oliver of making a pass at him. Wolle hits back by making stinging remarks of Oliver and asks him to keep away from Christian. Oliver, although hurt, goes along with Christian's impromptue remarks to secure Christian's boxing career. Christian, however, soon fires Wolle from his position as marketer, because he continues to interfere in his life, even going so far as to demand he move out to be away from Oliver, as Oliver's image as bisexual may rub off on Christian's own boxing career.
Christian and Oliver are caught by Christian's brother Gregor in bed together, and Christian assumes his brother has reacted badly. However, it turns out that Gregor is not bothered by who his brother is with, so long as Oliver makes his brother happy, and is upset and angry over Christian's lies and low opinion of his character. Soon after, Christian hires Gregor as his marketer in place of Wolle, and the brothers are once again on good terms. Unfortunately, to keep his image as heterosexual boxer intact not only does his continued relationship with Oliver have to become even more secret, but Judith agrees to become his 'beard'. Effectively, he uses his pretend girlfriend to hide his true relationship, until he can prove his worth as a fighter regardless of his sexuality. But the whole "beard" plan does not work out, for Judith's boyfriend, Fabian, becomes insanely jealous. Until Axel, Christian's boxing partner, becomes convinced that Christian is straight, he instigates Christian and Oliver. Luckily, Axel does butt out of Christian's personal life, and his suspicions are put to rest after the "Christian and Judith" story has ended with the two "breaking up".
Finally, after having some couple troubles with Oliver because Christian feels lack of support from him, Christian beats Axel in his first official fight (in which Oliver is present to support him) and comes out by publicly kissing Oliver in the ring. The night's celebrations turn sour, however, when Axel finds Olli alone and beats him up with a night-stick.But Oliver soon recovers and everything becomes normal between them but they decide that Axel should be taught a lesson. so they try to convince many sports magazines to print the story of how Axel is a homophobic and beat up Olli who was much weaker comparatively to him just because he was the boyfriend of the gay guy to whom he lost a match. but none of the magazines agree to print the story and also the charges against Axel get wiped out due to lack of evidence. Constantin, who shares the apartment with the two, decides to help them and asks Carla whether she can print the story. She uses her influence and the story ultimately gets printed in a newspaper.
Meanwhile, Oliver and christian become very close to each other and everybody looks up to them as the perfect couple.but Olli starts getting severe headaches and feels dizzy sometimes. everyone feels he might just have a migraine. but later he feels very weak and couldn't even support himself sometimes.. while working at the bar at Schnieders once, he collapses. his aunt charlie, and christian take him to the hospital where Leonhard works and they discover that Olli is sufferin from a burst aneurysm, something like cerebral hemorrhage. This happens because of the assault on him by Axel.Christian finds himself responsible for everything because he thinks that his going ahead with his career has caused oliver trouble and that he can even lose his life. But he is not going to let go Axel so easily.
Christian, in a fit of anger goes to Axel with a base ball bat. But Olivia reaches in time and stops Christian from making a mistake which could even lead him to jail. Oliver gets operated and the operation turns out to be successful fortunately. Christian does not know about Oliver's current condition and goes to his boxing club where he addresses all of his club mates of how cowardly they have acted by supporting Axel who nearly killed Oliver just because he couldn't stand that a gay boxer defeated him. When the others get to hear about Olli's condition, it makes them feel guilty, especially Kai, who is Axel's closest of friends in the club.In the meantime Olivia reaches the club and tells christian that Olli's operation has been successful and that he is recovering. Christian runs back to Oliver and sits besides him near the bed. The condition in which Oliver ha been put, makes Christian feel weak and sorrowful. He holds Oliver's hand and starts weeping. He can no longer control his emotions and says" I love you so much" Olli wakes up from the artificial coma and says " I am not going to leave you so easily" Both of them share a laugh and christian becomes relieved that his love is not dying after all.
While still at the hospital, Christian receives a call from Kai who calls him at the boxing club. Christian goes to the club expecting some fight. But when he reaches there, all the club members surround him and ask him to forgive them for such a behavior. Kai tells him that he will support him and that he was very sorry about Oliver's condition. kai has already called the police who take Axel with them. Christian is asked by all his club mates to join the club again even if he is with his guy. Things seem to change for Christian and Oliver after all.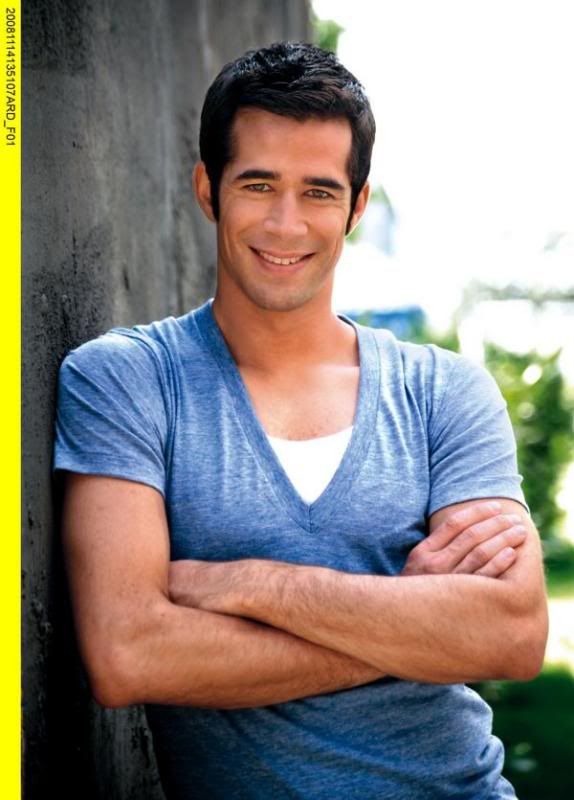 Oliver Sabel is a fictional character in the German soap opera Verbotene Liebe (Forbidden Love). The character is portrayed by actor
Jo Weil
from December 31, 1999 to September 3, 2002 and again since November 1, 2007.
Oliver is the nephew of Charlie Schneider (Gabriele Metzger). Charlie is happy when Oliver comes to Düsseldorf. Charlie and Oliver's mother Henriette haven't had the best relationship and she kept Charlie from Oliver's childhood. Oliver is a young dreamer and bisexual. His first relationship with a man, the doctor Tom Seifert (Kay Böger), was very complicated. His mother showed up and Oliver kept his relationship with Tom as a secret. The sister of Tom, Alexa (Kerstin Kramer), helped him out and played the role of alibi girlfriend. But Henriette finds out about Oliver's relationship with Tom and is disgusted and puts the fault on Charlie. Henriette wants Oliver to end things with Tom or she would stop giving him money to live. Oliver breaks with his mother and Charlie promises him that she will provide for him.
After his relationship with Tom ends, Oliver leaves Düsseldorf and begins to work as steward. Five years later, Oliver comes back for the christening of his cousin Sophia von Lahnstein, daughter of his uncle Lars (Herbert Ulrich). He also reunites with Charlie and his other cousin Olivia (Kristina Dörfer). He moves into a flat-share and becomes friends with Coco Faber (Mariangela Seclsi) and her boyfriend Christian Mann (Thore Schölermann). But Christian begins to have a problem with Oliver when he finds out that he also sleeps with men. With the tension between Christian and Oliver going on, Coco's friendship with Oliver becomes a problem in her relationship with Christian. After another fight, she goes out with Oliver and kisses him. Oliver wants to just forget about it, but Coco realizes that she is falling in love with him. Christian decides to give his friendship with Oliver another chance and it works and they become close friends. Coco isn't happy about that and tells Christian's sister-in-law Sarah Hofmann (Sina-Valeska Jung) about the kiss and her feelings for Oliver. At this time, Oliver realizes his feelings for Coco's boyfriend Christian.
After this realization Oliver begins to want a relationship with Christian. When Christian finds out about the kiss that Oliver and Coco shared he becomes very angry with Oliver. He yells at Oliver "Why should I believe that you don't have feelings for Coco?" To which Oliver responds with a kiss for Christian as well. Christian at first thinks that all Oliver was trying to do was break up himself and Coco. Oliver tries to put the record straight and tells Christian that it was never his plan to break them up, but that he is in love with Christian. Christian becomes very withdrawn towards Coco who soon leaves the show giving Christian her blessing to start a relationship with Oliver as she can tell he also has feelings for him. Oliver and Christian are very strange around each other. Each not wanting to give away his true feelings. Christian starts to talk on a coming out website about his feelings for Oliver, never knowing that he was talking to Oliver anonymously on the website. Neither man knew he was speaking to the other. When Oliver posts a picture of himself on the website Christian thinks that Oliver knew it was him all along and was playing a joke with his feelings. Oliver responds that if Christian was having all these thoughts about coming out then he must be gay. Which Christian then denies and a kiss ensues followed by sex. The next day Christian tells Oliver that it was good they had sex, because he now knows that he is not interested in men. The guys also look for a new flatmate now that Coco is gone. Judith Hagendorf (Katrin Heß) moves in and comments on their closeness thinking them a gay couple which Christian denies. A few days later after getting pressure from his brother to date, Christian goes out with Mariam, a fellow waiter at No Limits. They go to a club and Christian sees Oliver with another guy and a fight erupts when the guy makes a pass at Oliver. Oliver accuses Christian of being jealous which Christian denies. Later on in the flat both Christian and Oliver admit they love one another and begin to date secretly. Christian is scared to come out to his brother as he is the only family he has. Oliver is okay with Christian taking his time and Judith discovers Oliver and Christian's relationship. In the meantime, Christian, has been given a contract by Wolle, a boxing contractor who hates gay people and Christian hides his relationship with Oliver. When Christian wants to come clean to everyone, Oliver stops him and resolves to keep their love a secret as long as it takes to get Christian into the boxing world. When Christian falls into the temptation of taking Steroids, Oliver reasons with him and stops him from doing so. Wolle by chance sees the two of them hugging and confronts them to which Christian denies everything and accuses Oliver of making a pass at him. Wolle hits back by making stinging remarks of Oliver and asks him to keep away from Christian.
Christian fires Wolle as his manager. Gregor is confused as to why Christian has done this and offers to be his brother's manager. Christian is unsure whether to accept this offer, as he has still not come out to Gregor, who is oblivious to Olli's relationship with Christian. Olli comforts Christian and later that evening an unsuspecting Gregor walks in on them in a passionate clinch. Olli confirms their relationship to Gregor, who leaves promptly without comment. Christian believes his brother is unaccepting of his relationship with Olli, and confronts Gregor, but Gregor still makes no remark. Olli finally breaks and also confronts Gregor, who finally realises what Christian believes Gregor thinks about the relationship. Gregor tells Christian that he accepts his brother's sexuality: the only reason he was angry was that Christian felt that he couldn't come out to his brother. They agree to stick together no matter what. Trouble soon arises again as Gregor feels that Christian needs a "beard" to cover his relationship with Olli and get back on terms with Wolle. This comes in the form of Judith, and for a while, everything is OK, until Fabian, who is currently dating Judith, becomes annoyed as they have no time together. Things get even worse when Axel, another boxer under Wolle spots Fabian and Judith together. Believing Judith is having an affair with Fabian, Axel punches him. However, this means that Judith and Christian can end their fake relationship without question.
For a few weeks Oliver and Christian are minor characters in the soap while other storylines develop. In July Christian is preparing for his fight with Axel: if he wins, he will move into the National German Boxing Championship. His determination to win nearly destroy's his relationship with Olli, as he spends no time with his boyfriend, ending in a big argument just before Christian fights Axel. During the first part of the match, Olli stays at the apartment. After talking with Lydia, he realises that his relationship with Christian is not worth giving up on, and rushes to the boxing ring. Christian and Axel start boxing, but within a few minutes, Christian is knocked to the ground, unable to get back up again. Olli arrives just in time to encourage Christian to get back on his feet and continue fighting, until a few rounds later it is Axel who gets knocked to the ground, and doesn't get up, making Christian the winner. As Christian celebrates his victory, Olli joins him in the ring, and Christian publicly comes out by kissing Olli in front of the crowd. At the celebration party at "No Limits" later that evening, Olli and Christian are the last people left. Olli persuades Christian to go and take a bath while he cleans up. Just as Olli is locking the door Axel bursts in with a nightstick, eager for revenge, and badly beats Olli while Christian relaxes in his bath. Christian finds Olli lying under the bar, and rushes him to hospital, where the Doctors confirm that he will be okay. Christian blames himself for Olli's attack, and vows to get revenge.
Olli and Christian start looking for a newspaper or magazine that will publish an article on Homophobia in Boxing. Unfortunately, they are rejected by every publisher, until Constantin saves the day by persuading his lesbian Aunt, Carla von Lahnstein, to enlist the help of a contact to get their story published. Carla manages to convince her contact to publish their story, on the grounds that Axel is charged with assault. However, due to lack of evidence Axel is released without charge, and the contact won't put their article in the magazine, for fear of being sued for libel. Carla refuses to be beaten and buys an entire Publishing Company, unafraid of being sued. The article is finally published, though it is not exactly what they hoped for.
Meanwhile Olli is suffering from persistent headaches, but hides it from his friends and family, including Christian. While he and Christian are celebrating the possibility of getting a fellow boxer, Kai, to give evidence against Axel, Olli suddenly collapses, and is rushed to hospital again. He is found to have a brain haemorrhage, and has to have a life-threatening operation to stop it. Christian is terrified Olli won't make it, and slips away while everyone waits to find Axel. Unbeknownst to his boyfriend, Olli comes through the operation OK, but is in an artificial coma, and won't wake up for a few hours. While the rest of their family and friends rejoice at the news, Christian finally finds Axel, and is about to attack him with a baseball bat, when Olli's cousin Olivia, who also doesn't know about Olli pulling through, stops him, reminding him about his probation. Christian goes to the boxing club, and tries to persuade them to support him, but to no avail. On finding out Olli has pulled through he rushes back to the hospital to be with his boyfriend when he wakes up. Kai visits them, refusing to give evidence against Axel for fear of being discriminated against. Later on Kai sends Christian a confusing text, telling him to meet him at the Boxing Club. Christian lies to Olli and tells him he is going to the cafeteria and sneaks out to meet Kai. Olivia eventually tells Olli where his boyfriend has gone, leaving Olli scared but powerless to help. Christian arrives at the boxing club to find everyone, including Axel and Kai, waiting for him. Axel threatens to beat up Christian, not knowing that Kai has arranged for Police to hear their every word. They intervene and arrest Axel: Kai has decided to give evidence. Christian is even more surprised when the rest of the boxers welcome him back with open arms; free to be friends with him now Axel has gone. Christian returns to the Hospital to explain to Olli what has happened, and everything is well again.