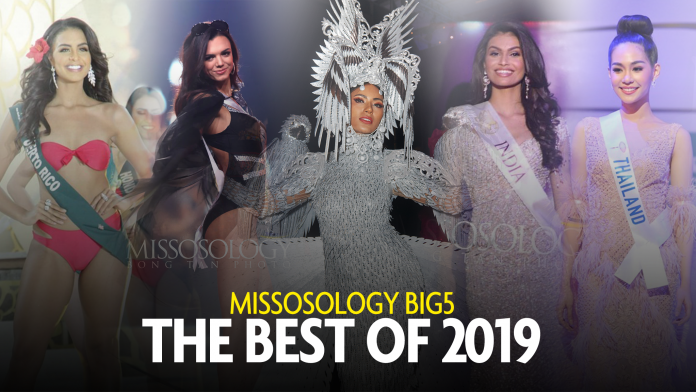 Compiled by Drew Francisco




2019 definitely changed the status quo in the Big5 major beauty pageants.

This is the first year since 2007 that none of the Top 5 Pageant Powerhouses (USA, Venezuela, Brazil, Philippines and Colombia) won a major international title.

Thailand clinched the Performer of the Year accolade for the first time in history after winning their first-ever crowns in Miss International and Miss Supranational. After years of luckless campaigns, Puerto Rico finally broke the drought in Miss Earth and bagged the crown for the first time. South Africa reclaimed the Miss Universe crown after finishing after almost winning it back-to-back last year. Also, Jamaica reasserted its mastery of Miss World after winning its fourth title.

But aside from these, we would also like to recognize the best of the best in 2019 pageantry, with this Missosology tradition.





The Most Photogenic






Bruna Silva, Miss Earth Portugal
Evelyn Namatovu Karonde, Miss International Uganda
Hana Vágnerová, Miss Supranational Czech Republic
Birta Abiba Þórhallsdóttir, Miss Universe Iceland
Alina Sanko, Miss World Russia



These five ladies were the most photographed ladies in their respective competitions. It shouldn't come as a surprise given their effortless beauty and charm.





The Best in Evening Gown






Emanii Davis, Miss Earth USA
Sireethorn Leearamwat, Miss International Thailand
Janick Maceta, Miss Supranational Peru
Zozibini Tunzi, Miss Universe South Africa
Suman Rao, Miss World India



We've seen hundreds of ladies in take the stage in their beautiful evening gowns, but these five ladies stood out with their understated sophistication, embodying the saying "It is not about the dress, but the lady who wears it."





The Best in Swimsuit






Nellys Pimentel, Miss Earth Puerto Rico
Ivana Carolina Irizarry, Miss International Puerto Rico
Yana Haenisch, Miss Supranational Namibia
Kelin Rivera, Miss Universe Peru



One of the most anticipated moments in any pageant is the swimsuit competition, and these five women stood out in a sea of fierce ladies with their vavavoom bodies and amazing stage presence





The Best in National Costume






Fernanda Méndez Tapia, Miss Earth Chile
Nguyễn Tường San, Miss International Vietnam
Nguyễn Thị Ngọc Châu, Miss Supranational Vietnam
Gazini Ganados, Miss Universe Philippines
Iciar Diaz Camacho, Miss World Bolivia




These are just five of the most outstanding national costumes we've seen in 2019 that not only paid homage to each of their respective countries' rich culture and heritage but also showcased their countries' talents.




Quotable Quotes




Best Pageant of the Year


1 Miss Earth
2 Miss International
3 Miss Supranational
4 Miss World
5 Miss Universe




This is the first time that Missosology will be giving out this recognition to the Big5 pageants. This is based on the pageant's overall production value, quality of candidates, pre-pageant activities, and relevant advocacy promotion all throughout the duration of the competition. The Miss Earth contest checked all the boxes and is thus named the Best Pageant of 2019 by Missosology.


* * *
From all of us at Missosology, we wish you all a bountiful 2020!