I feel Miss Earth has one of the most unique formats to judge its contestants. With its strong advocacy to protect Mother Nature , Miss Earth has stood the test of times and is rightfully a Big 5 pageant along with MW,Miss Universe and MI.Moreover, I believe its very tough to place in the pageant because of its format which is a bit complex for me to understand.


The most beautiful thing about this pageant is that it values your attitude, personality and behaviour the most out of all the Big 5 pageants in my opinion. Plus your scrutiny or judgement starts much before you arrive at the pageant. Read following to know more.
FACTS ABOUT MISS EARTH PAGEANT THAT YOU SHOULD KNOW!
(credits to the author of these facts)


1. Miss Earth is the 3rd largest, one of the most publicized and the most relevant Beauty Pageant in the world.

2. Miss Earth is the 2nd largest pageant in terms of Entrants of countries & teritorries. Over 89 participated last year and surpassing last year's Miss Universe entrants with 86 countries.

3. Miss Earth have 120+ national franchises Worldwide.

4. Miss Earth is only the pageant supported by the United Nations Environment Programme(UNEP), Greenpeace and the World Wildlife Foundation(WWF), Ms. Earth Foundation also works with the environmental departments and ministries of participating countries, and various private sectors and corporations.

5. Miss Earth is one of the 3 pageants in the world that is televized in over 100 countries WORLWIDE —via The Filipino Channel. It is also broadcast in the whole Asia-Pacific Region through STARWORLD ASIA. Aside of Starworld Asia there are also TV Network in China & Japan that is also broadcasting the pageant.Last year, Venezuelan TV Network of VENEVISION is also broadcasting the pageant Live!

6. Afghanistan, Bhutan, Congo Brazzaville, Crimea, Niue Island, Reunion Island, Tibet, Tokelau and Zanzibar joined for the first time in beauty pageant and only in Miss Earth for atleast once.


7. Only in Miss Earth Pageant that you can see that not only the reigning winner has the duties & responsibilities to promote Ms. Earth advocacy but also the runners up and the contestants. The Miss Earth winner is the spokesperson for the Miss Earth Foundation, the United Nations Environment Programme (UNEP) and other environmental organizations. The Miss Earth Foundation also works with the environmental departments and ministries of participating countries, various private sectors and corporations, as well as Greenpeace and the World Wildlife Foundation (WWF).

Miss Earth is rightfully part of the Big Four international beautypageants.





Following segments of the pageant are very important.



1. Medal table




In order to give every girl equal chance to showcase her best side, the girls are divided into three balanced groups and every group gets to perform all the unique Miss Earth activities which range from school tours , Mall tours , Sponsor visits to environmental seminars etc. The most important and interesting aspect is that the medal tally in no way determined the chance of your placement. Then what determines your placement ? I will tell later.
Medals are given based on the performance in major challenge events.


a.

The evening gown competition


.
This does not takes place group wise. All girls are made to strut their stuff together in front of the judges individually. Often is asked what are judges really looking for in an evening gown competition. Believe me, They are not at all after the most expensive gowns. They just want to judge how you carry yourself in a particular gown and may be they may ask what is the reason you choose this particular gown for the competition. The head pointers here your

CONFIDENCE & BELIEF in yourself, your designer and your dress

. Mind you, Howsoever lavish the dress may be, if you are not comfortable and confident in it...

YOU WILL NOT BE REWARDED

.

Last year's winners in this segment





b.

The Swimsuit competition


This takes place groupwise. Out of each group, 5 top contenders are chosen and from three groups a total of 15 girls compete in the swimsuit challenge.Now are the judges looking for the best bodies ? yes they do..but that is not enough. Then what else is required to crack the preliminaries. Your body proportion, your walk, your pose, your entry and exit from the stage...every small attribute is evaluated and the girls are scrutinized.
Last year's winners :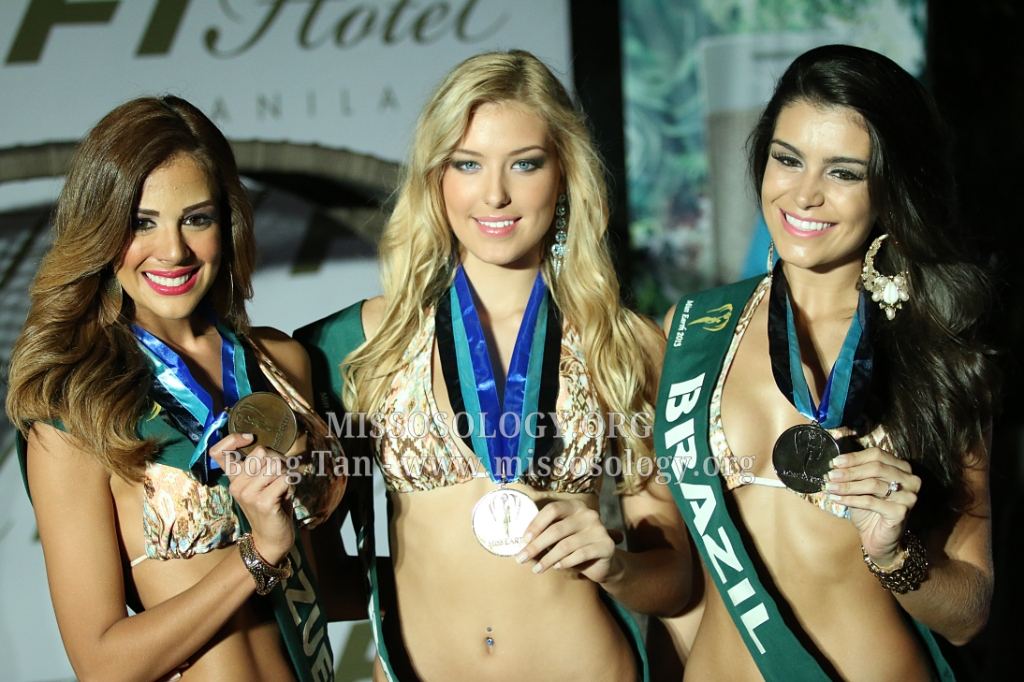 c.

Talent Competiton


It is just not a singing and dancing show. Its real talent what the judges are looking for. Something you have mastered upon for years of hardwork and dedication. This takes place groupwise. Out of each group, 5 top contenders are chosen and from three groups a total of 15 girls compete in the Talent competition. Your talent performance is scrutinized on following aspects :
1. Uniqueness
2. Confidence
3. Grace
4. Creativity
5. Presentation skills
Last year's winners :





d.

Resort Wear competition



I think this is the most amusing competition. It also takes group wise. This takes place groupwise. Out of each group, 5 top contenders are chosen and from three groups a total of 15 girls compete in the resort wear challenge. You are taken to a lavish resort and given stunning resort wears. Now its upto the contestants how to work it. Now the question arises, what are judges looking in a resort wear challenge. Are they looking at how beautiful you look in a resort wear ? NO. Thing is in all aspects they want to judge your confidence and poise. A resort wear is something about ease and elegance. Thats what they look for....How easily you adapt to the garment and how elegantly you can make it work to your advantage.
Last year's winners :




e.

Miss Friendship competition


This takes place group wise but does not have a preliminary. Last year, Each group of the Miss Earth 2013 took a bit of time off from their rehearsals at the Versailles Palace, Alabang to cast their votes for the special title of Miss Friendship.

f.

Miss Photogenic competition


The 2013 Miss Earth Photogenic Competition was conducted through online fan voting system and here are the winners:




g.

Miss Eco beauty competition


The 2013 Miss Earth Eco Beauty award was selected through online fan voting system and here is the winner's Eco Video.



h.

National Costume competition


This grand and cultural extravaganza takes place region wise. The girls are catogerized into four major region of the world. The Africas, The Americas, Asia and Oceania and Europe.
What are judges looking for in a national costume ?
1. The creativity level
2. The grandeur of the costume and how it reflects the country's culture
3. The presentation of the costume
4. Confidence in carrying the costume
5. The story behind the costume (

IF YOU DO NOT KNOW THE SIGNIFICANCE OF THE COSTUME AND WHY YOU SELECTED IT, THEN DON'T EXPECT A MEDAL

)

i.

I love my planets school campaign


Remember, Miss Earth and her court are not just set of wallflowers. They are much more than a beauty queen. They are diplomats, ambassadresses and spokespersons at various international environmental conferences and seminars. They say,

IF YOU CAN MAKE A CHILD UNDERSTAND , THEN MAN WILL NOT BE A TOUGH SUBJECT

. With this ideology, Best School tour teachers are chosen and medals are granted groupwise.

What are the judges looking for (here):
1. Your knowledge of particular concept given to you.
2. How creatively you make children understand it ?
3. How well you can handle their doubts and queries ?
4. How well you can maintain a disciplined atmosphere in the class ?
5. How can you gather the interest of children in that subject ?
I think its one of the most important activities of the Miss Earth pageant.

j.

Most Child Friendly


In the above mentioned activity, you are also given medal for being most child friendly. Its not about who pampers children the most, Its about who can become friends with them in a short period of time given to the contestants. One has to be very patient, generous and welcoming towards children. All these attributes are critically scrutinized.

Based on these 10 activities a Medal Tally table is prepared.



(LET ME REMIND ALL OF YOU, MORE MEDALS DOES NOT MEAN A GUARANTEED PLACEMENT)





2. Sponsor awards or Minor Awards



I actually see them as confidence boosters. Miss Earth has maximum number of sponsor awards for its delegates so that they always feel motivated towards the cause of the pageant. Last year there were 26 sponsor awards which in itself is a record.

Now the question arises, what determines your placement ?

A single interview with the judges ? (not necessarily)

A single interview (without make up) ? (not necessarily)

Then What ?

Let me tell you, every single move you make, the chaperons are always vigilant and judging you. Your sincerity, will, leadership and generosity counts the most. From what I have observed about Miss Earth in 13 years of its existence..that

A CONTESTANT SHOULD NOT MAKE THESE 25 MISTAKES AT MISS EARTH. (Before and After arriving)

...rather I would say at any of the international pageants.

1. Going without having know how about apt make up for themselves .Looking dull and non glamorous at events is a big NO.

2. Not trying your wardrobe before hand . it should not be mediocre. should suit you and you should carry it off really well...which is most important.

3. picking a gown for the sake of it. it is the most important wardrobe. research well about the latest trends n what you can use to your advantage.

4.Not giving emphasis on activities of the pageant. you are watched 24*7 by the pageant chaperons.

5. feeling depressed under stress and pressure. you should know the cure and work best under pressures...thats what pageants are all about.

6. being bitchy, arrogant, rude and moody. No one is going to take your sh*t. always be caring , humble , sweet and gracious.(avoid backbiting)

7. always feeling shy to take initiatives. be the leader. be the public speaker. grab the opportunity if you are being given or asked for. but do not be over confident.

8.forgetting to smile on stage due to nervousness. smile is what shows you are confident.

9. going to just win the prize money. BELIEVE ME, IF YOU DO NOT HAVE ANYTHING TO PROVE OR SAY....YOU WILL NEVER WIN.

10. Not knowing your exercise. at times girls forget to maintain themselves. Once you land up at a pageant fitness becomes uttermost important. so know exercises that do not need much of equipment n can help you maintain your fitness.

11. Not taking diction and content development seriously and feeling like u know it all. This attitude is totally wrong. Personality matters a lot and it comes with your way of delivering speech and your content. So always be updated about the current affairs so that you always have something to tell.

12. Overestimating personality. Pageants are not just to judge personality. Your physique, fitness and maintenance of the body counts a lot esp at Miss Earth with all its challenge events.

13. Ranting and whining. There would be certain times that your name for a certain event or a sub contest top list would not be called. So take it positively than ranting and whining thinking the contest in unfair which is never the case.

14. Thinking judges of a particular nationality would favour their own nationalities. Never think like that. If this is the case then same countries would win every year more or less. If you are good enough and you have done your homework. You will get your reward.

15. Not trying to build good relations with members of the pageant organization. This should not happen. Don't think that only judges have the last say and that is where you have to make an impact. Every member of the pageant organization is important. So always exhibit a great side of yours.

16. Losing confidence. Never lose it. It is the only thing which would help go far in the competition. If you are confident enough ,then you will remain positive and good things happen with positive minded people only. You can opt for confidence building workshops in your preparation time for the international pageant.

17. Losing focus. Then what is the whole purpose of putting in so much hardwork by you and your team. Never lose focus. Your aim should be high placement and the crown and nothing else. Always keep this in mind that you are representing not only yourself but your country on a whole, your team on a whole.

18. Going after prizes. Sometimes what happens if you win a sub contest, you think you will the main pageant and stop concentrating. This should not be the case. Winning or not winning a prize should be used as a motivation and not as an indicator of a sure victory.

19. Talking for the sake of it. If you are not well read with the topic then do not speak about it ignorantly. Neither during public speaking or in the interviews. Rather smile and gracefully try to change it if the ball is in your court.

20. Not taking a look book and thinking you are a fashionista. If you are at a pageant for 20 days then all your 20 looks should be pre planned and snapped. This is how you would be able to stand out in the crowd.

21. No promotion and buzz creation before International pageant. If you will remain stuck up and hideous before the international pageant and do not create a fan base via interaction through different mediaz...then you will go unnoticed.

22. Blaming time and schedule at the last moment. Its not about how much time you got to prepare..its about how much you prepared in the given time. No one is responsible for your failure or success but you.

23. Underestimating yourself because you did not have a cosmetic treatment. This is so wrong. If you are confident and have prepared yourself according to the requirements of the international pageant then you do not need to put yourself down. It will do you no good.

24. Forgetting the essence of a pageant. Sometimes what happens is you tend to forget what is the cause of the pageant. Remember enjoying the experience is one thing and taking it as a paid vacation is another.

25. Feeling Homesick and lonely. It is actually not a mistake. It happens. But even if there are things you cannot share with your new friends there .you can always cheer yourself up with your collection of songs that you like and which soothe you. Never give yourself an excuse to look back.



We often complain that why certain girls are able to place and why certain favorites do not. We have to understand that ME is not MW or Miss Universe or MI. Its unique in its own way

.

Hope this will help doubts of Many pageant followers and Miss Earth delegates.


Last year's winners : Miss Earth Alyz Henrich and her elemental court.





Thank you for reading !!!