The Miss World Pageant started the practice of crowning its winners in 1955. Venezuela's Carmen Susana Duijim was the first 'crowned' winner. The victory rites of her predecessors included standing at the highest level of a podium with a bouquet and sash. In those early days its seemed crowns were disposable and not a major symbol of the pageant. Throughout the history of the pageant the crown has been changed eleven times.



Duilim wearing the first Miss World crown

This original crown was used for three consecutive editions and was retired in 1957 at the end of the reign of Finland's Marita Lindahl.



The second Miss World crown was unveiled at the 1958 edition for the crowning of South Africa's Penelope Anne Coelen. It was the most exquisite and intricately designed to date. Strangely it was only used for that edition.



A new crown was debuted in 1959 for the crowning of Corine Rottschaefer, she has the distinction of being the only one to wear that crown



With 1960 came another crown for a new Miss World. Argentina won the crown on that occasion. That crown too only lasted for one edition.


Miss World 1960, Norma Gladys Cappagli

1961 was the year for another crown and the UK's Rosemarie Frankland was the first to wear it. It seem to be he largest of most elaborate crown the pageant had ever used.



The crown made the pageant's record for the first to be used in ten consecutive editions. It concluded its run in 1969 with Austria's Eva Reuber-Staier in 1969.


Eva Reuber-Staier

1970 was a controversial and memorable year. Every thing from feminist protests, rigging and the first ever black Miss World.


Jennifer Josephine Hosten

I personally dislike this crown. It looks like a court jester's head dress, way to large and distracting. It was only used twice.



Brazil, Lúcia Tavares Petterle, 1971

In 1972 a new crown design was unveiled. It was only used for the 1972 edition but its tenure didn't end there.



The USA won in 1973 and with that victory came a crowning with a new crown but that one like Majorie's reign didnt last long.


Marjorie Wallace

1974 came with a stylish silver crown for Helen Morgan. This crown was retired in 1975.


Welnelia Merced crowning in 1975.

In 1976 yet another crown was used, this time it was Jamaica's Cindy Breakespeare's honor.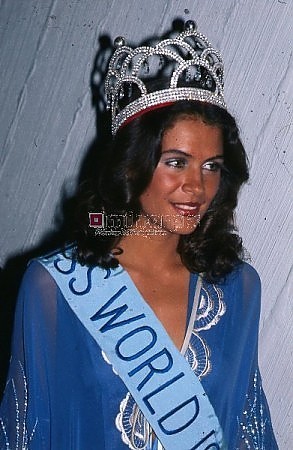 Cindy wasn't the first to wear this crown...it was first used by Wilnelia for Miss World promotional events in 1976 before her reign ended.



Silvana Rosa Suárez Clarence of Argentina was the last to wear this iconic 70s crown.

The crown design of 1972 made a return after a 7 edition hyatus, a new version that is. Gina Swainson copped it and it has been used ever since.



This crown has become the most iconic and longest used crown of the Miss World pageant and is now synonymous with the pageant's mantra "Beauty with a Purpose" and has been nickname the blue crown for its colors and turquoise features and blue stone.


India is the second most successful recipient of this particular crown, having won it on four occasions- 1994, 97, 99 and 2000.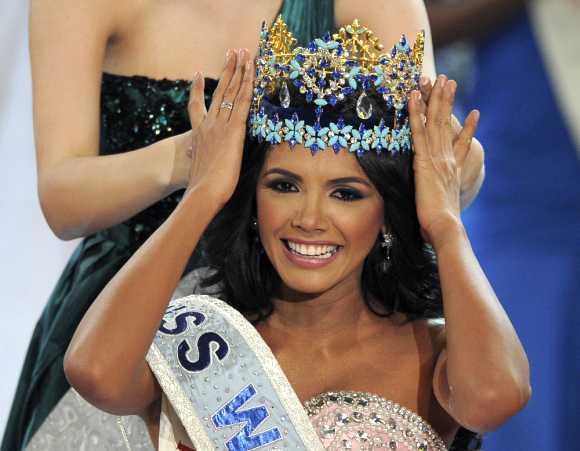 The most successful is Venezuela winning it five times. 1981, 1984, 1991, 1995 and 2011.



The crown and the gown to match.
Miss World 2012 Wenxia Yu of China will pass the crown to her successor at the conclusion of miss World 2013 in Jakarta, Indonesia.