On this 63th anniversary of her crowning as Miss Universe 1957, we would like to make a homage to the beautiful Gladys Zender, and thus enhance her achievement, seen in the world of beauty pageants, as a great achievement since it was not only the first Latin woman to ever win Miss Universe, but also she was the first one with dark hair and brown eyes and the youngest, since she was crowned with only 17 years of age.



Her Childhood and Teen Years



Gladys Rosa Zender Urbina was born in Contamana (State of Loreto), Peru on October 19, 1939. She is the daughter of the architect Eduardo Zender Honigman and Rosa Urbina Di Negro. She is the eldest daughter of 4 children who had Eduardo Zender Honigman and Rosa Urbina. She studied at the prestigious German School of nuns for women, Santa Úrsula, located in the District of San Isidro, in the capital Lima. She also studied ballet since she was 8 years old.

After finishing high school, she wanted to study Medicine, due to her passion for mathematics, but her dream was cut short due to being crowned the most beautiful woman in the universe. An anecdote from her time as a student, at age 13 it was customary to send letters to friends from other schools, and in a letter she signed as: "Gladys, future Miss Universe." This friend kept that letter, and gave it to the press to publish as an anecdote.



Miss Peru



She had entered and won the Queen of Miraflores pageant, prior to winning Miss Peru on July 6, 1957, in the Municipal Theater of Lima. There was little time to prepare for Miss Universe, so she had nothing but the evening gown. In fact, she was the last contestant to arrive at the concentration.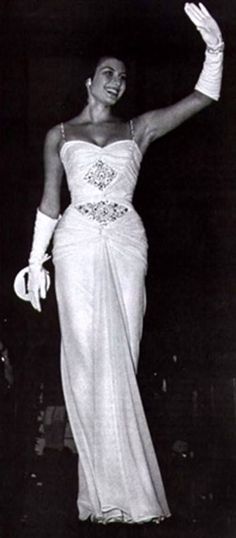 Miss Universe



The 6th Miss Universe pageant was held at the Long Beach Municipal Auditorium in Long Beach, California, USA. Back then, Miss USA and Universe were held together. With a height of 1.70, and perfect measures for the beauty standard of the time: 92, 59, 92, Gladys stood out and was crowned Miss Universe 1957.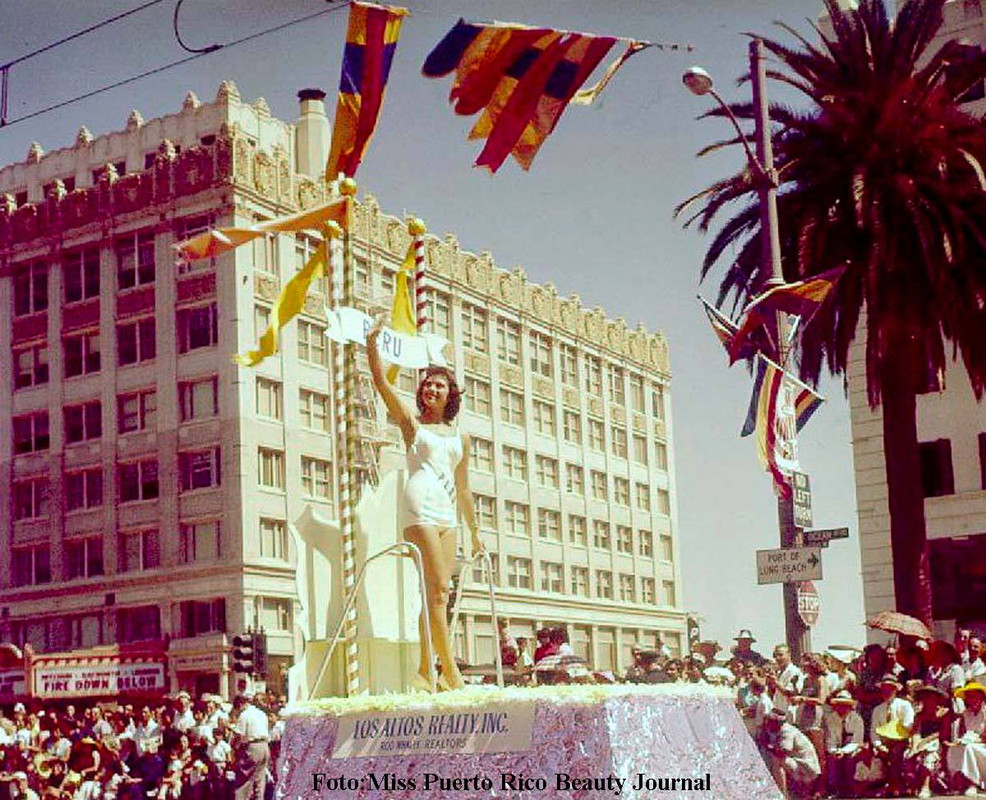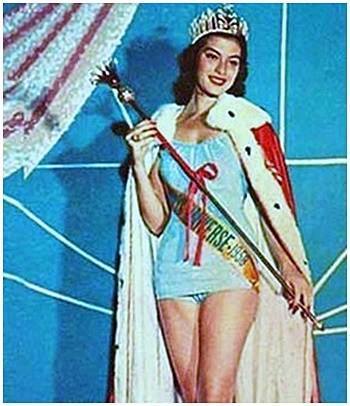 Gladys's victory was not without controversy. After being crowned, it emerged that she was only 17 years old, a few months below the minimum age required by the organization. The organization took a whole day deliberating whether to take the title away from her and give it to the first finalist, Miss Brazil. Then, it has been officially decided that she should remain with the crown because in Peru, a person is considered one year older if they are more than 6 months over their current age.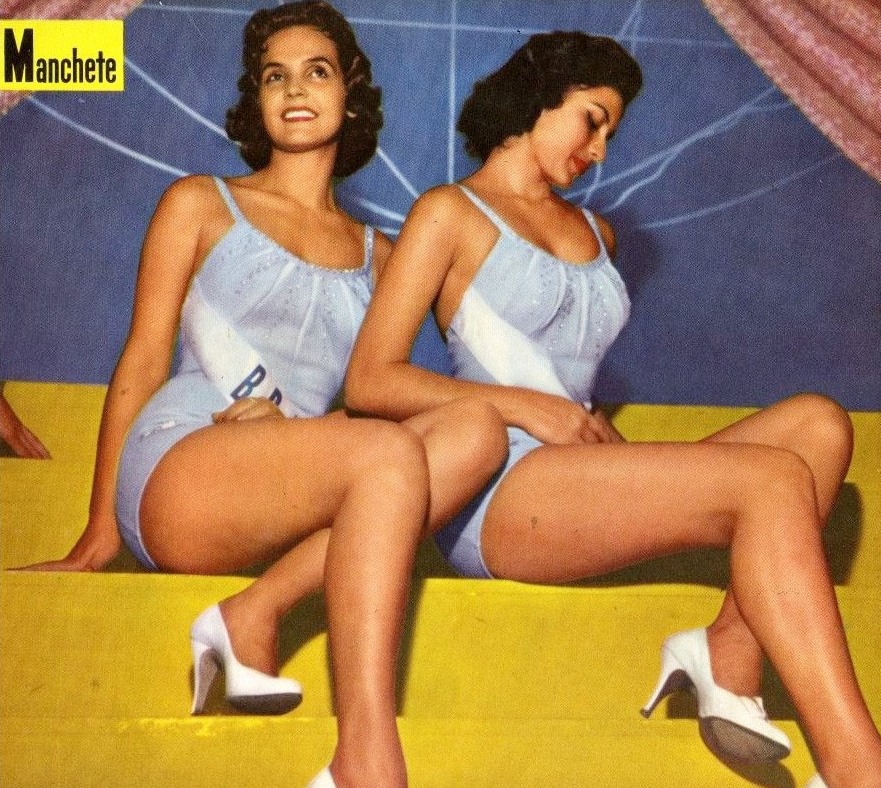 Her triumph through controversy was world news, making it to covers of magazines and newspapers around the world.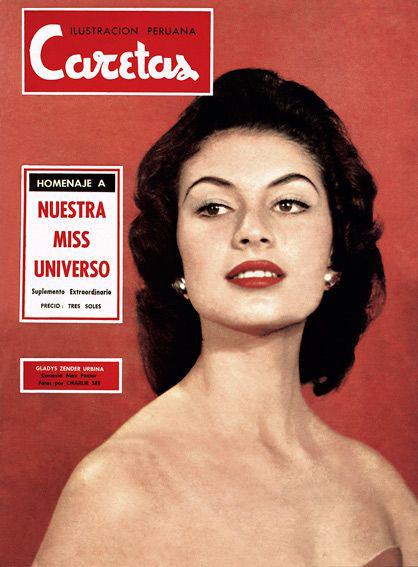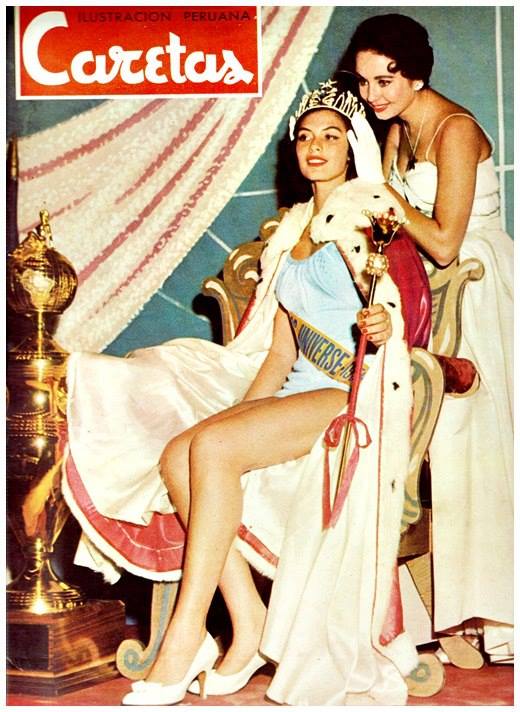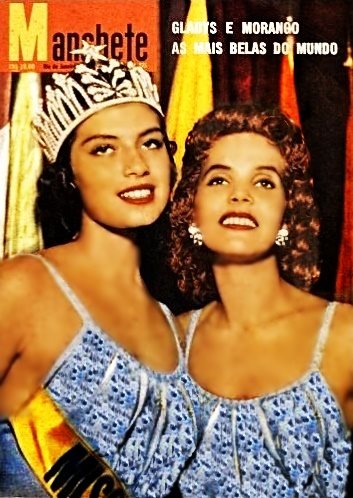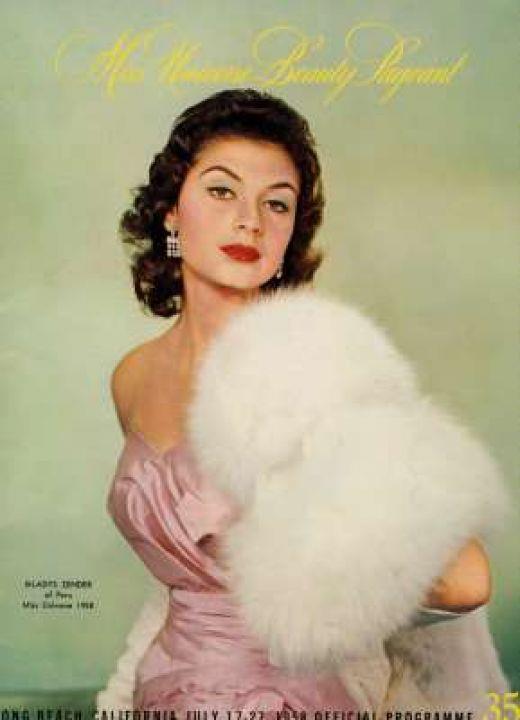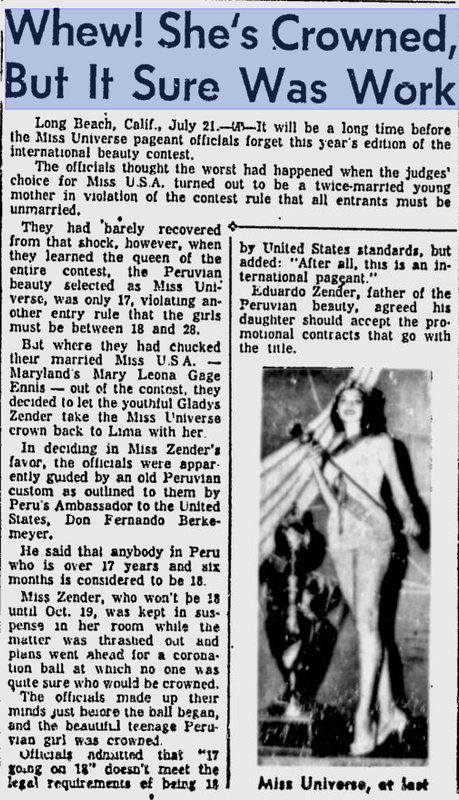 After her coronation, she traveled to New York, the organization's headquarters, and was a special guest on American television programs such as Dan Davis, and also Johnny Carson's. During her travels, she was received by presidents from Brazil, Colombia, Chile and Nicaragua. On her travels, she also met Hollywood celebrities like Natalie Wood, Rock Hudson and John Wayne. In Vegas, she met Nat King Cole, who later dedicated the song "Unforgettable" to her during the show.
With the Nixon's
For his reception in Peru, a trip to Talara, Piura (northern of Peru) was inaugurated, the only trip from JFK airport to Talara. From there he traveled to Lima, where she received a great reception.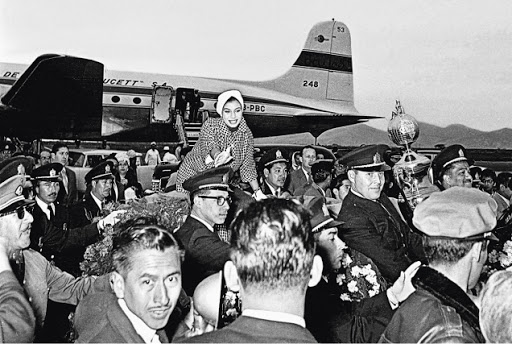 During her reign, Gladys received thousands of letters from her fans, and also letters from personal admirers proposing to her. In fact, while in New York, she met an Arab sheik who was willing to convert to Catholicism if she accepted his marriage proposal.



After being Miss Universe



Jose Bono, a Spanish politician, makes references in his book "The session is up" to the love letters that Prince Juan Carlos of Spain sent to Gladys, which were intercepted by Francisco Franco, general and dictator who was ruling at that time.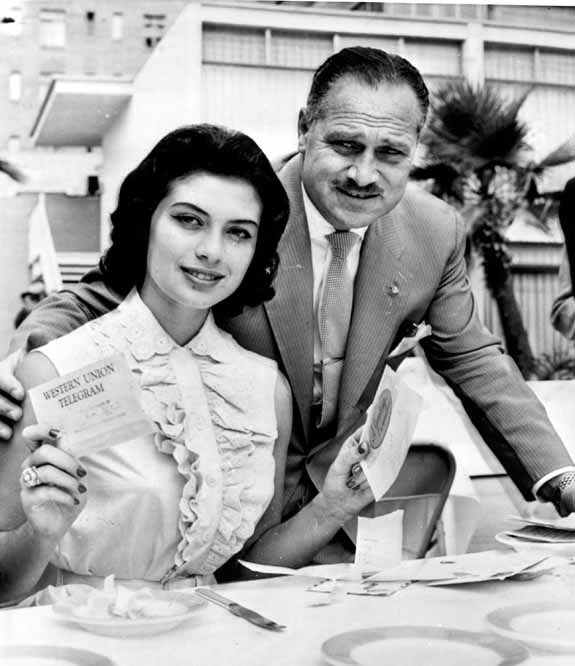 With her Dad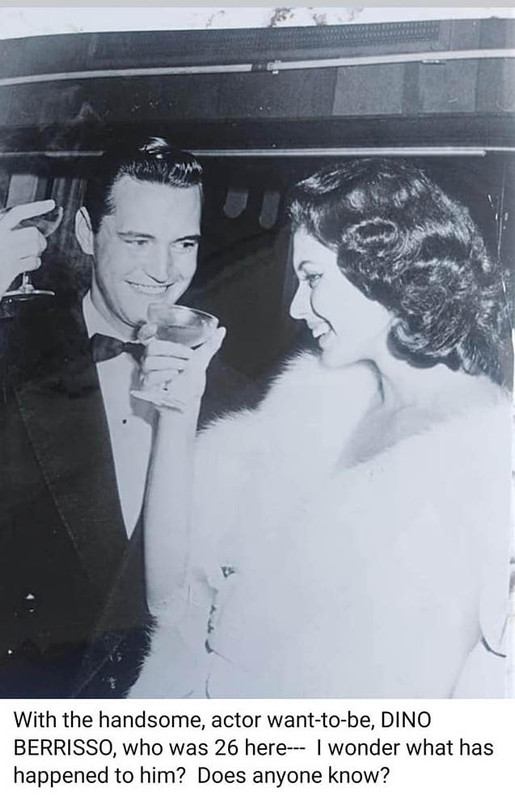 With Popular Actor of the Era
Gladys and Antonio Meier, politician and economist, met in 1964, at a party. From that day on they started dating. Two months later he proposed to her, and she accepted hopelessly in love. They got married in 1965. The couple have 4 children. Her son Christian Meir is a popular Peruvian singer and actor, who has achieved notoriety in other Latin American countries.
Her serene beauty was a source of inspiration for composers such as Nicolás Wetsel who dedicated the waltz that bears her name and Alicia Maguiña (schoolgirl at the Santa Úrsula school), composed her a polka; both compositions were performed by Los Troveros Criollos, a known group in Peru.

Currently our beauty queen is happily married to Antonio Meier; dedicated to wood and fabric crafts, as well as being surrounded by her 4 children and grandchildren.
---0---