Hello Mobile legends and Miss Universe fans! Wanna see your Miss Universe 2018 in a game? Here's a walk through of the possible character creation of Miss Universe 2018, Catriona Gray, in the worldwide mobile game called Mobile Legends.
Catriona's character featured by "BluePanda" an online gaming channel based in Sweden with almost 1 and a half million subscribers!

P.S. They didn't even know that Cat is a real person
Catriona Gray, as a new Mobile Legends Hero
After Catriona Gray won the Miss Universe 2018, many netizens suggested making a Catriona Gray hero in one of the most played moba game, Mobile Legends: Bang Bang (MLBB). MLBB support team already considered the suggestion and will still be reviewed by the developers team.

Catriona will be a mage/support type hero with its own skills, skin, and history. Based on the message sent by a netizen to the MLBB support team, Catriona will be Valir's lost twin sister, Kadita's childhood best friend, and Odette's opponent.

Please check details below for Catriona's skin, skills and abilities made by Kenneth Tackling:

[Basic Attack]
Fireballs

[1st skill]
Lava Walk

Using the power of their civilization, power from the Mayon volcano, Catriona leaves lava trails from her back and pulling the enemies on her way dealing damage to anyone who steps from it and slows the enemy. Catriona then gains an additional movement and shield. This skill consumes a lot of mana.


[2nd skill]
Heat Wave (slow-mo turn)

Using the magic Catriona possess, the elemental magic of Fire. Catriona then cast a wave of flames in a circular motion, dealing damage of ___ and pushing away the enemies around her. This skill can stack up to four times and can cause a severe burn to the enemies, leaving them burning for ___ sec with additional damage of ___.

[3rd skill]
Gift of Gods

The Gods from above saw how pure Catriona's heart is and its willingness to help anyone. And so, the Gods bestowed her a gift, the magical creature Phoenix. On this skill, Catriona can transform into a Phoenix and every time she transforms, a blast of flames will be produce and causing the nearby enemies to turn into stone for ___ sec.

[Passive skill]
Immortality

Using the power of the Phoenix bestowed by the Gods, Catriona will be reborn after she was killed and gains a shield.

Catriona's default skin will the Blazing Siren, the one which she wears on the Preliminary of Miss Universe 2018. For the epic skin, it will be her winning look in Miss Universe and will be called the Lava Goddess.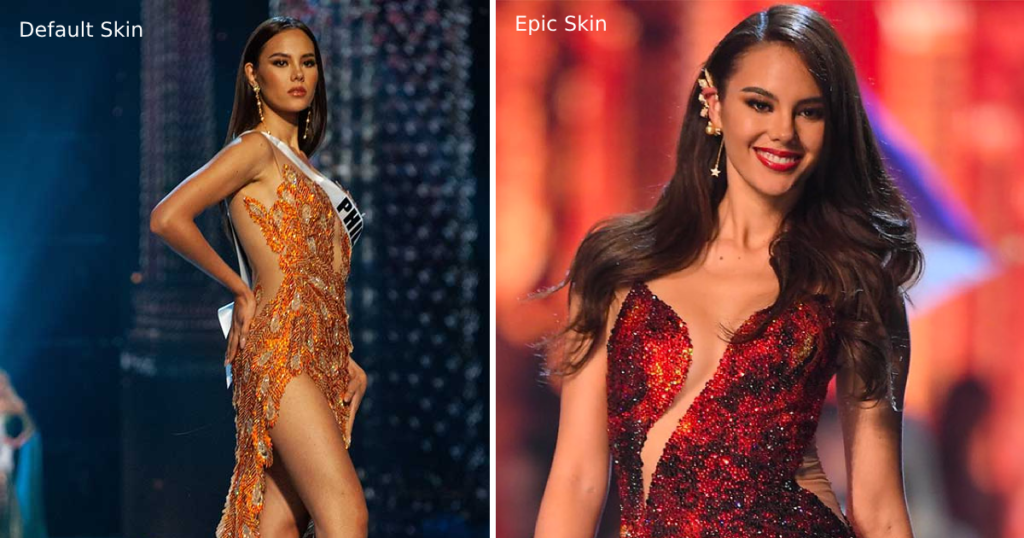 There are already a lot of people not only Filipinos waiting for the release of the new Mobile Legends hero, Catriona. Maybe this will be the strongest and most annoying mage or support in MLBB. So keep playing Mobile Legends and wait for the upcoming updates.