DISCLAIMER: Not a hate thread. This topic is created to openly tackle Cultural Relativism and Transphobia.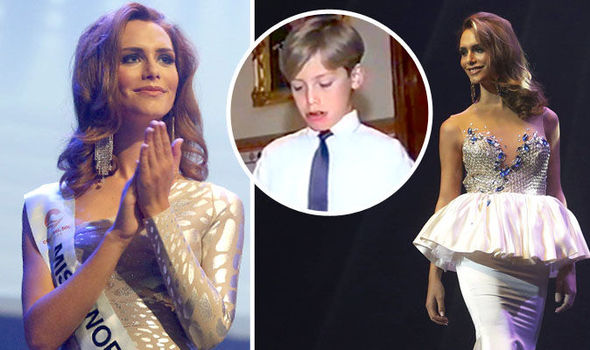 For the first time in MISS UNIVERSE's history, a transsexual woman is set to compete at the biggest stage of Pageants. A stage wherein a natural born male has never graced. Her name is Angela Ponce and she is all set to represent Spain in the global stage.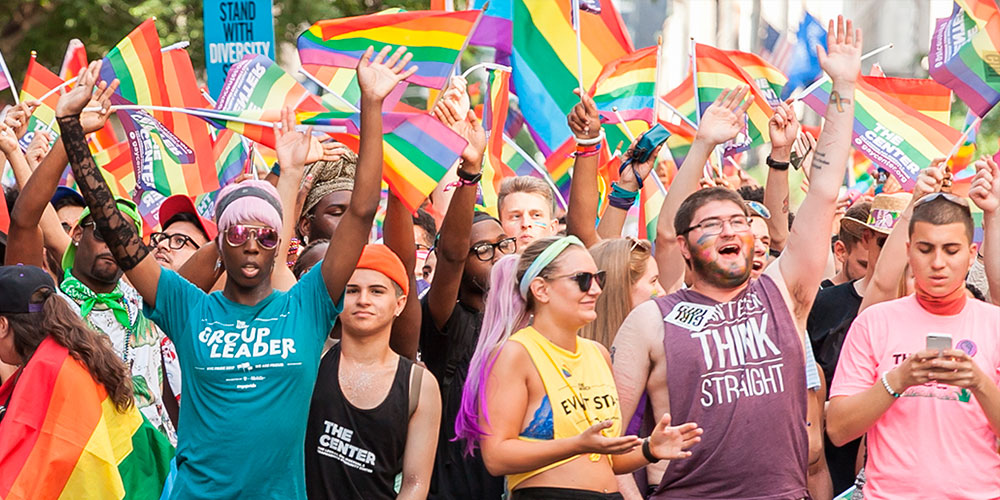 RE: A VERY "SUBJECTIVE" HISTORIC MOMENT.
While many are applauding this moment, Huge amount of violent reactions are escalating online. Leading to debates and confrontations as to whose contention is right and should be accepted. Some says, it's a progressive movement for the LGBTQ community as well as in Pageantry while some believes that it is the beginning of an end for Miss Universe. We will never reach a final conclusion as to what's right or wrong but one thing is for sure GOOD OR BAD PUBLICITY is PUBLICITY so kudos to ORGBEMISS (Miss Universe Spain Organization) for howling attention worldwide.
RE: TRANSPHOBIA AND CULTURAL RELATIVISM
DEFINITION:
Transphobia is a range of negative attitudes, feelings or actions toward transgender or transsexual people, or toward transsexuality. Transphobia can be emotional disgust, fear, violence, anger, or discomfort felt or expressed towards people who do not conform to society's gender expectation
DEFINITION:
Cultural Relativism is the view that moral or ethical systems, which vary from culture to culture, are all equally valid and no one system is really "better" than any other. Cultural relativism is a widely held position in the modern world. Words like "pluralism," "tolerance," and "acceptance" have taken on new meanings, as the boundaries of "culture" have expanded.
Indeed we are in a time where acceptance and tolerance transcended norm and culture BUT we can never deny the fact that there are still conservative groups of people who follow their cultural standard in viewing situations like this.
Most of the western people would definitely applaud this news but not in certain traditionalist parts of the world specifically the ASIAN REGION.
Let me set Philippines as an example: Filipinos celebrates pageants in almost every social gathering available (Schools, Fiestas, etc..). Later on,
there came GAY BEAUTY PAGEANTS! In a society where both FEMALE and GAY/TRANSSEXUAL beauty pageants coincides...Filipinos learned to differentiate the value for both pageants, making a norm that FEMALE BEAUTY PAGEANTS is an exclusive competition for natural born women anchored on respect and celebration of femininity while GAY/TRANSSEXUAL PAGEANTS as another exclusive competition for natural born man anchored on entertainment and celebration of the LGBTQ rights. Both pageant co-exists HARMONIOUSLY for a different purpose and objective. So never in the history of the conservative Philippines that a natural born male breaks into Female beauty pageants vice versa (because they have their own platform from the beginning).
Therefore, Miss Universe as the alpha/biggest female pageant for Filipinos (as much as what the norm suggests) should only be participated by natural born women otherwise it will destroy the norm they have in their pageantry's individual image of FEMALE and GAY beauty contests.

So we cannot just argue that people who opposes this movement are automatically Transphobic and close minded since their beliefs are strongly anchored on what their culture shows them. This is the reason on why you would see tons of comments paving respect for the LGBTQ community but at the same time opposes to the idea of a Transgender joining Female Pageants.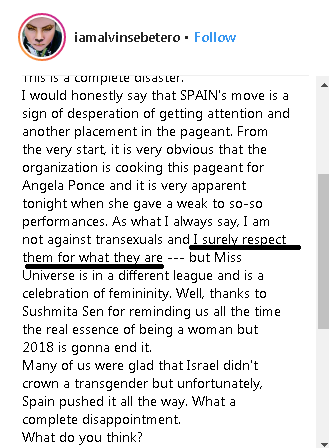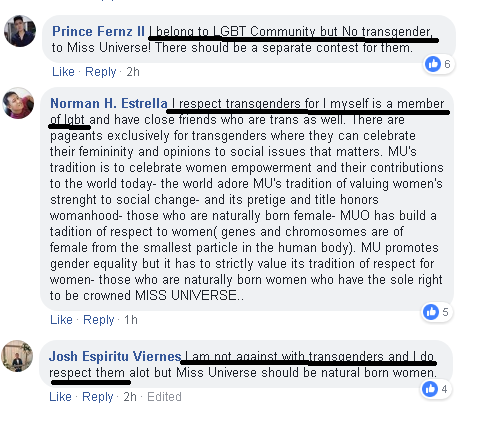 RE: MISS UNIVERSE'S REPUTATION AMIDST THE ISSUE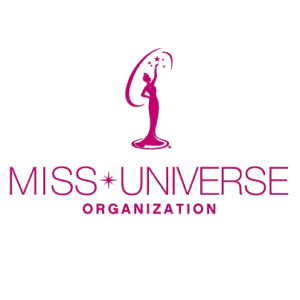 A lot are advocating for Angela's dethronement or disqualification for the coming competition suggesting that MUO should prohibit her from joining as they don't see her participation fit and decent to do so. But as pageant fans we all know that MUO under Donald Trump cleared this issue way back in 2012 allowing Transgenders to finally join his pageant. The only way for Angela to be stopped is for MUO to revise its rules unfavorable on the part of the Transgender in which is a very timely-stupid move that MUO will never resort into. Furthermore, Miss Universe is known to be an advocate for LGBT rights..to deny Angela a pass is purely Hypocritical.
In my humble opinion, MUO should accept Angela with open arms (to do otherwise is a bigger blow to their reputation). Inevitably, Angela will generate massive attention (good or bad) for the pageant so my only wish is for MUO to treat Angela fairly and not exclusively. I've seen her performance in Miss Universe Spain, I must say it's underwhelming therefore quite obvious that the crown was rigged in her favor. In connection to that, MUO should definitely highlight her momentous story but NEVER EVER give her an unfair edge over deserving girls! If happens will probably put Angela and MUO's reputation to a greater death.
Just recently, MISSOSOLOGY created a POLL to feel the fans' pulse regarding this issue.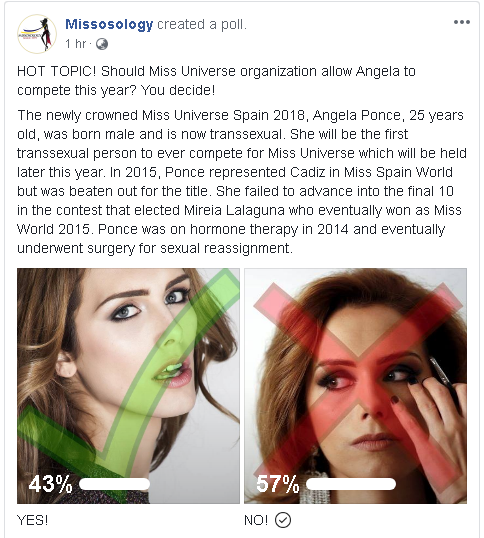 RE: THE WOMEN OF THE HOUR
I admire her bravery and perseverance in pursuing the thing she likes the most, PAGEANTRY. Indeed Angela is the name that all pageant aficionados would remember for the rest of time. There will be massive attacks online or even in person and I just wish this wonderful lady a happy and positive reign as the first ever TRANSGENDER MISS.
GOODLUCK to her in MISS UNIVERSE!