.
Twitter launches #SalamatQueenP campaign in partnerships with Pianatics and Missosology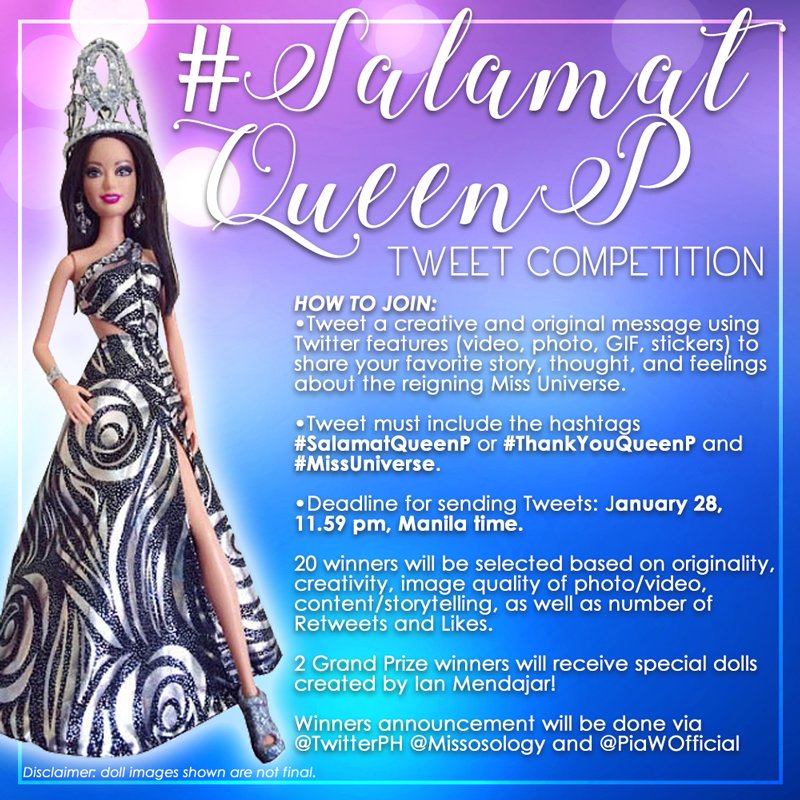 Twitter, together with Pianatics (@PiaWOfficial) and Missosology (@Missosology) - two of the biggest fan groups of the Miss Universe pageant, launched the #SalamatQueenP (#ThankYouQueenP) campaign today. The online competition aims to find the best Tweets expressing love and appreciation for 2015 Miss Universe Pia Wurtzbach (@PiaWurtzbach). The contest will run from January 26 to January 28, 2017. Winners will be announced on January 29, via @Missosology, @PiaWOfficial and @TwitterPH.

"Pianatics have joined forces with Twitter to express their passion for beauty pageants as well as their appreciation and love for the outgoing Miss Universe Pia Wurtzbach. Pia has been simply amazing over the past year in her Miss Universe duties around the world, while her achievements and contributions have raised Pinoy Pride to a whole new level," said Daryl Perez (@SparkyAndStacey),Pianatics founder.

"For us at Missosology, Pia Wurtzbach is the epitome of today's modern woman - intelligent, beautiful, passionate and of course, confident with a heart. We are proud to have this collaboration with the Pianatics to have everyone here and around the world express their gratitude and love for Pia using Twitter," says Pawee Ventura (@MissPawee), Missosology co-founder.

Here's how users can join the contest:


Tweet a creative and original Tweet - using Twitter features such as photos, GIF, stickers, video, others - to share their favorite story, thought, and feelings about the reigning Miss Universe.


Tweet must include the hashtags #SalamatQueenP or #ThankYouQueenP and #MissUniverse.


Deadline for sending Tweets: January 28, 11.59 pm, Manila time.

Twenty (20) winners will be selected based on originality, creativity, image quality of photo/video, content/storytelling, as well as number of Retweets and Likes. The best two winners will receive a special doll created by Pianatic Ian Mendajar (@ianianlorenz).

"Twitter shows you what's happening in the world and let's you join the live conversation. There's no doubt that the Miss Universe pageant is a global conversation on Twitter and it's wonderful to see The Philippines be the center of the Miss Universe world on Twitter as the host nation for this year's pageant," said Pratiksha Rao, Head of Niche, Twitter Asia Pacific. "We're proud to support Pianatics and Missosology communities to encourage Filipinos as well as avid supporters of beauty pageants to share inspirational stories and messages on Twitter with Ms. Wurtzbach as the reigning Miss Universe."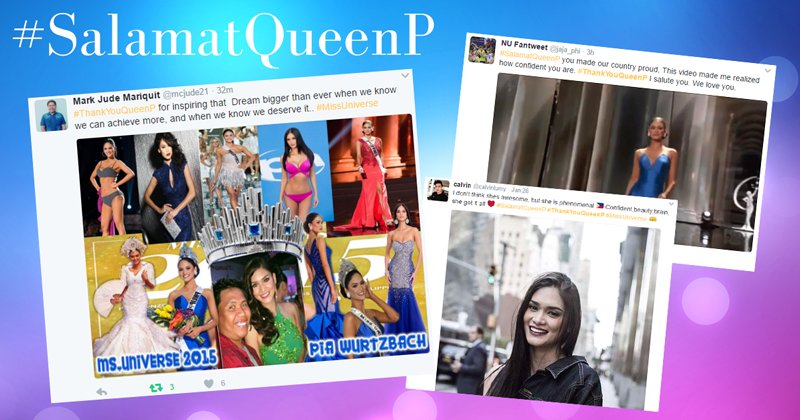 .