Saw this as a response to the FB Post of PEP.PH, which is worth discussing.

WHICH COUNTRIES in the world prioritize the vaccination of youngsters (15 years old and below) over the ELDERLIES?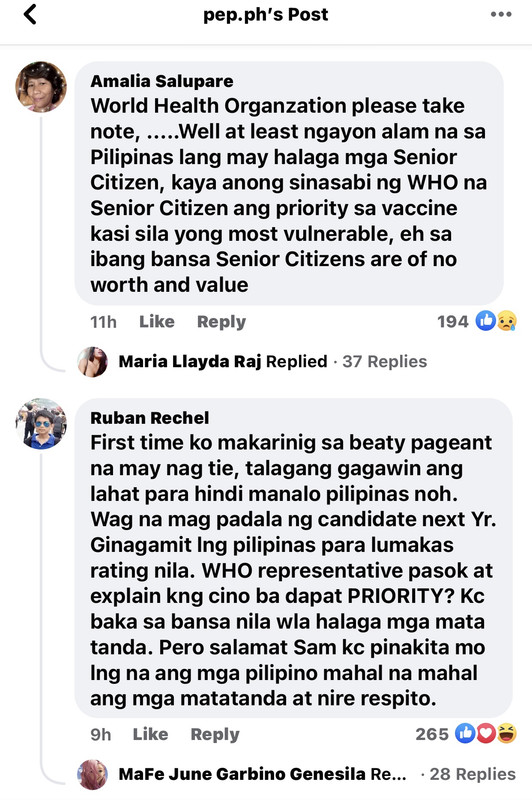 Probably, in the countries of the MGI judges, their ELDERLIES are not the priority. I want to know, really. Because it is utterly STUPID to defy what the EXPERTS and WHO is saying that Elderlies are the priority.
With the decision of the uninformed (stupid) MGI judges to give the crown to someone who chose the young over the elderly.
(Don't debate with me that Miss Ghana/USA's answer was better than Miss PH, coz it was NOT. Content, delivery, authenticity and even scientific basis, Sam Bernardo's answer was a lot BETTER.)

And don't insist that they based it in the previous Q&A because they clearly said before that all scores goes back to ZERO, meaning the only basis is that Final Q&A.

By the way, Miss Ghana/USA kept on saying 16 while the question was about 15 (years old).

Scientists around the world DO NOT RECOMMEND vaccinating the young/children because:
1. Those vaccines are not approved for children (16 years old and below)
2. Children have higher recovery rate.
(i.e. If you choose to vaccinate the elderly over a 15 year-old, there is a high chance that both will survive and live. But if you choose the 15 year-old, there is a 99% chance that the elderly will die.)

So to the uninformed (stupid) judges EDUCATE YOURSELVES; and hope you will not find yourselves in that situation where you have to choose between your parents or grandparents and any children to be vaccinated.