"Miss America represents the highest ideals. She is a real combination of beauty, grace, and intelligence, artistic and refined. She is a type which the American Girl might well emulate."

In the early years of the pageant, a beauty competition of the women wearing bathing suits was the main event. Miss America 1951 Yolande Betbeze refused to pose for publicity pictures while wearing a swimsuit, citing that she wanted to be recognized as a serious opera singer. Catalina swimwear, one of the Miss America sponsors, withdrew and created the Miss USA/Universe pageants.



The pageant has been nationally televised since 1954. It peaked in the early 1960s, when it was repeatedly the highest-rated program on American television. It was seen as a symbol of the United States, with Miss America often being referred to as the female equivalent of the President. The pageant stressed conservative values; contestants were not expected to have ambitions beyond being a good wife (there is also a Mrs. America pageant).


Miss America 1960's titleholders

Since the 1980s, eight black women have been crowned Miss America.

Miss America 1984 Vanessa Williams from New York


The first Black Miss America, resigned on July 23, 1984.

Miss America 1984 Suzette Charles from New Jersey


Suzette Charles's 7-week reign is the shortest served by any Miss America.

Miss America 1990 Debbye Turner from Missouri


The reporter and anchor for CBS's The Morning Show.

Miss America 1991 Marjorie Judith Vincent from Illinois


The first Miss America winner of Haitian descent.

Miss America 1994 Kimberly Clarice Aiken from South Carolina


Aiken has made numerous television appearances and was once recognized by People Magazine as one of the "Fifty Most Beautiful People in the World".

Miss America 2003 Erika Harold from Illinois


Harold's ethnic background is extremely varied. On her father's side, she has Greek, German and Welsh ancestry, and on her mother's side, Native-American, African-American and Russian descent.

Miss America 2004 Ericka Dunlap from Florida


The first African American woman to become Miss Florida.

Miss America 2010 Caressa Cameron from Virginia


Cameron placed 2nd Runner-Up to Tori Hall at Miss Virginia Teen USA 2005 and 2nd Runner-Up to Amber Copley at Miss Virginia USA 2006.

Miss America 1955 Lee Meriwether was the first to receive her title during a televised pageant.



Delegates from the same state have won the title of Miss America in consecutive years.
This has occurred with contestants from:

Pennsylvania (1935 and 1936)

Miss America 1935 Henrietta Leaver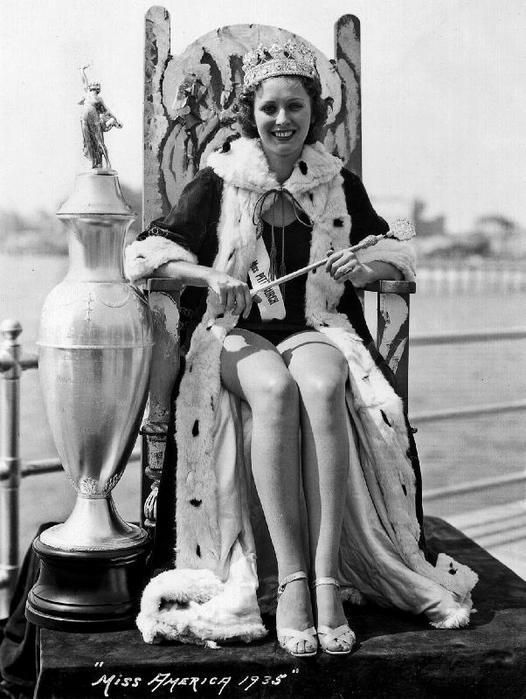 Miss America 1936 Rose Coyle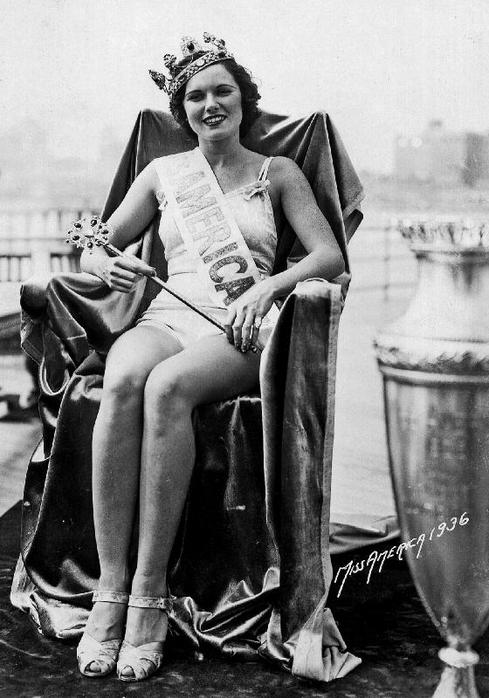 Mississippi (1959 and 1960)

Miss America 1959 Mary Ann Mobley



Miss America 1960 Lynda Lee Mead



Oklahoma (2006 and 2007)

Miss America 2006 Jennifer Berry



Miss America 2007 Lauren Nelson



Miss Columbus, Ohio Mary Katherine Campbell who successfully won in both 1922 and 1923 Miss America pageants and was also 1st Runner-Up in Miss America 1924. The rules were changed to limit an entrant to participating in only one year.



In 1984, Vanessa Williams became the first African American woman to be crowned Miss America but resigned from her duties after nude photos of her surfaced in Penthouse. The job was subsequently filled by 1st Runner-Up Suzette Charles who carried out the remaining seven weeks as Miss America 1984. Both women are now included on the canonical list of Miss America laureates. Williams is officially designated Miss America 1984a and Charles is officially designated Miss America 1984b.


Miss America 1984a Vanessa Williams from New York


Miss America 1984b Suzette Charles from New Jersey
Notably, both are African Americans and their states have "New" in their names.

In 1995, Heather Leigh Whitestone became the first deaf Miss America titleholder, having lost most of her hearing at the age of 18 months.



Miss America 1998 Kate Shindle of Illinois has numerous recording and Broadway theater credits including Wonderland, Legally Blonde, Cabaret, Jekyll & Hyde, and Oliver. She sang Ain't Misbehavin' for her talent in the Miss America pageant.



Nicole Johnson first started competing in pageants in Florida and placed 3rd Runner-Up in the Miss Florida USA 1997 pageant. After moving to Virginia to pursue post-graduate education at Regent University she continued competing and placed in the top ten at Miss Virginia 1997. In March 1998, she won the Miss Lynchburg title and went on to win the Miss Virginia 1998 title on June 29, 1998. She is now a diabetes advocate, having been diagnosed with type 1 diabetes in 1993.



Miss Montana Alexis Wineman is the first contestant diagnosed with autism who competed recenty in Miss America 2013 and was chosen as one of the top 16 semifinalists.