No Comparison at all as both are respected pageants in the pageant community.
MISS INTERNATIONAL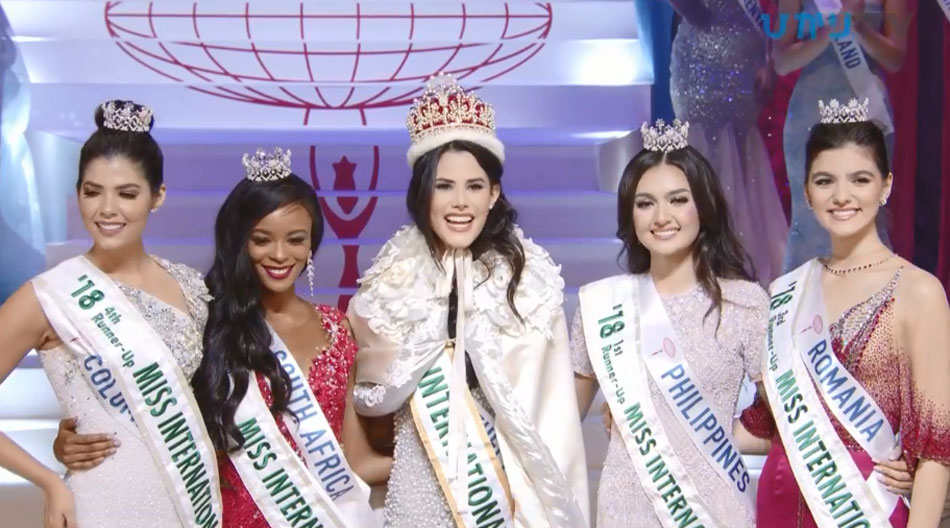 If there is one crown that I wish to put on my head, it is the MI crown. Its vintage design screams "glory" and "royalty". For me its the most precious crown among all the pageants in the world. And I can't remember MI changing crowns ever, correct me if I'm wrong. Japanese love to keep their tradition and it is evident on how they managed to keep the original MI crown for years. Plus the winners of MI are decent. I also would like to commend them for starting to recognize women of colour. But two things they need to improve are:
Upgrade the production
- I would still love to see the MI org to boost their production though with an unforgettable stage design - maybe an origami inspired stage backdrop.
More and different pre-pageant activities
- It seems that the girls from previous and current editions have similar pre-pageant activities. Japanese culture is rich and Japan has more to offer.
MISS EARTH
Miss Earth is starting to become more relevant and incomparable as it matures. Among all pageants, it is the most innovative and resourceful (which really fascinates fans every year). And for many years now, they still have the best pre-pageant activities. Things they need to improve:
Change the crown
- though it has a lot of symbolism, the design is not appealing at all. The elemental crowns look 100x better.
Stop favouring the Philippines
- the org thinks that because it is held in the Philippines and it is a Philippine-owned pageant, Filipinos will favour their own candidate. What the ME Org fails to see is that Filipino Fans appreciate a candidate who is well-prepared, spontaneous, and a complete package. Look at how Filipino netizens supported Miss Ghana this year. People think pinoys are racist when it comes to black candidates, but Miss Ghana had gained thousands of pinoy fans this year. Also, despite the rift between Philippines and Puerto Rico after Miss World 2016, pinoys still cheered and supported the win of Miss Puerto Rico in ME 2019. I would say that pinoys are the best fans of any candidate who will showcase the best version of themselves.
Better interpreting services
- I have been hoping for this for years and it seems that ME is not paying much attention to this.
What are your thoughts on these two pageants?