.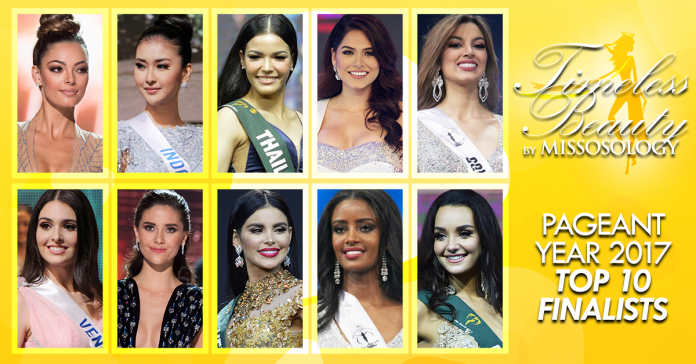 rom 92 ladies from the 2017 editions of the Big 5 major beauty pageants, the field was narrowed down to 25. And now, we're down to the Final 10 of the Missosology Timeless Beauty 2017.

For the first round of judging, select members of the Missosology forum were tasked to pick the best 25 beauty queens. For the second phase, Missosology admins and global correspondents scored each of the Top 25 semifinalists. Their votes, along with the online poll conducted on Missosology's Facebook, Twitter and Instagram accounts determined who moves forward to the final round.

After tabulating the scores, here are the Missosology Timeless Beauty 2017 Top 10 finalists:






Timeless Beauty 2017 Semifinals Scores


Rank | Big5 contestant | AVERAGE
1 Universe South Africa – Demi-Leigh Nel-Peters 4.036
2 International Indonesia – Kevin Lilliana 4.000
3 Earth Thailand – Paweensuda Drouin 3.945
4 World Mexico – Andrea Meza 3.882
5 Supranational Colombia – Tica Martinez 3.845
6 International Venezuela – Diana Croce 3.827
7 Universe Thailand – Maria Poonlertlarp 3.818
8 Earth Venezuela – Ninoska Vásquez 3.818
9 Supranational Ethiopia – Bitaniya Yosef 3.782
10 Earth Netherlands – Faith Landman 3.764

11 World Russia – Polina Popova 3.745
12 Universe Philippines – Rachel Peters 3.673
13 World El Salvador – Fatima Cuellar 3.645
14 World India – Manushi Chhillar 3.609
15 Universe Sri Lanka – Christina Peiris 3.591
16 Supranational Philippines – Chanel Olive Thomas 3.573
17 Earth Colombia – Juliana Franco 3.564
18 Universe Jamaica – Davina Bennett 3.545
19 World France – Aurore Kichenin 3.527
20 Universe Venezuela – Keysi Sayago 3.509
21 Earth Russia – Lada Akimova 3.500
22 Universe Brazil – Monalysa Alcântara 3.482
23 International Curaçao – Chanelle de Lau 3.455
24 International Lithuania – Patricija Belousova (IOSWT) 3.455
25 Supranational Poland – Paulina Maziarz 3.318



*IOSWT: "If Only She Were There" is an honorary title given by Missosology to a Big5 candidate who in our opinion deserves to be in the semifinals of her respective pageant but failed to make it.



The scores from the semifinals will be back to zero and the Top 10 will be subject to a final round of scoring with a different set of judges independent from Missosology.



The semifinals judges


For the second round of judging (semifinals), Missosology admins and correspondents took the task of judging the remaining Top 25. Their votes, along with the public votes, determined the Top 10.

Ric Galvez – Overall coordinator and founder of Missosology. He also regularly writes analyses for Missosology covering the political aspects of beauty pageants.
Stephen Diaz – The Associate Editor of Missosology and is resident correspondent to the Miss International beauty pageant. He also flew to the USA from Japan to cover Miss World last December 2016.

Drew Francisco – The lead editor of Missosology for Miss Universe. He covered a number of pageants for Missosology including Miss Earth, Mister International, Manhunt International, Mister Global, and most recently Miss Tourism World.

Bong Tan – Missosology's indefatigable chief photographer and correspondent. Aside from covering Miss Universe 2016 in the Philippines, Miss World 2015 in Sanya, China, Puteri Indonesia 2016 and Miss Universe Thailand 2017, he was sent to Poland for the Miss Supranational 2016 and 2017 editions.

Jessie Ambrosio – The administrator of Missosology Nordic Countries section and is in charge in covering all the major pageants in Denmark, Finland, Iceland, Norway and Sweden.

Shota Ise – One of the correspondents of the Missosology Japan section, who has been covering the Miss International pageant since 2013.

Ameer Gamama – He is one of Missosology's resident correspondents and experts who covers Misters of Filipinas, Man of the World and Manhunt International.

Ferdinand Abejon – One of Missosology's Philippine-based correspondents in the Philippines. He has covered a number of national and international pageants including Miss World and Miss Earth.

Mario Angelo Bergantinos – He is one of Missosology's graphic artists and correspondents. He has covered a number of international pageants including Miss Intercontinental and Face of Beauty International.

Paul Nueve – One of the moving forces behind the Missosology Vis-Min page, Paul covered the Visayas leg of the Miss Universe 2016 pageant in the Philippines.

The Online Poll – Fans from around the globe had the chance to vote for their favorite Big5 candidate through Missosology's Facebook, Twitter and Instagram accounts. The votes in all three platforms (Likes, Shares and Retweets) were combine, ranked and given a corresponding score (between 3 -5). The public voting is counted as one (1) vote. Missosology.Org


HARAYA.