TEAM Philippines 2012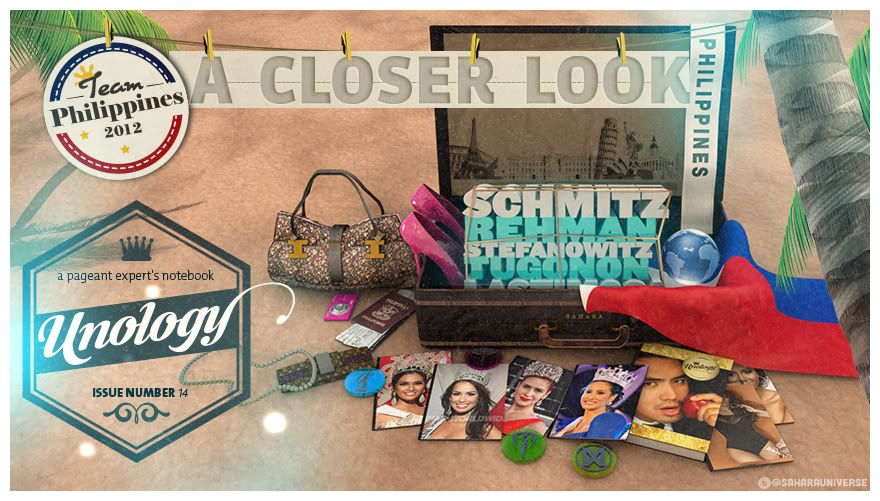 Indeed, 2011 was such a fruitful year for the Philippines. Shamcey Supsup's opening salvo was her 3rd RU finish at Miss Universe and was followed by Gwendoline Ruais' 1st RU placement at Miss World; Diane Necio's Top 15 placement at Miss International and closing that victorious year was the controversial Top 3 finish of Athena Imperial at Miss Earth.




This year, it is very interesting knowing that all four representatives are all second timers.

Maybe yes, it is true that if we try harder, we can be able to to be successful and not just one stint will discourage them in fullfilling what they dreamt about.

It is also interesting that three of our representatives are all half Filipinos. Janine Tugonon is the sole Filipina representative that is not mixed.




Are our chances this year stronger tha last year? Will the Philippines finally bring home their very first Miss World crown? Is the third Miss Universe also coming this year? Is the Philippines set for it's fifth Miss International crown? Or the Philippines is set for its second Miss Earth crown?

Well, indeed, the pressure is there as the Philippines is finally back as the Asian Powerhouse and the world is carefully glued with what this country has to offer this year.

On my 14th Issue of UNOLOGY, now on my second season, I will try to introduce to the world and to the rest of the universe TEAM Philippines 2012.




Folks, gearing up are the four lovely Filipinas who will eventually wear the "Miss Philippines" sash in the Big Four 2012.







Described as a Latina-looking babe, this second-timer beauty first joined Bb. Pilipinas in 2007 and made it as far as the semi-finals. Although, she looks like she's got Hispanic blood running thru her veins, Nicole Schmitz is half German and half Pinay. Most of beauty fanatics consider her as a fine example of a beauty who has it all; a great body, the moves, brains and confidence. And to top all that, she has a killer-smile.






In 2012, she rejoined Binibining Pilipinas and since day 1, she had set the bar high and proved to people that she is back with a vengeance. During the National Costume Presentation, Nicole bagged that said special award.






In the finals night, she was one of the clear stand out. Personally, I loved her swimsuit presentation and her walk is one of the best of the night. And yes, the judges saw what I also saw, she bagged the Best in Swimsuit award.




In the question-and-answer portion, she was asked, "Which you would rather be, someone who's respected or someone who is loved and why?"

Her answer: "I would rather be someone respected because that means you maintain your integrity, dignity and self-respect and that means that in turn you will be loved by whoever matters and everyone around you."





Nicole won the Binibining Pilipinas International and will represent the country in this year's Miss International beauty pageant in Japan.

So what are her strong points?

Well, aside from a beautiful face and a nice curvacious body, one of her strong points is definitely her communication skills as most people loved the way she speaks. While listening, you can already imagine her impressing the judges with such fine speech come her international stint. Also impressive for those who like smart beauties is the fact that Nicole Schmitz will soon be a double degree holder as she is a Psychology Major and is finishing Law at a University in Australia.







So what is my take on Nicole?
Nicole just like what I once said, is forever be a SWEETHEART and perfect for Miss International where they favor this kind of beauty. Perhaps, BPCI really knows the MI prototype. I am so impressed as she was so lively and in fire during the swimsuit competition back at Binibini and I love her bouncing catwalk. It felt like I'm watching Miss USA during her EG segment and she nailed it.

I love the way she carried that not so nice assigned gown of hers. She was BEAUTIFUL.
Q&A was a piece of bread. She answered it with FIREWORKS during her stint and I am positive she will do well come MI.







Janine Mari Tugonon




Before becoming a ballet protégé during her school term as a university student at the Ballet School of Manila, Janine Marie Tugonon was born and raised in her native province in Bataan. One of her biggest achivement was graduating Cum Laude at the University of Santo Tomas.




She was raised Roman Catholic but variantly attends a non-denominational Christian service called Victory Christian Fellowship Church.





She first graced the stage of pageantry when won the title as Miss Pharmacy and Miss Thomasian Personality 2010 at the University of Santo Tomas.





In 2011, she ventured and challenged herself in at Binibining Pilipinas and placed 1st runner-up. But following that defeat, she again risked her chances and competed again this year and won the title Miss Universe Philippines, enabling her to compete and represent the Philippines in the upcoming Miss Universe 2012 pageant.





During the pageant's question and answer portion, judge Jose Manuel Romualdez asked her the question: "Many women nowadays forego a happy family life for a successful career. How do you feel about this?"

She right away replied: "I believe that women have the right to choose between what they want. But for me, you'll have to go for what God has called you to do, whatever it is, between the two. You must do what your purpose is in this world. Just have a child-like faith and mature obedience, and everything will go smooth."




After winning Binibining Pilipinas 2012, she humbly admitted that her family had mixed views on her decision to join the Binibining Pilipinas pageant for the second time. But hours after the pageant, she attributed her victory to God. She even posted from her twitter "My Savior fought and won the battle for me."






The Philippines is still hoping to produce its third Miss Universe winner, with the first two being Gloria Diaz and Margie Moran.

Binibining Pilipinas Charities Inc. chairperson Stella Marquez Araneta said the Philippines is slowly reclaiming its "lofty stature as the beauty capital of Asia."


So what are her chances?

Her beauty may not be the stereotype mestiza Filipina that most people expect, but her dusky look is considered to be very appealing for foreigners. Will it be enough to make waves in the international secne?





Aside from the fact that she is filling in the successful back to back placements of Venus Raj and Shamcey Supsup, a bigger responsibility is on for Janine. And since Miss Universe is due in December, Janine has an amful time to prepare. I know that she already knows her point of concentration and that's her body figure. Will the time left for her be enough to wow all her Filipino fans and prove her bashers wrong? I guess, there's only one way to find out, and it is just a matter of time.


From her Binibining Pilipinas 2012 stint, I mentioned that I saw the "glittler of light" that I was waiting for so long from her.
I also mentioned that she IMPROVED a lot and I know most Misso people wouldn't believe what am I saying after being so critical and ruthless when it comes to her during the individual fight for the crown. Though yes, she needs to work on her legs. If it is fats, then it will be easy; but if that's muscle, I guess we need to do much more. Other than that, her catwalk is good. FIERCELY GOOD.

I cant wait for her total transformation and I am wishing what is BEST for her. In the end, I commend her humility and I guess that what's matter.





Stephany Stafanowitz




Stephany Dianne Stefanowitz was a candidate for the same pageant two years ago.
She landed in the Top 10 in the Miss Philippines Earth 2010 tilt. Back then, she represented Butuan City, where her mom came from. Her dad is from Hamburg, Germany.

She then bagged the Miss Philippines Earth 2012 title and crown on her second try, now representing Miss Quezon City, after two months of intensive practice and pageant's presentation.





The 22-year-old Filipina-German freelance model, designer, host, and singer bested 46 other contestants for the chance to represent the Philippines at the Miss Earth 2012 pageant, which will be held in Indonesia in October.




Stefanowitz graduated at De La Salle College of St. Benilde with her degree at Fashion Design and Merchandising.







Stefanowitz was crowned by last year's winner, Athena Mae Imperial. She also got the Best in Evening Gown award.

As winner of Miss Philippines Earth 2012, Stephany will serve as ambassador to environmental protection campaigns in the country.





When asked about her environmental advocacy, she said the year 2012 I believe, is a time for positive change. It's time to put our foot down when it comes to conserving and preserving our natural resources. I will stand as a strong leader and role model to educate, inform and spread awareness, not only for ourselves but also, of course, for the future generations.





In the question and answer portion, she was asked by judge Rachel Grant the question, "If you were a superhero, what power would you choose to have, and how would you use it to save the earth?"

Her answer was: "Definitely, I would be a superhero with the power to clean up the whole environment. My advocacy is the conservation and preservation of our environment, not only for ourselves but of course, for the future generations as well. And as a citizen, it is essential for us to realize how today's decisions affect tomorrow's generation."






What are her chances?

After placing in the top 4 last year at Miss Earth via Athena Imperial, all eyes are glued to Stephany. One of her strength is her beautiful and statuesque form and an amazing sexy figure.

Another thing that makes her really promising is the way she speaks. She reminds me of Sandra Seifert and the Philippines is again sending a worthy representative and hopefully we can win our 2nd Miss Earth crown.

What are my personal thoughts?

I believe that Stephany has the goods and basing from her Miss Philippines earth performance, she exudes a very queenly aura - the same aura I saw from miss Earth 2003 winner Daina Prince.

I am not bothered of her being compared to Jinky Pacquaio as most people see their resemblance. Both are GORGEOUS anyway!

Her red lipstick becomes her trademark and by simply looking at her, you can sense that this girl has a good heart which is perfect for Miss Earth.
I believe that 2012 Miss earth is tailored and fit for her like gloves.







Queenierich Rehman




Call her the missing member in the country's roster of representatives for the Big 5 beauty pageants of 2012.

Miss World Philippines 2012 Queenie Rehman is LAST IN, but FIRST OUT; last to be crowned nationally and first to compete internationally.




Additionally, she carries the big weight on her shoulders to match – if not surpass – Gwendoline Ruais' fantastic 2nd-place finish in Miss World 2011. And for this reason alone, we should give her our full support in Miss World 2012. This month of July and by the middle part, she will already be sent-off to China to start her battle with more than a hundred beauties from all over.




In an interview right after her coronation as the country's bet to Miss World, she revealed how multi-cultural her family background is. She said she has yet to meet her Pakistani father, Hanif Rehman. She now lives with her Filipino mother, Amalia, and Japanese stepfather Katsuji Yukawa.





It won't be an easy journey for this Filipina-Pakistani looker. The unwelcome tension brought about by the political friction between the Philippines and China adds to the crazy equation. But if she sticks to her gameplan like a pageant pro, there should be no big obstacle to stand in her way. And for Pinoy pageant fanatics out there to whom money is no object, then you should start booking your flights to/accommodations in Ordos to cheer her during the MW homestretch by mid-August.




This 23-year-old Assumption College graduate took the crown of the second ever Miss World Philippines with a big bang. Stands at 5'9", this Las Pinas City resident, Queenierich Rehman bested twenty –four other beautiful women to take the coveted title and to represent the country at the 2012 Miss World Pageant in Inner Mongolia, China on August 18.

Aside from the main title, Queenierich also won Miss Talent (tied with Loraine de Guzman), Miss Photogenic, Best in Swimsuit, Best in Q&A, and other 3 special awards.


She was asked this tweeted question: As an ambassador of the Philippines, what are the best features of your country that you can project to the world?

She answered: "I believe that wherever you will go here in the Philippines, it's not the islands that make us special but of course the Filipinos who have warm hospitality, who are having smiles on their faces, and of course who will treat all foreigners the love and respect, and hospitality that they can give to them. I believe that the Philippines is a country that we can be proud of."





So what are her chances at Miss World?

Well, as we all know, there is this point system at Miss World wherein you have to atleast excel in most of these categories in order for you to gain more points that will help you advance for the next round during the finals.

Queenierich is an accomplished basketball player since high school. While a player at Assumption College, she was the Rookie of Year in 2009. Thus, she fits the Sports category.




As a ramp model in the Philippines, Queenie can very well impress the judges with her catwalk skills. Aside from the fact that the famous Michael Cinco is said to be creating her gown, it is a joy to know that her National Director Miss Cory Quirino is patronizing and showcasing the excellence of Filipino talents to the world.





Talentwise, it is a known fact that Queenie is a beatboxer. That would be a first for the international scene.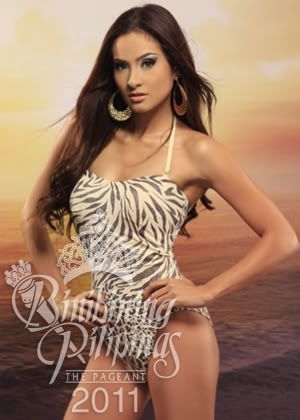 Regarding the Beach Body, Queenie is undoubtedly prepared for this as under her belt are 2 distinctions as she both won the Best in Swimsuit award at Binibining Pilipinas 2011 and just recently at Miss World Philippines.

When asked why she thought she has been bagging the Best in Swimsuit awards, she surmised, "I think I've just been eating healthy and going to the gym. I love working out."




What is nice about Queenie is that she can transfomed herself from a fierce goddess looking to a sweet and lovable aura.

And just like what I've wrote this morning, it felt like everything about Queenie is written in the stars. She was NOT given the opportunity to represent the Philippines to Universe during her first try at Binibini but God gave her another opportunity to shine and hopefully, just like what we can sense, Queenie is likely to bring home the coveted Miss World crown to the Philippines very very soon.






This July, our first Filipina to represent the Philipines at the Big 5 will start her journey.

Unlike the previous years that it is Miss Universe who open the Big 5, this year, it is Miss World.
I am hoping and positive that we can all be UNITED as ONE in supporting our queens in with their respective competition.

I can very well sense that just like last year, something really BIG is coming for the Philippines.




HIGH HOPES for TEAM PHILIPPINES 2012!




***Special thanks to Gryffindor_prince and Sahara for the graphics.


UNOLOGY previous posts:
SEASON 1 - UNOLOGY
UNOLOGY Season 1 previous posts:
1st Issue:
UNOLOGY: CAMPFIRE'S BURNING -Philippine's Beauty Queenmakers
http://host.missosology.info/~missyorg/ ... 1&t=133638
2nd Issue:
UNOLOGY: Pageant CROWNING's INTERESTING FACTS
viewtopic.php?f=1&t=134213
3rd Issue:
UNOLOGY: The MOST UNFORGETTABLE "ALMOST" Winners
http://www.missosology.info/forum/viewt ... 9#p2682079
4th Issue:
UNOLOGY: There is SOMETHING about the EVENING GOWN
viewtopic.php?f=1&t=135122
5th Issue:
UNOLOGY: In Search of a GREENER PASTURE...
http://www.missosology.info/forum/viewt ... 1&t=136211
6th Issue:
UNOLOGY: The SEVENTEEN ONE HIT WONDERS OF THE UNIVERSE
viewtopic.php?f=3&t=136622
7th Issue:
UNOLOGY: MY TAKE ON MISS PHILIPPINES EARTH 2012 FINALS
viewtopic.php?f=1&t=136739
8th Issue:
UNOLOGY: The LUSTER of the CROWN & the PRICE of FAME
viewtopic.php?f=1&t=136764
9th Issue:
UNOLOGY: IMPERFECTION GUARANTEED (Beauties Under the KNIFE)
viewtopic.php?f=1&t=137269
10th Issue:
UNOLOGY: The RISE and FALL of ASIA
http://www.missosology.info/forum/viewt ... 1&t=137994
11th Issue:
UNOLOGY: ISN'T IT IRONIC?
viewtopic.php?f=1&t=138422
12th issue:
UNOLOGY: One Word - EPIC!
http://ns1.missosology.info/forum/viewt ... 1&t=138825
13th Issue:
UNOLOGY: The QUEENLY and RICH (Miss World Philippines 2012)
viewtopic.php?f=1&t=139151
____________________
SEASON 2 - UNOLOGY
UNOLOGY Season 2 previous posts:
14th Issue:
UNOLOGY Season 2: TEAM Philippines 2012
viewtopic.php?f=1&t=139987
15th Issue
UNOLOGY Season 2: OASIS of the Desert
viewtopic.php?f=1&t=140333
16th Issue
UNOLOGY Season 2: Miss World 2012 - The GOOD, The BAD and The UGLY
viewtopic.php?f=4&t=143685
17th Issue
UNOLOGY Season 2: CHINA - Sleeping Giant NO MORE
viewtopic.php?f=1&t=144077
18th Issue
UNOLOGY Season 2: Gearing Up... TEAM ASIA Universe 2012
viewtopic.php?f=3&t=146671