Last Sunday afternoon, I was flipping around the dial, looking for something to watch. There was literally nothing on. I was way up in the high 200's on the cable dial, when I flipped by Lifetime Movie Network.

They were showing the 1986 TV movie SHATTERED INNOCENCE. I'm sure you've all seen this or flipped by it over the years, as it seems to be on every month or so. It is the one about a girl, who graduates high school, and leaves Kansas to go to L.A. to become a model. She meets the wrong people, eventually winding up a porn star and cocaine addict. It is a cautionary tale, based on a true story, as all movies shown on Lifetime are.

I've seen the film I don't know how many times over the years. Not that it is a great film or anything, but it is always on.

The film stars Jonna Lee. At the time of the film's first airing, I think I already knew who she was, as she played the female lead in the 1984 Judd Nelson film MAKING THE GRADE. You've probably seen that too, Judd Nelson switched places with a preppy guy, to hide out from a then unknown Andrew Clay (playing a character called Diceman). Gordon Jump of WKRP is also in it. Again, maybe not a great film, but I saw it many times.



Jonna was very attractive and a good actress. SHATTERED INNOCENCE was a big starring role. I was surprised that I still remembered her name after all these years when she only starred in two things that I remembered. I looked her up on the IMDB, to see what happened to her.



She had a pretty steady career in the 80's, doing a lot of episodic TV (T.J. HOOKER, HARDCASTLE AND MCCORMICK, the soap opera ANOTHER WORLD, AIRWOLF, GROWING PAINS, FAMILY TIES, SILVER SPOONS, VALERIE). She was in the pretty good TV movie QUARTERBACK PRINCESS (with Helen Hunt).




As far as theatrical films go, other than MAKING THE GRADE, she didn't do much. She appeared in the Linda Blair film CHAINED HEAT. She starred in several other films that I have never heard (and some that look like they never were released) and one, LOVELINES, that I remember seeing on the shelves of the video store, but it hasn't made it to DVD. (You can read our Forgotten Film review of LOVELINES here).

Her last credit was a 1990 episode of MURDER SHE WROTE. There are notes in her IMDB bio that she starred in a 1993 Sci Fi Channel program, but nothing confirmed.

It seems kind of sad that SHATTERED, her biggest role, was her next to last acting job. You would think that, since 20 years later, the film is still being shown while countless other TV movies from the era are forgotten, that people saw it and remember it. I would think that she would have gotten more work from it.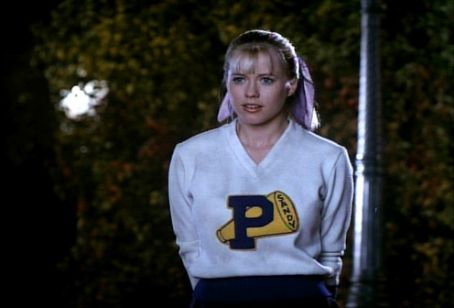 According to the IMDB bio, she has two kids and is working as an artist / sculptor in Burbank California. That may be a more fulfilling life for her.

But, I have always been interested when actors just decide to leave the industry. Rather than continue on, struggling to find work, trying to become a star, ending up taking small roles, they just give up the whole thing, go out and raise a family, or work in a whole other field. Do they go to the grocery store and get recognized? Do they stop and watch if one of their films is on TV?

Jonna Lee looks to be another example of that.

I think I may start up a feature here of stars who have walked away from it all.

NOTE: Regarding MAKING THE GRADE. I thought the ending title was kind of funny.



http://www.watchfreemovies.ch/watch-movies/1984/watch-making-the-grade-103785/

Yeah, that movie never happened. In fact, GRADE was barely released to theatres (I remember seeing Siskel and Ebert review it, but it never opened in my area).

Ahh, just like the adventure never really continued on for Remo Williams, Palmer and Eddie didn't have any other adventures in the 80's either.

UPDATE (9-15-08): As posted in the comments section, Jonna is indeed an artist.

She went on to art school during the writers strike of the late 80's and got her MFA.