What a great way to end the 1st Season of my Unology. This is my 13 issue and I just can't help but be proud that since I promised to make a thread atleast once a week, I managed to send my message accross that indeed there's more to life than just being just an ordinary forumer.

I am proud that I have delivered and served you all some stories and features that mean so much to me and I hope that I have affected your lives when it comes to the colorful of pageantry, be it in the simplest way I know how.

On my last Unology for this season, I am so please to dedicate this thread to the one and only...





HAIL for the QUEEN: Queenierich Rehman



Once upon atime, she dreamt of having a crown. But ladyluck last year wasn't in her favor.
Well, that's what people are made to believe. And what had happen under the table, remain sealed.

After placing as a semi finalist at the 2011 Binibining Pilipinas and wowing the judges with her beauty and body beyond compare, she was awarded the Best in Swimsuit.

But Binibining Pilipinas had turned their back on her.




Her chances might have been shattered into pieces, but it doesn't hinder her to dream higher and make that dream come true.

In order for her to rise beyond circumstances, Queenie indeed believed that the greatest risk in life is risking NOTHING.

Thus, come June 2012, she was given the opportunity to shine once more and made it as the official Miss World Philippines candidate.

I myself was so thrilled as I know Queenirich is really destined for GREATNESS.






And just like everyone of us who truly believes in her capacity, beauty, charisma and talent, Queenie indeed never failed her supporters.

She was so calm and tranquil, and before you know it, she is wowing the judges once more.

First, she won Miss Prudential Life and Miss World Traveller. It was then after, she was again awarded two important Special Awards- Miss Photogenic and Best in Talent where she showcased the world her unique awesomeness- BEATBOXING.

In the finals night, after the swimsuit competition, she was awarded another special award: Miss Pantene for her beautiful hair.

And just like what everybody expected from her, again, she was named Best in Swimwear.

Thus, she made it to the history in the Philippine pageantry to win two (2) Best in Swimsuit for both Miss World Philippines and last year from Binibining Pilipinas. WOW!

In addition, she bagged the Miss Zenea Body Beautiful, too.





She gave us an impeccable performance during the evening gown segment. She wore that gown so regal and her natural elegance and sophistication was even more highlighted.





And upon making it to the top 12, she paraded a simple yet beautiful blue Philippine Terno.
Indeed, no beadworks, no sparkling diamonds, yet she only higlighted one of her asset- ...the beauty of her legs.




Thus, she was nothing but EXTRAORDINARY and EXPENSIVE!





After making it to the final 5, during the final Q & A, she was asked:

As an ambassador of the Philippines, what are the best features of your country that you can project to the world?

Queenie answered:

I believe that wherever you will go here in the Philippines, it's not the islands that make us special but of course the Filipinos who have warm hospitality, who are having smiles on their faces, and of course who will treat all foreigners the love and respect, and hospitality that they can give to them. I believe that the Philippines is a country that we can be proud of.


Thus, right before the crowning moment, this Psychology major stunner was again given another special award- The AMAzing Beauty and Brains.

That was just a relief. Yes, she made her journey impeccably clean.





Upon seeing her being crowned, I can't help but remember her humble beginnings.





Back from her screening at Binibining Pilipinas, until the time she was given a horrible gown during the finals, I felt it since then that she don't have a future at Binibini though it is a known fact that she could be a better Miss Universe Philippine representative after Venus and Shamcey.

She might NOT be a Cum Laude like what seems to be a Binibining Pilipinas prototype, but she is indeed very stunning and her look from being fierce can transform into a refreshingly sweet aura. In addition, the fact that just like her fellow alumna from the Assumption College, Gloria Macapagal, Cory Aquino, Loren Legarda, Vicki Belo and Imee Marcos, it is given that these ladies can very well express themselves with their natural beauty and wit.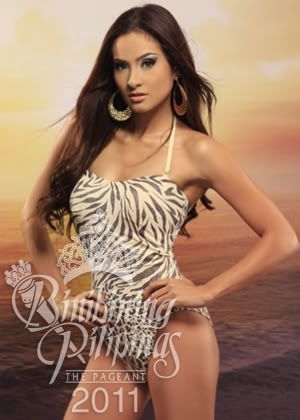 I am just proud about her credentials though; a ramp model and was a varsity Rookie of the Year for Basketball.




I am just happy how Filipinos embraced her victory. It seems like her win is their win too.

Again I will say it one more time, she was a breath of fresh air and gave the Philippines a very good and well-deserve

SIGH of RELIEF

.

We cant help but be very positive about her chances at Miss World 2012.
Beach Body, c'mon she is exudes that body beyond compare.
Talentwise, the girl can sing and a mad beatboxer.
She is a ramp model as I mentioned earlier, thus her runway skills is unquestionable.

Will she be the very first Filipina to win Miss World?

Well, just like what I prayed this morning, I am leaving things up to God.

As they say:

"Do what is good and do what is right."


- Miss World Philippines crowned a rightful winner, and just like a steak, she is bordering to "medium rare" to "well-done"- just PERFECT.



"Do your BEST."

- Queenie is indeed empowered and her engine is ready not for a race, but for a safe ride for that most coveted Miss World crown.


"..and God will do the REST." - And yes, Thy will be DONE!





May this year be a fruitful year for ASIA and the Philippines.




To our beloved queen Queenie, WE ARE TRULY PROUD OF YOU!


UNOLOGY previous posts:
SEASON 1 - UNOLOGY
UNOLOGY Season 1 previous posts:
1st Issue:
UNOLOGY: CAMPFIRE'S BURNING -Philippine's Beauty Queenmakers
http://host.missosology.info/~missyorg/ ... 1&t=133638
2nd Issue:
UNOLOGY: Pageant CROWNING's INTERESTING FACTS
viewtopic.php?f=1&t=134213
3rd Issue:
UNOLOGY: The MOST UNFORGETTABLE "ALMOST" Winners
http://www.missosology.info/forum/posti ... &p=2682079
4th Issue:
UNOLOGY: There is SOMETHING about the EVENING GOWN
viewtopic.php?f=1&t=135122
5th Issue:
UNOLOGY: In Search of a GREENER PASTURE...
http://www.missosology.info/forum/viewt ... 1&t=136211
6th Issue:
UNOLOGY: The SEVENTEEN ONE HIT WONDERS OF THE UNIVERSE
viewtopic.php?f=3&t=136622
7th Issue:
UNOLOGY: MY TAKE ON MISS PHILIPPINES EARTH 2012 FINALS
viewtopic.php?f=1&t=136739
8th Issue:
UNOLOGY: The LUSTER of the CROWN & the PRICE of FAME
viewtopic.php?f=1&t=136764
9th Issue:
UNOLOGY: IMPERFECTION GUARANTEED (Beauties Under the KNIFE)
viewtopic.php?f=1&t=137269
10th Issue:
UNOLOGY: The RISE and FALL of ASIA
http://www.missosology.info/forum/viewt ... 1&t=137994
11th Issue:
UNOLOGY: ISN'T IT IRONIC?
viewtopic.php?f=1&t=138422
12th issue:
UNOLOGY: One Word - EPIC!
http://ns1.missosology.info/forum/viewt ... 1&t=138825
13th Issue:
UNOLOGY: The QUEENLY and RICH (Miss World Philippines 2012)
viewtopic.php?f=1&t=139151
____________________
SEASON 2 - UNOLOGY
UNOLOGY Season 2 previous posts:
14th Issue:
UNOLOGY Season 2: TEAM Philippines 2012
viewtopic.php?f=1&t=139987
15th Issue
UNOLOGY Season 2: OASIS of the Desert
viewtopic.php?f=1&t=140333