This thread is made to reminisce the journey of my favorite Nuestra Belleza Mexico: Elisa Najera Gualito of Guanajuato. Her journey in competing to the most prestigious pageant in Mexico, which gave her the ticket and show what she got to the Universe

It's been almost 10 years since she was crowned which gives a realization that time flies so fast.
It still kinda feel like it was just in the recent years when I was following her Miss Universe stint.
The pageant website that I used to visit for updates in that edition frequently posts photos of her.
She is amazing, such an unforgettable queen.

So to start:

Elisa won Nuestra Belleza Guanajuato 2007 which gave her the ticket to compete to the 14th Nuestra Belleza México pageant.



The 14th Nuestra Belleza México pageant, was held at the Auditorio "Profr. Manuel Bonilla Valle" of Manzanillo, Colima, Mexico on October 6, 2007. Thirty-three contestants of the Mexican Republic competed for the national title.

*The Pageant started with the usual introduction of contestants in their National Costumes and in alphabetical order by their first names followed by a dance number in the tune of Medley of the Host State: Colima.

*Special awards were given and Elisa won the Fuller Beauty Queen Award

*Then it came the announcement of Top 15, Elisa was called 6th.

* The Top 15 Semi-finalist competed in swimsuit in Rihanna song SOS. Elisa strut her swimsuit complemented by her very good pasarela.



*Shortly after the swimsuit competition was the announcement of Top 10. Elisa was called 5th to make the cut.
*The top 10 finalists competed in Evening gown, again in alphabetical order by first name. Elisa wore this silver gown.



*The top 5 were called after the evening gown competition and Elisa was called the 2nd to make the top 5 finalists.
*The top 5 finalist undergone the trial of Question and Answer. Elisa answered her question (in Spanish) so calml, with so much class and sophistication, she didn't rush speaking giving her thoughts be understood so clearly which became the determinant for her win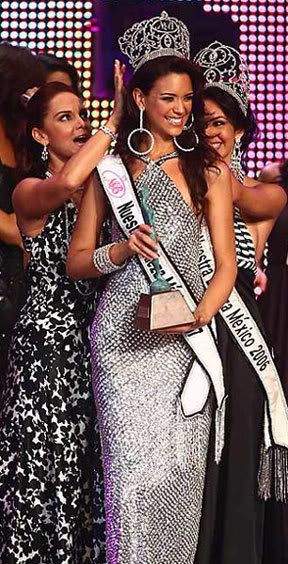 Nájera was crowned by outgoing Nuestra Belleza México titleholder Rosa María Ojeda. She is the first and only Guanajuatense to win this title.


HAIL THE QUEEN!
I MISS FOLLOWING YOUR JOURNEY, ELISA!