One of the greatest problems in our current world is the insecurity which is living in each of our countries, the breach of human rights and the no respect for life."


It is becoming a cliche question in many beauty pageants:

"What is one big mistake that you have made in your life and what did you do to make it right?"

But what if the mistake was done after being crowned?
Does the world has to know what have they done to make it right?

On the 8th issue of UNOLOGY, I will be sharing stories of some famous beauty queens, that despite of their crowns' luster, still they paid the price of its glitter and fame.

For some, they were not even given a chance to correct it but their legacy remains in the history of pageantry.

But what is really "the PRICE of FAME?"

As they say, the constant attention that comes with winning such crown, title or success inflates some peoples' egos.

For others though, the effect is the reverse: it makes them so aware of their shortcomings that they may be driven to self-destruction.

It is said that the relentless scrutiny of fans and the media leads some people to become acutely self-conscious.

The need to escape this agonizing self-awareness may lead some famous people into alcoholism, drug abuse, or compulsive sexuality, controversies and for some having failed marriages/relationships. Ouch!





PART 1: What's LOVE got to do with it...



Is being separated/divorced a form of "payment" for the fame you once had as it could also happen to anyone?

I guess YES!

As they say, we CANNOT have it all.

And just the same, there are beauty queens who have their fair share of stories.



"The best thing about love is that it can make one person open up to their true potential." - Anonymous







One interesting story in my mind was Philippines' Miss World 1993 2nd Princess,
Ruffa Gutierrez.

She was secretly married to Richard Daloia on January 19, 1999. Afterwards, she was married to Turkish businessman Yilmaz Bektas in 2003.




She admitted that what everybody has been suspecting all along — that she's a victim of domestic violence is true. She told the public for the first time that she is indeed a battered wife!

According to Ruffa, the battery started when Yilmaz's personality was altered by the anti-depressant drugs he was taking after he underwent surgery on bullet wounds in his stomach inflicted by a crazed friend.

"The beating was mild in the beginning and got worse in recent months," confessed Ruffa. "I was a victim of torture."

The violence became so unbearable, said Ruffa, that she had to escape from their home in Istanbul which she shared with Yilmaz and their daughters Lorin and Venice for almost four years.

Ruffa confirmed that Yilmaz was a violent man. She added that he would kick her and cut her hair and lock her up inside the cabinet.

He even tortured her for 15 hours!

She added that she was bleeding when she escaped from their home and sought the help of a friend.
Everything was witnessed by the nannies of her children. And when she came home, she had a black-eye and bruises in her arms and legs.

In the next breath, according to Ruffa, if something bad happened to her — like if somebody threatened to kill or harm her — she had nobody to blame but Yilmaz.




Ruffa then answered other issues raised about and against her and admitted that she married another man in Las Vegas before she and Yilmaz got married on March 25, 2003.

Thus, saying: "I must have committed mistakes during my younger days like everybody else but I changed when I married Yilmaz. I became a good wife and a good mother to our children. Yilmaz knows everything about me; my life is an open book. I never hid anything from him."

"Again and again, I want to say that I married Yilmaz for love and not for money. Look, I wasn't a woman on top of a camel that Yilmaz found in the desert. I was earning good money. I was working. I have a good, supportive family. I can support our daughters. For four months now, Yilmaz hasn't been supporting our children."

"He's trying to ruin me because he doesn't want me to be successful. He has been calling me up, every hour on the hour, making as many as 55 calls a day, but I refuse to answer the phone."




In the end, she uttered that she'd "rather die single than go back to Istanbul."
Ruffa then joined the crusade against battered women saying that she is sure that Filipinas in the same situation will sympathize with her.


Wow, maybe Ruffa indeed paid the price of fame bigtime.




Other beauty queens had also been divorced.


Miss Universe 2005 Natalie Glebova was married to Thai tennis player Paradorn Srichaphan. The couple, who met during the 2006 Thailand Open, became engaged in April 2007 and were married on November 29, 2007 in Bangkok, Thailand.




In a joint statement from Paradorn and Natalie, the couple said they still cared for each other like good friends.
For the several years that have passed, work and duty have cause us to walk in different directions (drift apart). No matter what, we still care for each other, we are still good friends, and we still support each other in business and our various goals in life."





They separated in early 2011.





Aurora Pijuan's victory meant that the Philippines is the first country to win the title Miss International twice.
In the end, she went on to marry golfer and basketball coach Tomas Manotoc in Dominican Republic.






She would then need her gutsy determination and analytical mind when Tommy Manotoc, then her estranged husband, disappeared shortly after it was discovered that he had married the President's daughter, Imee Marcos.




There had been a quickie divorce, as Aurora would discover later, but she and Tommy had remained friends.

"In fact, the day he disappeared, we were at a despedida for Billy Manotoc, my brother-in-law. I had told Tommy that I had spare ribs and could drop off some for him. He was staying then at his parents' place in San Lorenzo. When I came in at lunch, everyone was at the table looking nervous, and some looked zonked out on tranquilizers. Tommy had disappeared."

She asked for advice from her foreign correspondent friends, and they encouraged her to call a press conference, since the local press was muzzled. After 40 days, Tommy surfaced, but not before she had talked to writer Adrian Cristobal, asking for an audience with President Marcos.

The writer came back to her to say that Marcos had said, "I have reluctant respect for that girl, and to expect something good to happen."
When Tommy came back, she disappeared for a while.




"I dont want to be photographed with him, because there would have been talk that we were getting back together. I would have done it for anyone."


She says that one of the few times she was angry at Tommy was when the kids would celebrate their birthdays without any word from him.
Not even a card.

And they would wait and wait.

Their children asked her "Isn't he coming? Isn't he going to call?"






Aurora Pijuan admitted, "That tore my heart. My children's pain is my pain, and more."







Another story that I find very sad was Dayanara Torres, Miss Universe 1993, failed marriage.




It was an on-again, off-again marriage with Latin singer Marc Anthony and appeared to have wrapped up for good.




In December 2002, after having separated for five months, Torres and Anthony renewed their vows in a lavish ceremony at the San Juan Cathedral in Puerto Rico. The marital hiatus -- which did not entail a legal separation -- had begun 26 months after the couple's first wedding in Las Vegas.




In 2004, Marc Anthony secured a quickie divorce in the Dominican Republic from his wife of over three years and mother of two of his children,Dayanara Torres.

He then married Jennifer Lopez within a few months. When Anthony left Dayanara amid rumors that he was cheating with his former girlfriend Jennifer Lopez, with whom he was collaborating, Dayanara admitted that she was devastated and couldn't get out of bed for days.


She even refuses to talk poorly about Anthony or to denounce his behavior in the press.

In the end, she cowrote a new book along with her sister entitled "Married to Me: How Committing to Myself Led to Triumph After Divorce", in which she chronicles her recovery from the pain of an unexpected split and divorce.


In an interview with People Magazine, she discussed the very difficult time she went through when Anthony left her, but doesn't address the story that he was cheating on her with Lopez or bad mouth him in any way.

She said, ""You want to move on as quick as possible… But you realize time is your friend. You have to get through to the other side."

After Anthony left, she found herself barely able to get out of bed.
She even uttered, "You go through hell and I cried until there were no tears left – until I was numb. I didn't want to eat; I didn't care to get dressed or take a shower. I just wanted to lie there."

But after a few months, she got a wake up call from another man in her life. "One day my son Cristian walked in and said 'You're crying again?' I felt embarassed that they saw their mother being weak. I woke up. I realized I'd been crying for all the wrong reasons."




She pulled herself together and tried to make things right. "I didn't want them to choose sides," says Torres, who keeps photos of Anthony throughout her home for the boy's sake. "He's not someone we need to hide – he'll always be their father. And to this day, I don't think they've seen our divorce as a bad thing."

In the end, that was the price of fame Dayanara had paid.
She moved on with her life and says she's happy and she no longer pin her happiness on anybody else.








After her first runner up placement in the 1999 Miss Universe, Miriam Quiambao began a new career working as a TV Host/Correspondent for GMA Network back in the Philippines. She had been a successful TV host.

In January 2004, she got married to Italian businessman Claudio Rondinelli but the two-year marriage eventually fell apart and Quiambao went back to her native country in 2006.




She shared that her marriage had fallen apart because of her husband's affair with a younger woman and confessed that her husband admitted about his infidelity over the phone.




She, however, admitted that she had suffered emotional and verbal abuse during their two-year relationship.
Mriam broke down in tears as she admitted that it was liberating and a big relief for her to finally talk about it in public.




She added that if she stayed longer in the relationship, she knew that her "spirit was going to die."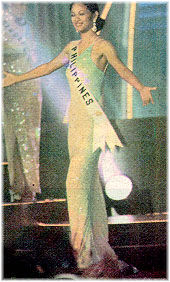 Likening her experience at the 1999 Miss Universe pageant where she slipped and fell on stage, she said she knows that she can rise again after the divorce and uttered the words,"I feel that what I need to do is to stand up and move forward and trust that God is there behind me."





PART 2: CONTROVERSIES, DRUGS and ADDICTION, and LIVES LOST



Amparo Munoz is no doubt the most controversial winner of all time.
She even had three marriages that all ended in divorce.





Rumors began filtering in more than two decade ago that she appeared in soft-porn flicks and, worse, she had died of AIDS.

Scandal-loving journalists preyed upon her, publishing true and false stories alike. In 1990, the magazine Ya published an article by Rosa Villacastín which assured that "AIDS has left Amparo Muñoz on the brink of death". Two days later, the same journalist said that the actress had reached the "terminal phase," claims Amparo Muñoz debunked through medical analysis on Julián Lago's television program La máquina de la verdad [The Truth Machine].

In that same interview, she was asked if she had ever taken heroin, and journalist Jesús Mariñas even jabbered that she had practiced prostitution, an accusation which left her in tears.

She has lifted the mystery about her in a tell-all Spanish book called The Life is the Price (literal translation of the Spanish title), written by one Miguel Fernandez, in which she recounted her relationships and her passage through the world of drugs.

She said, "I've lived my life the best I could, never intending to harm anyone. If I have hurt anyone, it has been myself and my parents, who have suffered a great deal on my account. I've always respected everyone, most of all God, though I haven't been treated with respect myself. I hope that people will start to do that now."




In the end, perhaps not expecting that her wish would only be granted upon her death, as a beautiful broken toy.

In an article I read, it was written that in her Cronica interview, she revealed that she suffered from a "cerebral disease" a few years ago and not from AIDS or brain cancer.




She added, "I got sick the same day my Papa died of pulmonary infection and I was devastated by his death because I wasn't able to ask forgiveness from him for everything that I did. At first, I felt little symptoms. I would get dizzy when tying my shoes. So I consulted a doctor and at first he told me, 'I'm afraid that you have cancer of the brain.' Soon, I was vomitting and feeling tremors. I was checked again by my doctor who found an abnormal growth in my cerebellum. So I underwent chemotherapy."

Told that 87 percent of patients suffering from the same ailment die while being operated on, she decided to return to her native Malaga to die and it marked her first homecoming in 30 years.

The Cronica story excerpt didn't say if Amparo has fully recovered and, if she did, how.

Instead, the rest of the story touched on her failed romances and how she threw her Miss Universe crown out of the window because, she said, "it was a cheap imitation jewelry."

She said she regretted having done it.






In 1973, Wallace made history as the first American to be crowned Miss World. But just 104 days later, pageant officials stunned the UK when they announced Wallace would be the first Miss World to have her title taken from her.




Only 15 days after Wallace was stripped of her crown, Peter Revson, the man in her life, was killed in a fiery crash while practicing for the South African Grand Prix.

Revson was exiting a turn at more than 110 mph when his car "shot off" the track, "flipped end-over-end and burst into flames," the Associated Press reported. The vehicle "was still burning when we turned it over and lifted him out," famed British driver Graham Hill — who would die in November the next year while piloting a small airplane — told AP. "… we managed to keep the flames … away from Revson while we got him out." He died en route to a hospital, according to People. Revson was wearing a gold locket Wallace had given him, People reported. The locket was engraved, "If not for you ..."


Less than three months later, Wallace was rushed to St. Vincent Indianapolis Hospital after Wallace's sister Nancy found her in her apartment unconscious, apparently the victim of an overdose of the sleeping pill doriden, according the AP. One doctor told the AP Wallace was "comatose, and in pretty bad shape." Doctors put her on a dialysis machine to clear her kidneys, the AP reported.

"She might have felt like she couldn't go on," Wallace's mother was quoted by Alabama's Florence Times Daily.

Despite her mother's speculation, Wallace told People two years later, "I was depressed and OD'd on a few too many sleeping pills. I never attempted suicide."




After the overdose, life appeared to improve for the troubled beauty queen.
Wallace developed a taste for campaigning journalism when she joined the BBC in 1969 as a television producer and presenter.




But it was her award-winning articles for The Times on schizophrenia—The Forgotten Illness Campaign—that changed the direction of Wallace's life forever and galvanised her to launch SANE.





"The families of people with mental illness began to ring me up, to come and see me. I became incredibly moved by their stories and especially by the way people had been thrown out of all the hospitals. The view then was that if you demolish the asylums you'll demolish schizophrenia. I thought that was wrong, very, very wrong and I vowed that I would try to do something about it."




Wallace is approaching an age when most people would be looking to retire and enjoy the fruits of their labour. But she does not feel that she can give up yet, especially since the charity still lives a "hand-to-mouth existence". Indeed, one of Wallace's main roles as chief executive is to raise funds. "I am a sophisticated beggar", she says, "although fund raising has its humiliations". She is undoubtedly good at her job, for behind her desk are hundreds of photographs of celebrities mixed in with snapshots of people who have benefited from SANE's help. This mix of glamour and grit has pervaded Wallace's eventful life, which has included a personal battle against breast cancer and depression.






"There's a wonderful picture of me begging to Gordon Brown over there", she says pointing to her wall of pictures, which includes a photograph of HRH The Prince of Wales.

"They are all an equal part of my life. The twins, the Prince, it's all part of what mental illness should be—the fabric of life."






Miss World Rosemarie Frankland of United Kingdom (Feb. 1, 1943 - Dec. 2, 2000), who also joined the 1961 Miss Universe pageant where she represented Wales and placed first runner-up to Marlene Schmidt of Germany died of drug overdose in Marina del Rey, California after battling depression.





She also claimed that she was the secret lover for 30 years of the legendary comic BOB HOPE.




She was found in her bedroom with an empty bottle of pills in her hand. Friends say she never recovered after Hope ignored her.

In a teary chat with a friend before her death, Frankland reportedly said she didn't think life was worth living anymore.




The former model also worked as Hope's personal secretary for some time after his bid to get her acting work fell through. A pal says, "She couldn't type and her spelling was atrocious. But Hope was the only man she truly loved. Over the years he spent a fortune on her, supporting her and giving her gifts."






Nafisa Joseph was an Indian model and MTV video jockey. She was the winner of Miss India Universe 1997 and was a semi-finalist in the Miss Universe pageant.




On the day of her death She had told her mother and a friend she was unwell and wanted to go to sleep, she slowly closed and locked the door her mother and friend were in and then locked herself into a room in her mumbai flat and sent her princess outside the apartment. The princess got worried so she had to call the help of the watchman of the building. Since the watchman couldnt open the door Nafisa locked, he made his way through the ceiling of the hallway where he got inside to open the main door. They then opened the room where her mother and friend was held "hostage". When they opened the room of the former beauty queen, she was found hung from a ceiling fan in a pink scarf gasping for air. She was immediately rushed to the hospital but apparently she died while they were on way. She was pronounced dead on arrival at 10 pm on the 29th of July 2004.


This was the last photo taken before she was cremated.





She was to marry businessman Gautam Khanduja in a few weeks' time. According to her parents, she took the step because her marriage was called off.
This was due to her having discovered that Khanduja was still married, although having told her he had been divorced for two years.

When confronted, Khanduja refused to answer questions about his marital life or produce divorce papers that he had previously claimed he had filed. Instead, press reports at the time mention that he then threatened her with blackmail, probably after she threatened to confront his wife.




Nafisha's parents filed a police report accusing her fiancé of abetting her death, claiming that Khanduja had been desperate to get out of the wedding for some time, and sought his custodial interrogation. In November 2005, the trial against Khanduja was stayed by the Bombay High Court until January 2006. The Supreme Court ordered that the case be put on a fast-track court, but as of March 2006, the case was yet to come up for hearing.

Khanduja claimed that there was no evidence to prove that breaking off the engagement had led to her suicide. He pointed out that her earlier engagements to Sameer Malhotra and Samir Soni had also ended.





Viveka Babajee was a Mauritian-born Indian model and actress. She held the titles of Miss Mauritius World 1993 and Miss Mauritius Universe 1994.

Her first involvement with controversy was the so-called Metro Manila Film Festival scam of 1994 in the Philippines. This controversy was shared by Ruffa Gutierrez to which she was declared as the Best Actress, after the "envelope switching" performed by Ruffa's brother, Rocky Gutierrez and beauty queeen friend Viveka Babajee, when the rightful winner was actress Aiko Melendez.




But the most shocking controversy was when she was found hanging from the ceiling fan in her apartment on June 25, 2010 at her Bandra residence in Mumbai. Police reports say that Babajee committed suicide due to depression.

The last page of her diary, which was found next to her dead body, had a message - "U killed me, Gautam Vohra."




Unconfirmed reports said that she got depressed when she broke up with her boyfriend, Gautam Vohra.




Five days after she was found dead in her Mumbai home, sources say the police are not sure if her death was a case of suicide or homicide.





Laura Elena Zúñiga Huizar is a Mexican model and beauty queen, center of a drug trafficking scandal.





On December 22, 2008, Laura Zúñiga was arrested in Zapopan, Jalisco, along with seven men who allegedly carried US$53,000 in cash, two AR-15 rifles, three handguns, 633 cartridges of different calibers, and 16 cellphones.

The arrest was made by the state police of Zapopan and Mexican Army officers. In her initial statement, Zúñiga declared that she was on her way to a party in Guadalajara and that she and her boyfriend were going "shopping in Colombia and Bolivia." The media noted that Colombia and Bolivia are both, main suppliers of cocaine to the Mexican drug cartels.




During a later interview with Joaquin Lopez Doriga in Radio Formula, Zúñiga declared that she was kidnapped by her boyfriend Ángel Orlando García Urquiza, apparently a high-ranking leader of the Juárez Cartel and brother of an imprisoned drug lord, and that she was unaware of his illicit activities.


The Nuestra Belleza Mexico organization released a statement saying it had no knowledge of Zúñiga's alleged narco-trafficking ties and that it would decide pending an investigation whether or not to let her keep her crown. "Nuestra Belleza Mexico has been a serious, honest and transparent organization", said the group's president Lupita Jones, in the statement sent to the media.

On December 25, 2008, a second statement was released announcing that Zúñiga had been stripped of her title as Miss Mexico International 2009. Her successor, Ana Gabriela Espinoza Marroquín, was awarded the crown. On December 26, 2008, she was dethroned as Reina Hispanoamericana 2008 and replaced by Vivian Noronha Cia from Brazil.

Zúñiga was sentenced to 40 days under arrest but was released from the detention center on January 30, 2009 after the judge found no evidence that tied her to any criminal activity.





The critically acclaimed 2011 film, Miss Bala, (Miss Bullet) is loosely based on Zúñiga and her involvement in the events of December 2008.




Several key facts are switched in the film, for example, replacing the setting from Sinaloa to Baja California. The basic structure of Zúñiga's story remains, however, such as the allegations of corruption in the pageant organization, Zúñiga's presentation to the media at the time of her arrest, and her allegations that she was not involved in narcotrafficking. Both Zúñiga and the main character, Laura Guerrero, even wear the same clothing when presented to the media and when crowned beauty queens.


As of 2010, Zúñiga has made a quiet comeback into the modeling industry.




Just when we thought Miriam Quiambao had paid her price upon having a failed marriage, she again caught the ire of the LGBT (lesbian, gay, bisexual, and transgender) community in the Philippinesin early 2012 when she expressed her feelings toward homosexuality while being a guest on the current affairs talk show The Bottomline with Boy Abunda.

It was followed by her taking her stand to twitter, tweeting, "Homosexuality is not a sin but it is a lie from the devil."




Her words have caused a huge backlash with openly gay Filipino celebrities and the rest of the entertainment industry criticizing her for such a "closed-minded" statement. She has since apologized for "not being sensitive" with her choice of words via twitter.




Lastly, who would forget the beautiful Agnieszka Kotlarska, a beauty queen who was given a second life after she backed out from flying a plane that crashed and killed all the people onboard but was killed by a stalker.




In the history of pageantry, she made it as the first Polish winner of the Miss International beauty pageant in 1991.

She went on to pursue a modeling career in New York for the likes of Ralph Lauren and Calvin Klein, before returning to Poland to settle in Wrocław

Jerzy L. has confessed to killing former 1991 Miss Poland and Miss International, Agnieszka Kotlarska, after stalking her for more than five years.

On Aug. 27, 1996, police allege, he approached Kotlarska as she was getting into a car with her husband, Jaroslaw Swiatek, and daughter. Swiatek jumped out of the car, the men began to scuffle, and Jerzy L. produced a hunting knife from his knapsack. Kotlarska jumped out of the car when she saw Jerzy L. stab her husband's leg. Jerzy L. has confessed that he then stabbed her four times in the chest. Kotlarska died in the hospital.


After the stabbing, police officers found Jerzy L. in his home. He immediately confessed to killing Kotlarska, saying he was mad with jealousy that the girl of his dreams had married someone else and had "ruined his life." He also told police he always carried the hunting knife and never intended to use it to commit a crime. He faces a sentence ranging from eight years in prison to the death penalty.


Jerzy L. first saw Kotlarska in 1990, when she was modelling. He tried to get a date with her, but she refused. Jerzy L. was persistent: He got her address and phone number and continued pursuing her.





After she won the Miss Poland title in 1991 and married, Kotlarska left for the United States and a career as a fashion model. She modelled for designers including Ralph Lauren and Calvin Klein under the name "Aga." Her photographs appeared in Vogue, Cosmopolitan and Playboy.




After three years in the United States, Kotlarska returned to Poland with her husband and daughter to live in a single-family house in the Wroclaw district of Maslice. She began appearing in television commercials, and had two film roles pending. Jerzy L. learned Kotlarska's new address and phone number after see her husband's name in one of many press interviews. Allegedly, he started calling again, asking in vain for a meeting, and prowled around her house, hoping to catch a glimpse of her.


Jerzy L. is 36 and a graduate of the Wroclaw University of Technology. He works as a computer programmer in a bank. He lives with his parents; his mother says that he was only interested in jogging and computers.





Agnieszka was stabbed to death by a stalker on August 27, 1996. The attack also injured her husband, Jarosław Świątek.






POSTSCRIPT




One of the greatest problems in our current world is the insecurity which is living in each of our countries, the breach of human rights and the no respect for life.

Alarmist situation and even fatal endings has happened to simple and normal people, caused by ambitious of few. Nobody is safe, not even beauty queens, here are some dramatic and sad anecdotes:




Linor Abargil, Miss World 1998 of Israel, confessed to have been raped by an Israeli Citizen emigrated of Egypt, just two months before the Miss World Pageant.

On March 26, 1965, during the Miss Memphis Contest, it is a preliminary beauty pageant for Miss Tennessee America, Barbara Jean Smith wife of one of the main organizer was found killed in the parking lot, she was beaten on the head and had 3 shoots in the back, 40 years later the crime is unsolved.




In 1992, Monica Zuñiga, Miss Mexico 1992 along with actress Eugenia Cauduro were kidnapped for just 4 hours, fortunately they didn't suffer injuries.




On December 26, 1996, Jon Benet Ramsey, the little beauty queen of Colorado, USA is found dead by her mother in her house's basement in Boulder, Co. Jon Benet, 6 years old was beaten and raped. As yet one of the greatest scandals still unresolved.




On September 22, 2002, Ernestina Sodi, Miss Mexico International 1977 and her sister actress Laura Zapata were kidnapped but released them 1 moth later, causing effervescences in the press and the politic in Mexico, putting on scene the security problems in Mexico City, the kidnappers were captured.




In 2003, Miss Honduras 1992, Monica Rapalo was murdered by criminals of Central America, along with her husband- very known Honduran politic.

On July 2004, Marimar Fiallo, Miss Dominican Republic 2004 almost was kidnapped in the parking of a Mall in Santo Domingo, two guys tried kidnapped her and they fought for about 10 minutes, the beauty queen was able to release them, unfortunately she ended up wounded and her skin was covered with bruises.





On August 11, 2011, Miss Earth 2008 Karla Paula Henry was stabbed while she was on her way back to her condominium in Mandaluyong City. Reports said Henry was stabbed in the back by a drunk tenant, who was later identified as Jherome Quibuyen. She was rushed to St. Luke's Medical Center in Taguig City where she was declared out of danger.

And just recently, who would ever forget Monica Spears tragic fate.
Brutal: The gang, known as the 'Los Rapiditos', wasted no time in gunning down the couple in front of their daughter.




Monica's five-year-old girl left orphaned after Monica and British dad were shot dead in Venezuela has been given the shattering news about their horrific deaths and has left hospital to attend their funeral, it was revealed today.

Tragic Maya Spear was comforted by her grandparents and extended family after being treated for a gunshot wound to her leg.




If you guys have other stories to share regarding other controversies, please feel free to share it.

I believe that their stories are proof that regardless of the crown and title they once had, still, they remain human and just like any human being, they can also be very vulnerable.

Life unlike fairy tales is indeed never design to always have a happy ending.

Oftentimes, we are marooned in a place of nowhere so that we can be able to embrace painful truths that will eventually help us become a better individual.

WISER... TOUGHER...

I hope that we can learn from their stories that regardless of the many ups and downs we have in our lives,
LIFE STILL GOES ON.

In the end, a true person will never be measured by its title, fame or rank, BUT by the way you played your cards and the positive attitude that comes with it.

Again, the greatest risk in life is risking NOTHING.
Just like in the Bible, it may rain 40 days and 40 nights but that doesn't mean that the rain wont stop.


Life is a JOURNEY.
And the road we travel has twists and turns, which sometimes leads us to unexpected places and unexpected people.

The road we travel is UNPREDICTABLE.
Sometimes it is smooth, and sometimes it is filled with bumps.

But if we're LUCKY, we find people to TRAVEL with us.

Our journey is really a SEARCH...
A yearning for LOVE and CONNECTION.

And without us knowing it, sometimes is LEADS us BACK HOME.
...to the place we all started.
...to the place where it all began.


Xoxo...
Bisous!



UNOLOGY previous posts:
SEASON 1 - UNOLOGY
UNOLOGY Season 1 previous posts:
1st Issue:
UNOLOGY: CAMPFIRE'S BURNING -Philippine's Beauty Queenmakers
http://host.missosology.info/~missyorg/ ... 1&t=133638
2nd Issue:
UNOLOGY: Pageant CROWNING's INTERESTING FACTS
viewtopic.php?f=1&t=134213
3rd Issue:
UNOLOGY: The MOST UNFORGETTABLE "ALMOST" Winners
http://www.missosology.info/forum/viewt ... 9#p2682079
4th Issue:
UNOLOGY: There is SOMETHING about the EVENING GOWN
viewtopic.php?f=1&t=135122
5th Issue:
UNOLOGY: In Search of a GREENER PASTURE...
http://www.missosology.info/forum/viewt ... 1&t=136211
6th Issue:
UNOLOGY: The SEVENTEEN ONE HIT WONDERS OF THE UNIVERSE
viewtopic.php?f=3&t=136622
7th Issue:
UNOLOGY: MY TAKE ON MISS PHILIPPINES EARTH 2012 FINALS
viewtopic.php?f=1&t=136739
8th Issue:
UNOLOGY: The LUSTER of the CROWN & the PRICE of FAME
viewtopic.php?f=1&t=136764
9th Issue:
UNOLOGY: IMPERFECTION GUARANTEED (Beauties Under the KNIFE)
viewtopic.php?f=1&t=137269
10th Issue:
UNOLOGY: The RISE and FALL of ASIA
http://www.missosology.info/forum/viewt ... 1&t=137994
11th Issue:
UNOLOGY: ISN'T IT IRONIC?
viewtopic.php?f=1&t=138422
12th issue:
UNOLOGY: One Word - EPIC!
http://ns1.missosology.info/forum/viewt ... 1&t=138825
13th Issue:
UNOLOGY: The QUEENLY and RICH (Miss World Philippines 2012)
viewtopic.php?f=1&t=139151
SEASON 2 - UNOLOGY
UNOLOGY Season 2 previous posts:
14th Issue:
UNOLOGY Season 2: TEAM Philippines 2012
viewtopic.php?f=1&t=139987
15th Issue
UNOLOGY Season 2: OASIS of the Desert
viewtopic.php?f=1&t=140333
16th Issue
UNOLOGY Season 2: Miss World 2012 - The GOOD, The BAD and The UGLY
viewtopic.php?f=4&t=143685
17th Issue
UNOLOGY Season 2: CHINA - Sleeping Giant NO MORE
viewtopic.php?f=1&t=144077
18th Issue
UNOLOGY Season 2: Gearing Up... TEAM ASIA Universe 2012
viewtopic.php?f=3&t=146671
19th Issue
UNOLOGY Season 2: The LATINA Beat at Miss Universe 2012
viewtopic.php?f=3&t=147125
***A Special Issue (Prelude for UNOLOGY One on One)
UNOLOGY Special: A One on One Interview with Queenie Rehman
viewtopic.php?f=1&t=148047
20th Issue
UNOLOGY 2: MARGARET ANN BAYOT One on One INTERVIEW
viewtopic.php?f=1&t=149971
21st Issue
UNOLOGY 2: ISABEL PREYSLER - A True Filipina Beauty
viewtopic.php?f=1&t=150112
22nd Issue
UNOLOGY 2: The PHOENIX, The ROSE and the BOMB!
viewtopic.php?f=3&t=159070
★★★UNOLOGY 2 Special: The Universal GLAMSHOT EXPLOSION★ ★ ★
viewtopic.php?f=3&t=159900
★★★UNOLOGY 2 Special: Miss Universe 2012 PRELIMINARY Competition Top 25★★★
viewtopic.php?f=3&t=162261
★★★UNOLOGY 2 Special: THE BRIGHTEST STAR UNIVERSE! Miss Universe 2012 Final Pick★★★
viewtopic.php?f=3&t=164273
Season 2 Finale
UNOLOGY 2: Miss UNIVERSE 2012 - The GOOD, the BAD & The UGLY
viewtopic.php?f=3&t=166250