What is a Beauty Pageant without the Evening Gown segment?

As so to speak, this part is one of the most awaited part of the competition as we can all picture the queenly stature of a candidate.
One evening gown can say it all so it is better for a candidate to choose the BEST color, a style that looks great on her and will show well on stage.

In addition, no single detail of the gown, hair or makeup should garner attention.
BUT, the overall effect should be a reflection of your own personal style.

Was there really a WINNING GOWN?
What is it then and what made it special?





On the fourth issue of my UNOLOGY,
I will be discussing those gowns that had been an important part of the Beauty Pageant history.

There are those who chose to wear the same gown that made her win from their National/Local pageants,
and those who chose to risk and had a change of heart.




WEAR ME BABY ONE MORE TIME




The Goddess Barbara Palacios won Miss Venezuela wearing that beautiful gown.
They edited the gown and remove the big ribbon at the back and she gracefully paraded that gown at Miss Universe 1986.


Barbara Palacios at Miss Venuzuela Pageant 1986





In 1994, Carolina Gomez made history in Miss Universe as the woman who got the highest evening gown score to date (9.897).




That gown must have been very special as during the Miss Colombia Pageant,
she was wearing the same gown.
They altered the top part of the gown and remove the 2 stripes and she wore it as her evening gown at the 1994 Miss Universe Edition.





The beautiful Eva Ekval might have worn a diffrent gown from the Miss Universe Preliminary but during the final telecast, she wore the same gown she wore during her Miss Venezuela pageant.




Which in my opinion, was a better choice than of the previous gown she wore.




In Miss Universe 2002, Venezuela's Cynthia Lander wore an exquisite gown during the finals that made her look very expensive. She placed 4th runner up on that said event and soon after she went and competed again at El Reinado del Café in Houston, Texas wearing the same gown.





Rachel Smith was really owning this gown.




When she won at the Miss USA contest, she was wearing the same red gown she wore at her Miss Tennessee contest.
And just when we thought she had enough, she wore almost the same gown now in black in the finals night of Miss Universe 2007.





Winning the Best in Gown at the 2009 Binibining Pilipinas helped Marie Ann Umali in bagging one of the 3 important title in the Philippines.




The Miss World Top Model took place at Turbine Hall, Johannesburg, South Africa on November 28, 2009.
The event held along with the Miss World Dress Designer Final and Marie Ann Umali wore that very same gown in that said competition.






A GOWN's EVOLUTION





Who would ever forget the jaw-dropping gown worn by Zuleyka Rivera at the Miss Universe?

But prior to this final version....




There were these...




As Miss Salinas, we saw that the upper part of the gown was different from her Miss Universe evening gown presentation.

Plus the fact that the chains were only at the upper portion on the whole gown until it was full blown during the Miss universe 2006 finals night.

Incidentally, was her gown inspired by Akiko's gown (the first Asian Miss Universe from Japan)?






As she was about to fill in a back to back win from her country Venezuela, Merilisa was assigned to wear a blue color gown to complete their National Flag's color as Dayana Mendoza wore yellow in 2008 and Stefania Fernandez wore red in 2009.




It is evident that people can't help but compare her winning Miss Venezuela gown. Maybe Osmel ordered a blue color gown and altered the bottom part of the gown. In the end, Merelisa Gibson's luck about that blue gown was not on her side.

She was more stunning in that fuschia pink bejeweled gown.





SEGUNDA MANO




Carolina Robayo might have worn the controversial orange gown during the Miss Universe Preliminary competition but she wasn't given the opportunity to wore it again during the finals as she was ousted bigtime with the swimsuit competition.




"Second Hand" as they may say, Shamcey Supsup from the Philippines paraded that gown which was worn first by Robayo, with such class and sophistication. The Philippines indeed "TSUNAMIED" Colombia bigtime!





Ireland's Rozanna Purcell came to Miss Universe prepared with all those gorgeous gowns.

In the finals, she let one of her gown be worn by Miss Australia Jessina Campbell.




In a statement I read before and I qoute:


"The gown is actually Rozanna's and she loaned it to Jesinta for Miss Universe. It's designed by Carlos Alberto."



Jessinta made it to the top 5 while Rozanna failed to make the cut.





The famous Halston sequined icy-blue gown worn by 1999 Miss Universe 1st runner up Miriam Quiambao was the very same winning gown by Philippine's Noela Mae Evangelista during her stint at the Queen of Tourism in Cancun, Mexico




Noela also won two special awards in the course of the pageant, namely, best in evening gown and best in oriental costume.




Up to this very date, I feel ashamed that a beautiful Filipina like Precious Lara Quigaman was crowned Miss International 2005 wearing nothing but a recycled gown worn first in 2004 at Miss Universe by Maricar Balagtas.




Wasn't that a slap to BPCI's face?
If BPCI is claiming that all 3 titles (Bb. Pilipinas World, International and Universe) are all of the same importance why does it seemed that in 2005 there was NO BUDGET for the Binibining Pilipinas Internationa winner?





She even wore a recycled National Costume worn by Carla Balingit in 2003.
What the "F"!




If my memory serves me right, I believe that this infamous red gown was the MOST RECYCLED gown I've ever known.
Even at Miss Colombia, someone had wore this gown as well.




I think even carlene Aguilar wore this gown too.





Was this gown UNLUCKY?




Miss Cuba Jamillette Gaxiola wore it first at Miss Earth in 2009. She was unplaced.
Valerie Lim from Singapore might have ordered the same gown from Tony Bowls and wore it again this time at Miss Universe 2011.
She was unplaced as well.




A CHANGE OF HEART




During the 1994 Preliminary Evening Gown competition, Sushmita wore a not so fabulous gown.
Was it hideous? Nor I just can't get the concept at all?


(02:22 - 02:55)



She was wearing this gown in the preliminary.





Good thing she changed her gown and earned her a spot in the Top 6 and eventually gave India it's very first Miss Universe crown.





As they say, the story behind the white GUCCI gown is that
many people said to her that her unflattering preliminary gown might jeopardize her chances.
And she then called a friend in Russia to send her the white wedding gown she once saw at a Gucci store.




Another version was that it was borrowed from Miss Japan.
Nevertheless, that timeless dress from Gucci's 2002 Spring/Summer Collection designed by Tom Ford made her heavenly that finals night.

In 2008, Russia's Vera Krasova made it in the top 5 which I can't help but noticed the similarity of Oxana's gown in hers.






Shandi will always be one of my favorite Miss USA to date.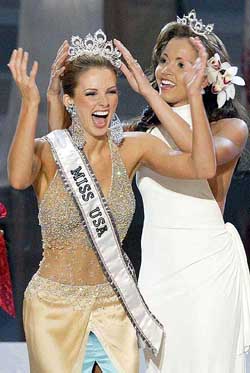 She wore the same gown she wore in Miss USA 2004 at the Preliminary competition of Miss Universe.
I just cant understand why she change it with that almost mermaid looking gown during the finals.




But indeed, she exudes beauty beyond compare!





Rachel Smith was ravishing with her green gown during the 2007 Preliminary Evening Gown competition.




During the finals, she used that black gown.
And the rest was history.





Another example of "a change of heart" was in 2006.




During the final, Kurara Chibana wore a black evening gown exhibiting intricate laticework designed by Olivier Theyskens for Rochas, and at the preliminaries, Chibana sported a unique red and pink-hued gown with silver corseting designed by Novespazio.





Can a "change of heart" for the final gown caused your demise?




This perhaps was the question for my favorite Mariana Paola Vicente's case.

I simply love her preliminary gown,
but maybe Miss Purto Rico Universe Organization has a different plan of attack just the same in 2009 for Mayra Matos.




Mayra made it to the top 5, while Mariana failed.




After putting a show from the Preliminary Evening gown competition, Karla Henry also wore a different gown during the finals night.




NOT my favorite. I can't stand the color.





Kirsten Dalton might have a change of heart during the 2009 Miss Universe Finals Night, but it is evident that her previous gown when she won Miss USA is almost the same with her Miss Universe final gown.




And the gorgeous Priscilla Machado has her own fair share of the story.




She both wore 2 exquisite gown. The pink one during the Preliminary Competition is a knock-out while the yellow gown she wore during the Finals made her shine even better.




Was she asked to changed after she was called in the top 5?




Miyako definitely made a huge infact with her sexy evening gown.
But during the final Q&A, she changed it to a black gown.
Was that in preparation just in case she will be crowned Miss Universe?
Or it jinx her way to the crown?




Remember that in the history of pageantry, a gown as such gave Lebanon it's one and only Miss Universe crown.
Thanks to Georgina Rizk.

And this leads me to another topic....




A "Copy-Paste" WINNING GOWN




In 2005, Natalie Glevoba was crowned in Thailand with her beautiful white gown that made her look really DIVINE.




But, in 2006, I can't help but see the similarity of Natalie's 2005 gown from Miss Canada Universe 2006 gown.

Was that meant for a hopeful back to back win for Canada? But after that evening gown segment, Alice Panikian was ousted.




There must be something about Venezuelan gown that makes people wanna copy it.




Ivian Sarcos wore a nice pink ballgown at the Miss World Finals and Olga Alva wore almost the same in blue of that same gown.
Stefania Fernandez winning gown was also copied by Viktoria Shchukina Miss Russia Earth 2010.






The gown worn by Venezuela's Ly Jonaitis has it fair share.




Grezilda Adelantar from Miss Philippines Earth wore a gown that was very similar with Jonaitis. And there's another one in blue too.




And there goes the RIBBON gowns.




Binibining Pilipinas candidate Sherlyn Gonzales wore a blue gown very much similar from Bianca Manalo's Miss Universe Preliminary gown.
Just the same with Venus Raj's gown and Miss Mauritius Universe 2011- Laetitia Darche.





And then, there's the controversial Athena Imperial.





There is REALLY SOMETHING about the GOWN!




Well, I guess as a Beauty Queen, it is better to be remembered winning such title, crown and honor wearing a beautiful gown.
But in the case of Miss World 2005, this is NOT an issue.


It may be judged as one of the most HIDEOUS gown in history worn by an eventual title holder came to life but there is beautiful story behind her gown.





What was really the story behind that gown?

OMA, an Ambassador here in Misso, mentioned that it was handmade by her mother,
who also competed in Miss World and that she wore it for her.

INTERESTING BACK STORY INDEED!

From the previous thread of terese23, she mentioned about the story of Unnur's mother and I quote:

"In 1983, a lovely brunette Unnur Steinsson was crowned Ungfrú Ísland and earned the right to represent Iceland in the two biggest beauty pageant. In July she flew to St. Louis, Missouri in the USA for the Miss Universe, unfortunately she failed in her attempt to give her countries its first Miss Universe.

Six months later in the United Kingdom for the Miss World, luck was on her side when she advance further in the competition and finished in the 5th spot . While she was gliding in the stage of Royal Albert Hall in London, she was on the end of third trimester of her pregnancy.

Although Unnur did not win Miss World, the baby she was carrying on her womb,
which she shares the same name,
22 years later would become Iceland's 3rd Miss World."

Imagine, Unnur Birna was already sharing the Miss World stage inside her mother's womb!

INDEED, there was really something about what said to be a HIDEOUS gown.


A touching TALE of LOVE of a mother to her daughter
and a daughter's UNWAVERING respect and affection for her mother!


Unnur Steinsson a proud mother of Miss World 2005 Unnur Birna





Share me your own thoughts.

I am welcoming other information that I might have forgotten to include.


BISOUS!


UNOLOGY previous posts:
SEASON 1 - UNOLOGY
UNOLOGY Season 1 previous posts:
1st Issue:
UNOLOGY: CAMPFIRE'S BURNING -Philippine's Beauty Queenmakers
http://host.missosology.info/~missyorg/ ... 1&t=133638
2nd Issue:
UNOLOGY: Pageant CROWNING's INTERESTING FACTS
http://missosology.info/forum/viewtopic ... 1&t=134213
3rd Issue:
UNOLOGY: The MOST UNFORGETTABLE "ALMOST" Winners
posting.php?mode=edit&f=1&p=2682079
4th Issue:
UNOLOGY: There is SOMETHING about the EVENING GOWN
http://missosology.info/forum/viewtopic ... 1&t=135122
5th Issue:
UNOLOGY: In Search of a GREENER PASTURE...
viewtopic.php?f=1&t=136211
6th Issue:
UNOLOGY: The SEVENTEEN ONE HIT WONDERS OF THE UNIVERSE
http://missosology.info/forum/viewtopic ... 3&t=136622
7th Issue:
UNOLOGY: MY TAKE ON MISS PHILIPPINES EARTH 2012 FINALS
http://missosology.info/forum/viewtopic ... 1&t=136739
8th Issue:
UNOLOGY: The LUSTER of the CROWN & the PRICE of FAME
http://missosology.info/forum/viewtopic ... 1&t=136764
9th Issue:
UNOLOGY: IMPERFECTION GUARANTEED (Beauties Under the KNIFE)
http://missosology.info/forum/viewtopic ... 1&t=137269
10th Issue:
UNOLOGY: The RISE and FALL of ASIA
viewtopic.php?f=1&t=137994
11th Issue:
UNOLOGY: ISN'T IT IRONIC?
http://missosology.info/forum/viewtopic ... 1&t=138422
12th issue:
UNOLOGY: One Word - EPIC!
http://ns1.missosology.info/forum/viewt ... 1&t=138825
13th Issue:
UNOLOGY: The QUEENLY and RICH (Miss World Philippines 2012)
http://missosology.info/forum/viewtopic ... 1&t=139151
____________________
SEASON 2 - UNOLOGY
UNOLOGY Season 2 previous posts:
14th Issue:
UNOLOGY Season 2: TEAM Philippines 2012
http://missosology.info/forum/viewtopic ... 1&t=139987
15th Issue
UNOLOGY Season 2: OASIS of the Desert
http://missosology.info/forum/viewtopic ... 1&t=140333