♔Iris Mittenaere's HOMECOMING♔
Literally, the Miss Universe crown is finally back in the European soil. Since her coronation last January 30, 2017, the second Miss Universe titleholder from France has finally arrived in her native land after being flown right away to the MUO Headquarters in New York. Iris Mittenaere is indeed glad that she is finally back home where every sights and smell are familiar and where she can speak her native languange with gusto!

I am so fortunate to have been invited to the Official Homecoming Press Conference in Paris for Iris. Big thanks to Mr. Jonas Gaffud for his assistance and for making sure the MUO will give me the invitation.

Since Iris' arrival, she was welcomed by the media at the Terminal 1 of the Charles de Gaulle airport, been interviewed by a number of TV stations, and had done different functions.

This morning, Iris attended the SAGA Cosmetics event in cooperation with Farouk Systems makers of CHI and BIOSILK. And later today, her official homecoming press conference was held at the Hotel Marignan which is very close to the Avenue des Champs Elysées. I arrived 30 minutes early and upon my entrance, there she is ---- Miss Universe 2016 Iris Mittenaere in flesh and wearing that beautiful fuschia number. She was standing next to Miss France 2010, Malika Menard. So I said "Hi Iris!" and she smiled and say hi to me too. We shook our hands, but she has to go right away because she needs to prepare and change for the press conference. Face to face, I saw his security, a very big black guy wearing a white polo shirt with Miss Universe logo on his shirt. I even heard Iris asking him, "Do you want dessert? You can always order if you want." That moment, it made me realized how accommodating Iris is. Perhaps her security don't really speak French but I can feel she is being so helpful and thoughtful with him. They went to the elevator afterwards.

So I had a chance to speak with Malika. She was so gorgeous and friendly too. She told me that she lives in Paris as well after winning in 2010. She also mentioned about Venus Raj and told me she was really beautiful during their stint, and even now, she is still beautiful.

Then Esther Swan came. She said I looked familiar so I introduced myself and figured out that she knows me through Mama Jonas. We had a chat for a while. She was even showing me her conversation with Mama J. Esther was so so nice. Pia must have been so lucky during her reign because Esther is so endearing. For sure, Queen P miss her a lot and vice versa.

Fast forward, we were asked to go down and for those with cameras to do their set up. The ambiance was so relaxed. People and mediamen were so professional and everything was so systematized. Luckily I was given a nice seat at the second row, and even luckier as Iris would seat just in front of me next to Malika and Esther. Well, as a fan, sometimes you are being crazy and I was thinking, OMG, she is just in front of me and breathing the same air I'm breathing. But, I told myself, I have to be behave. I am not just representing the Philippines but I am also representing MISSOSOLOGY. Sylvie Tellier (Miss France 2002, and Miss France National Director) acknowledged Missosology for all the support, coverage and articles we all did for Iris especially before and during her competition.

Sylvie introduced Iris, and we were wowed with her look and that showstopping jumpsuit. I must say, Iris is ten times more beautiful in person than in her photos. She has this amazing aura that will leave you speechless. Plus that banging sexy curves will surely catch your attention.

After her introduction, they showed a video clip of her journey from being a Miss Nord Pas de Calais, Miss France 2015/2016, and now as Miss Universe 2016/2017.

Watch me at 08:30

I was again fortunate to open the question and answer. I asked her now that she brought back the Miss Universe crown not just to France but to the whole European continent, what is the best advise she can give to the next Miss France? And all the cameras were suddenly focusing me! Geeez. Iris then answered that the next Miss France should be

"hungry for the crown"

and

"must do her best to win"

. Iris did exactly that and all throughout she maintained her strong desire and drive towards victory. After her answering me, since she knows I am a Filipino, she said that she loves the Philippines very much.

Another reporter asked her about English. This after months of conversing in English as she went around New York for endless interviews and public appearances. Nevertheless, she is also happy with her stay in New York because she improved her English a lot. She added that whenever she's not having work, she would practice speaking in English.

As a Frenchwoman in America, Iris found comfort on well – hamburgers! But how can she maintain her figure? Well, she said that she exercised twice a week at a gym located right next to where she's staying in New York.

Another interesting question was to which she prefers now? American brands of clothes or French brands? Iris answered that she still prefers the fashion here in France. And that, she is wearing mostly still French brands. Sylvie went and check the brand of what she's wearing, and said "Yes, it's French!" Hahaha

There was even a political question for Iris Mittenaere during the press conference. She was asked about the controversial war on drugs in the Philippines, the country where she was crowned, to which she replied: "This is a big problem in many countries. It is sad to think that this is a pressing problem but the government should fight harder. I stayed in the Philippines for a couple of weeks, and this is a beautiful country with many different islands. Filipinos should focus on the positive side, eliminate the problems with drugs, and focus more on the beauty of their country."

Iris recalled the best moments she had in the Philippines and that she missed the most is the Philippine mango fruit especially the dried mangoes. She even asked me to send her because she already finished what she bought when she was in Cebu.

Is there any chance that France will host the Miss Universe like the Philippines did? Well, we all know that France has one of the biggest and extravagant production and staging of its annual Miss France. Sylvie Tellier, said that it is up to Esther Swan and the Miss Universe Organization. Esther, who is also in attendance, said that she would love to have the pageant in France.

And yes, Iris got a love life too! Sorry gentlemen but this beauty has a boyfriend named Matthieu. The second question I had for her was now that she is Miss Universe, is she allowed to be seen in public with her boyfriend? Iris was laughing and said of course but Matthieu is a pretty shy guy and he doesn't really want to be thrown into the public spotlight. Well, let's just say, they aren't the attention princess type of couple. Kudos!

Of course, during the duration of the press conference, Iris highlighted the causes and charities she's involved with. She is very much aware that her reign is about her responsibility in serving other people. Iris wants to be an inspiration to many young girls to believe in their dreams and make those dreams come to reality. One organization she mentioned was Smile Train and to give her full dedication in supporting this organization as millions of childrens in many developing countries are suffering from untreated clefts. Iris indeed wants to give their smiles back. Bless you Iris. Bless you Miss Universe Organization.

♔CONCLUSION♔

Well, It has been two busy long days for Iris since her arrival in France. Next, she is going to this people place in the North of France almost next to Belgium, her birthplace --- Lille, and will have another homecoming over the weekend. But tomorrow, she will meet the President of France first, Pres. Francois Hollande.

If there is one thing that I myself has realized, is that, different countries have their different ways of celebrating their victories. I remember when Miss World 2016 has her homecoming in Puerto Rico and was heavily criticized by many pageant enthusiasts. People would laugh saying no one was watching her on the parade. What if people are busy with their lives, with their work?

Last Tuesday, MUO emailed me for the invitation for this Friday press conference. I am working from Monday to Friday and I have to asked my boss to give me a half-day off just for me to do the coverage. Living in a first world country is different from third world counties. And I am not saying that those who are in the third world countries are lesser people. I am just pointing out that most people here can't really take their days off and will simply just go on with thier lives. We might have seen grand welcome celebrations for Sushmita and Aishwarya in India back then, and those lavish and beautiful parades for Bea Santiago, Megan Young, Kylie Verzosa and Pia Wurtzbach in the Philippines. And who knows, if Indonesia or Vietnam, or Thailand or even Myanmar would win a Miss Universe or a Miss Worl? For sure, it will be like fiesta. But, I think we should also understand that we can't compare other countries to do the same, as for some countries, it will always be "business as usual". Well, of course the winner will always have their schedules to follow just like with Iris. It's just that, some are invitational, and there are some for the public.

Just like what I mentioned above, the whole press conference was so tranquil and smooth. People are so relaxed. The hotel staffs were just cool. The reporters were not aggressive. And I liked it. I remember watching some clips wherein media people would do ambush interviews and it's very irritating especially you know they just want scoops and they don't really mind if they are being rude or not. Another thing, while doing the live fb live webcast, me and Esther would talk. I can even see her own live webcast and people were very insensitive by sending comments like "Please speak English." I mean, in France, we don't really worship the English language. Yes, it is universal and it is important, but for different countries like here, or in Italy, or Spain or Germany, they would rather honor their own language to preserve their heritage and who they are as a country. Unlike the Philippines who are very westernized and are all worshipping the Americans as if the Americans are the only superior country in the world. I remember my teacher saying, not because someone can speak English would mean that person is intelligent. So yes, I find it so rude when people are commenting so negatively that the press conference was in French. Why don't you study other language while you can do the jejemon language!

Well, French people are taking their pride by being nationalistic. France don't even have Independence Day as they claim not being colonized so instead they are celebrating the Bastille Day or the National Day. So yeah, that was one thing I would like to point out. For all of us to respect whatever religion, language or tradition other countries have.

Remember Janine Tugonon's Miss Universe final answer?

Being a Miss Universe is NOT about speaking a specific language because it is indeed about INSPIRING other people.

And you know what, I will always believe that t

he greatest language in this world is LOVE.

Again, to Iris, we are so proud of you. You do not have to be CONFIDENTLY BEAUTIFUL.

All we need is ONLY to have a BEAUTIFUL HEART.









Postscript:

IRIS arrived in her birth place --- LILLE.



[size=150]EVEN AT WINTER, PEOPLE WENT OUT TO SUPPORT IRIS! AMAZING CROWD!
That's Nord Pas de Calais for you
They are very warm people
Those giant puppets you see are coming from Steenvoorde, from Iris's childhood village.
CLICK ARROW FOR SLIDESHOW
"Thank you, I wanted to thank all those who organized this wonderful day, thank you for receiving me in my city of Lille and I love you from the bottom of my heart, I love you, I love you, and I am proud to bring you this crown, thank you all!" - Iris Mittenaere
Iris with her proud Mom and Dad.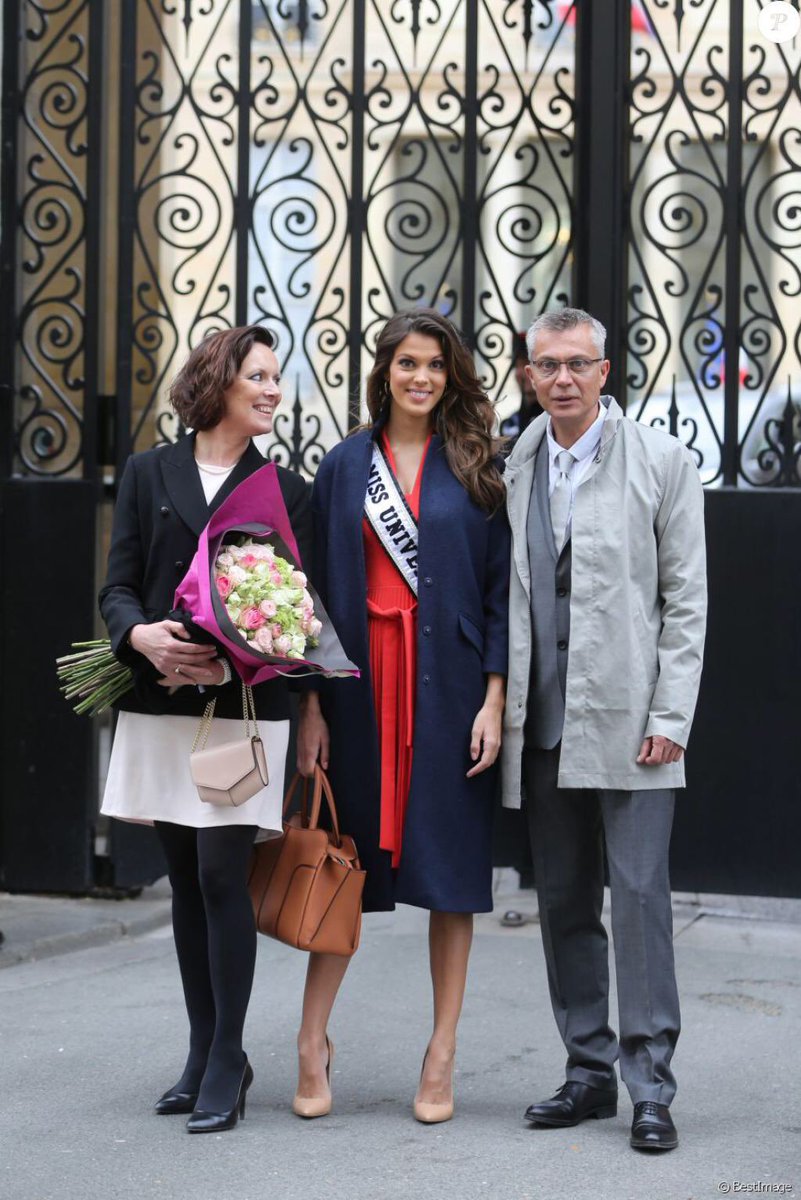 Iris with here National Director and a former Miss France (2002) Sylvie Tellier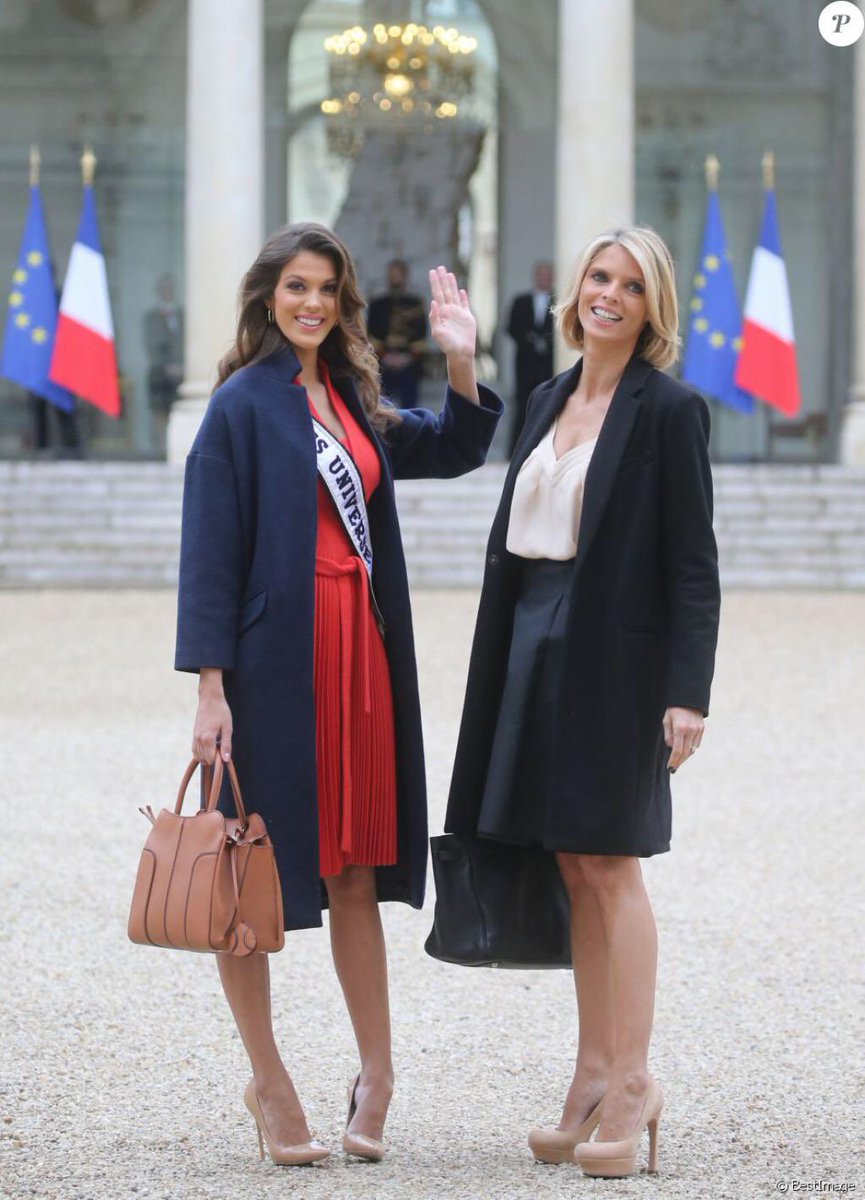 Charity gala for Les Bonnes Fées
Iris, Camille, Rachel and Laury
Back to Paris for an evening of glam. Honoring Iris as Miss Universe in a fabulous night at Place Vendome.
All of these last photos are stunning with former Miss France !

Nathalie Marquay, Miss France 1987
Linda Hardy, Miss France 1992
Mélody Vilbert, Miss France 1995
Sophie Thalmann, Miss France 1998
Mareva Galanter, Miss France 1999
Sonia Rolland, Miss France 2000
Sylvie Tellier, Miss France 2002
Corinne Coman, Miss France 2003
Rachel Legrain-Trapani, Miss France 2007
Malika Menard, Miss France 2010
Laury Thilleman, Miss France 2011
Delphine Wespiser, Miss France 2012
Marine Lorphelin, Miss France 2013
Flora Coquerel, Miss France 2014
Camille Cerf, Miss France 2015
Iris Mittenaere, Miss France 2016/Miss Universe
Alicia Aylies, Miss France 2017

2010, 2016, 2014


2000


2016, 2017, 2015







CLICK ARROW FOR SLIDESHOW



[/size]