.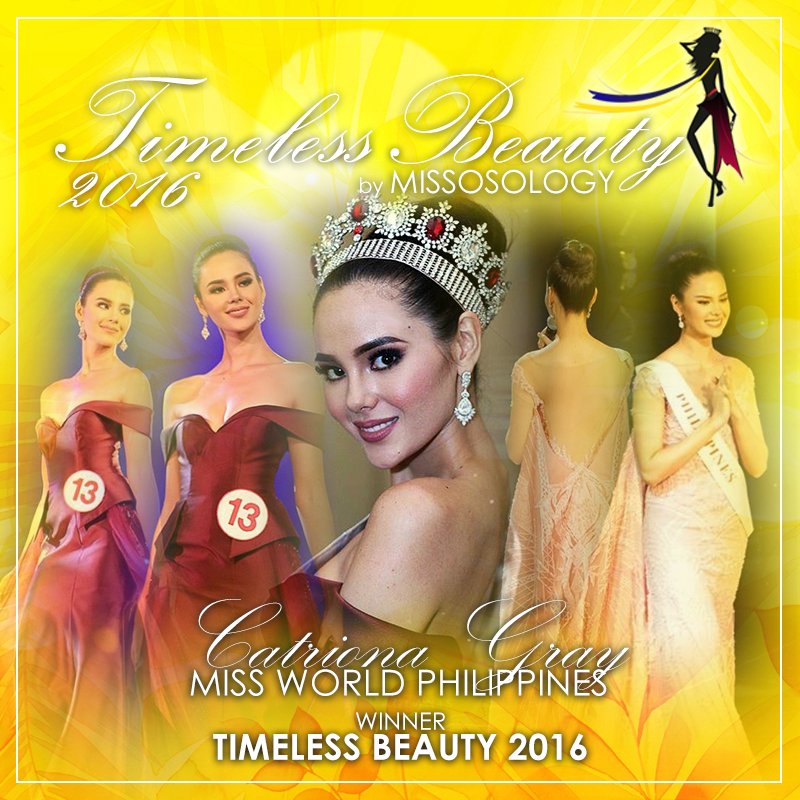 1st place: Philippines World – Catriona Gray
Judges average score (70%): 4.133
Public vote score (30%): 5.000
FINAL SCORE: 2.893 + 1.50 = 4.393





Catriona Gray, Miss World Philippines 2016, is Timeless Beauty 2016.

She gained a combined judges and public vote score of 4.393.

She is the Philippines' second Timeless Beauty winner, after Venus Raj won the same accolade in 2010. She is also the second from Miss World to win this honorary title from Missosology.

Catriona is undeniably the most complete candidate in any of the 2016 Big5 major pageants. This is no surprise since she trained and prepared for Miss World even before she was crowned in her national pageant. She is a talented lady being a singer and artist.

Her popularity is beyond reach. In one of our hot picks, we even noted that any social media platform that has Catriona on it becomes an instant hit. Her winning the Multimedia fasttrack was no surprise. Just check the Mobstar app and you'll see lots of accounts made for her, such as like "Catriona Red", "Catriona White" and so on. Such is her remarkable impact in the global scale.

That doesn't mean that she was just all about social media. Catriona earned a lot of supporters because of her amiable personality, wit and serene beauty. But most of all, it was because of her golden heart.

"Miss World was never just a beauty contest to me," said Catriona in a Facebook post days after the Miss World pageant, where she finished in the Top 5 despite being pegged as the winner of many pageant experts. "The crown represented a journey."

One can't deny Catriona's genuine dedication to her advocacy. Even after placing only in the Top 5 of the Miss World 2016 competition, Catriona continued to campaign for donations for the betterment of the children in one of her country's poorest places.

"Yes, the crown represented a journey...until I realized that the journey could continue and exist without it," Catriona added.

She might not have won the elusive "blue crown", but Catriona will always embody Miss World's ethos of "Beauty With A Purpose". She is perhaps the best Miss World we never had.

Years from now, beauty will fade and names will be forgotten but Catriona will remain carrying that "burning torch" to "illuminate the lives of many" people around her. That is the essence of being a Timeless Beauty.



=c3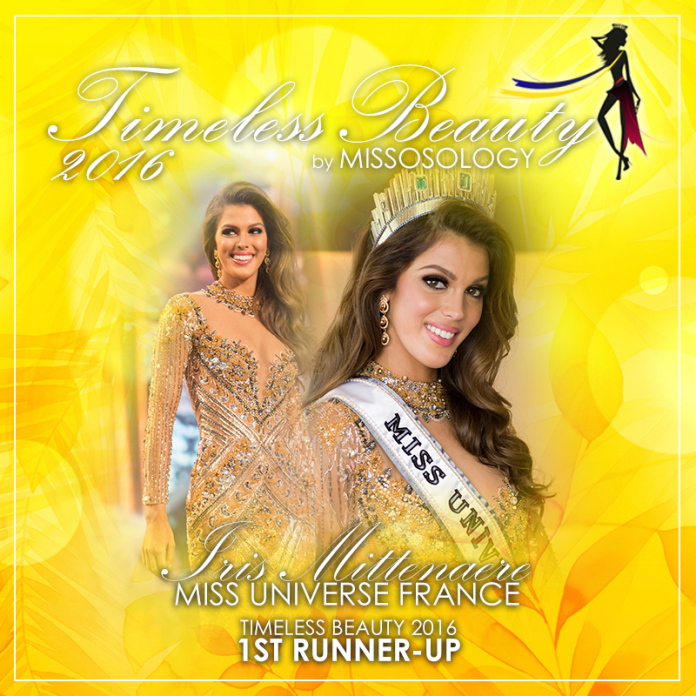 2nd place: France Universe – Iris Mittenaere
Judges average score (70%): 4.483
Public vote score (30%): 3.750
FINAL SCORE: 3.138 + 1.13 = 4.263



With a combined judges and public vote final score of 4.263, our

Timeless Beauty 2016 1st runner-up is Miss Universe France, Iris Mittenaere.



If there is a "Sexiest Woman Alive" award in Miss Universe, that would have gone to Iris, hands down! She has an amazing body and her national costume presentation was a memorable one! From below the radar, she became a top contender that night.

But what made Iris shine is her relatable personality, which was reflected in her Miss Universe finale performance. Her answer to the final question "humanized" the beauty queen. Like everyone else, she fails, too, but bounces back stronger. "If I don't win tonight, I will still keep on smiling tomorrow because I am proud to be part of the three finalists." Luckily, Iris was the big winner that night.

For the second year in a row, the reigning Miss Universe placed second in Timeless Beauty. Iris might be the runner-up in this virtual competition, but she sure is a victor in real life.

And the mere fact that she won the Miss Universe crown on Philippine soil, pageant fans will never forget her name, ever!



=c3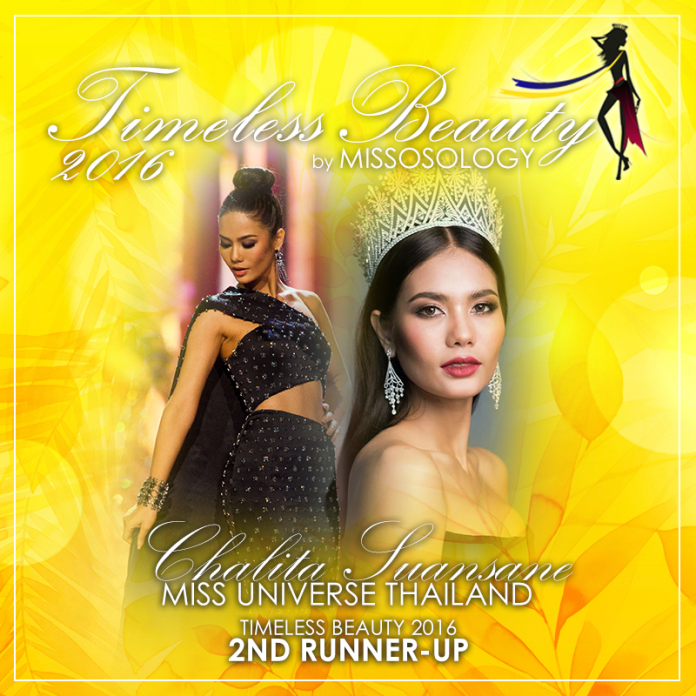 3rd place: Thailand Universe – Chalita Suansane
Judges average score (70%): 4.083
Public vote score (30%): 4.500
FINAL SCORE: 2.858 + 1.35 = 4.208



With a combined judges and public vote final score of 4.208, our

Timeless Beauty 2016 2nd runner-up is Miss Universe Thailand, Chalita Suansane.



Best remembered for her 17 pieces of luggage during arrival in Manila, no wonder Chalita was perfectly styled and groomed for the Miss Universe pageant. This Thai charmer was also backed up by legions of fans, and is probably the most popular Thai beauty queen in recent years. No wonder she won the global fan vote and secured a spot in the Top 13 of the 65th Miss Universe.

Coming from a humble background, Chalita's story was one of the most inspiring we had at the 65th Miss Universe. Her Top 6 finish was Thailand's best placement since winning their second Miss Universe in 1988.

Chailita brought hope and cheers to her countrymen back home who are still mourning for the loss of their beloved king.



=c3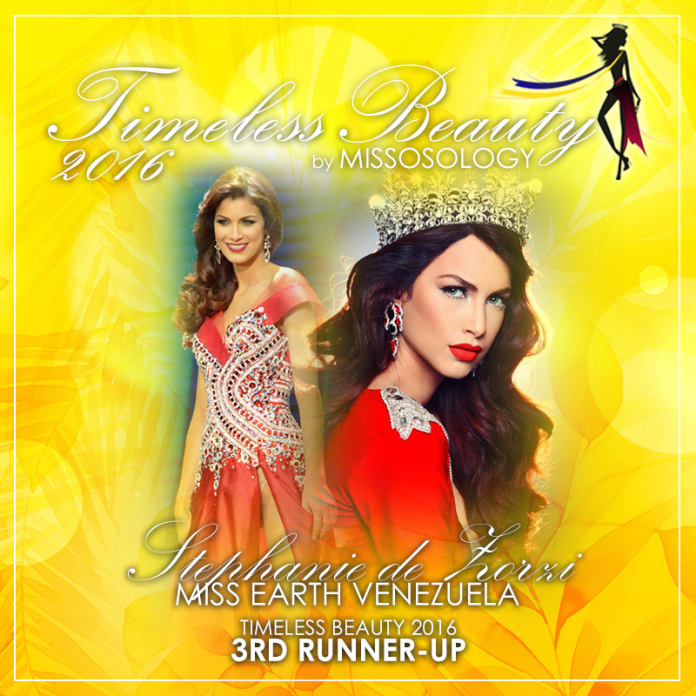 4th place: Venezuela Earth – Stephanie de Zorzi
Judges average score (70%): 4.067
Public vote score (30%): 4.250
FINAL SCORE: 2.847 + 1.28 = 4.122



With a combined judges and public vote final score of 4.122, our

Timeless Beauty 2016 3rd runner-up is Miss Earth Venezuela, Stephanie De Zorzi

.

Stephanie is one of the most anticipated and talked about delegate this year, not just in Miss Earth but in the international pageant scene.

She was supposed to compete in 2014 but was replaced the last minute for allegedly gaining extra pounds. But with a new franchise holder (in the person of Miss Earth 2013 Alyz Henrich), this 23-year-old model was given another chance to prove her worth.

She arrived in Manila with her guns fully loaded. She was the darling of both the press and the fans. Everyone was raving about Stephanie. Come finals night, she was in top form and definitely a contender for the crown. She might have failed to win the top crown, but Stephanie's Miss Water finish cemented her place in the pageant scene forever.

Stephanie will be remembered as the lady who fought for her dreams.



=c3

5th place: Mexico Universe – Kristal Silva
Judges average score (70%): 3.750
Public vote score (30%): 4.750
FINAL SCORE: 2.625 + 1.43 = 4.050



With a combined judges and public vote final score of 4.050, our

Timeless Beauty 2016 4th runner-up is Miss Universe Mexico, Kristal Silva

.

Kristal first competed in Miss Earth in 2013 where she placed in the Top 8. Despite being considered a diamond in the rough back then, she managed to exceed expectations and was even considered by Missosology as the best in evening gown back then.

was shining throughout the 65th Miss Universe finals and was definitely looking like a polished diamond in her silver evening gown.

In 2013, she finished in the Top 20 of Timeless Beauty. Now, with her impeccable performance in Miss Universe, Kristal is now etched in the hearts of pageant fans as she finished in fifth place in Missosology's Timeless Beauty 2016.

HARAYA.